6 Bedroom Organization Hacks to Copy
This post may contain affiliate links. Please read our
disclosure
for more info.
Your bedroom is supposed to be the most serene place in your home.
That means calm, clean, and organized.
Who wants to unwind in a disaster zone, right?
But, life is busy.
You spend a couple of hours cleaning and organizing on Saturday, and you're feeling good.
But let things slide for a few days, and pretty soon your room is cluttered and messy again.
So what are your choices?
You can live with the mess and try not to let it stress you out (might be easier said than done.)
You can hire a cleaner to come every other day, but I'm thinking you have other plans for your money.
Discover a better way: arm yourself with these bedroom organization hacks to keep your bedroom calm instead of cluttered and forget about hiring someone.
1. Kick Clutter and Establish Daily Habits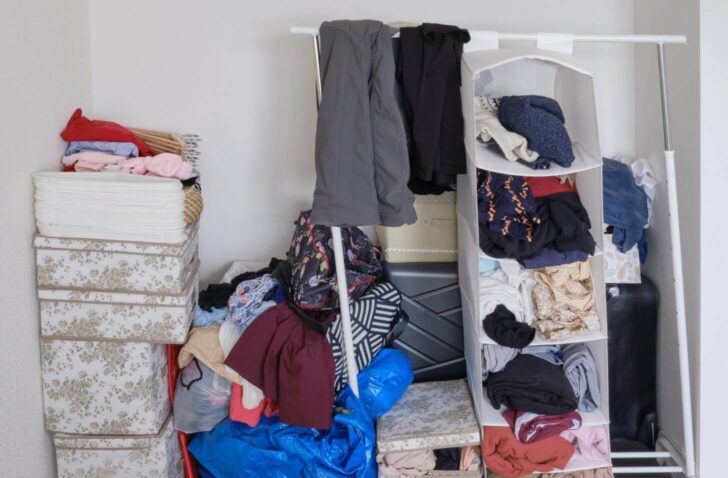 Like so many things, bedroom organization comes down to daily habits.
The little things you do every day have a cumulative effect.
The first thing to tackle is clutter. By that, I mean the stuff in your room that doesn't belong.
If you have a clutter problem, it's time to Marie Kondo your space by discarding anything you don't use or doesn't bring you joy.
You want to spark joy, not squelch it.
With the extras out of the way, you need anti-clutter and pro-organization habits to keep your room in tip-top shape.
Get an Organization Guide
While you set out to organize and declutter your space, maximize your time by listening to audiobooks on Audible.
We recommend:
Marie Kondo's The Life-Changing Magic of Tidying Up is the instant classic on decluttering your life to spark joy.
James Clear's Atomic Habits is a great resource for the link between habit formation and identity.
Dan Charnas' Work Clean: The Life-Changing Power of Mise-en-Place to Organize Your Life, Work, and Mind, which will help you focus on preparation, arranging, and cleaning as you go.
With Audible, you have all the books you could ever want to listen to on your devices (not on your shelf) at the click of a button.
Sign up for a FREE 30-Day Audible trial and receive 1 audiobook credit (2 credits for Prime members) and access to the Audible Plus Catalog of podcasts and audiobooks.
2. Make Your Bed Every Morning, No Exceptions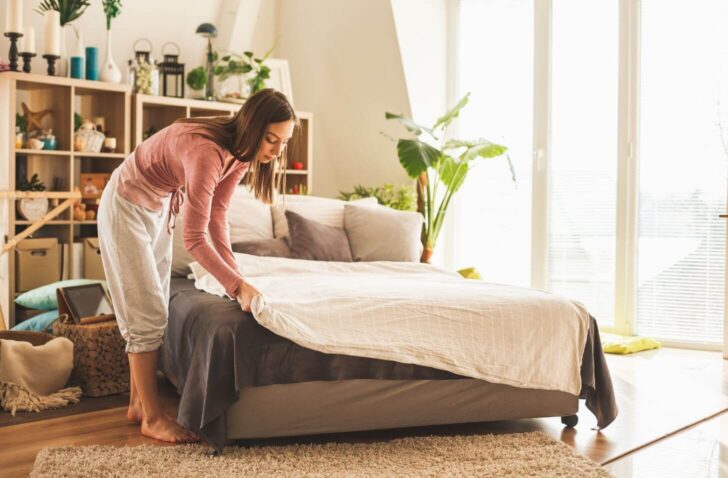 There's nothing restful about a tangled mess!
A made bed is a calm, inviting scene at the end of your day.
Make your bed to help your mind enter sleep more easily.
What's more, making your bed helps you kick other bad habits, too (the way you do one thing is the way you do everything).
Mastering this simple daily habit will help you embrace the identity of an organized person.
It'll give you momentum to tackle other good habits.
3. Under Bed Storage for the Win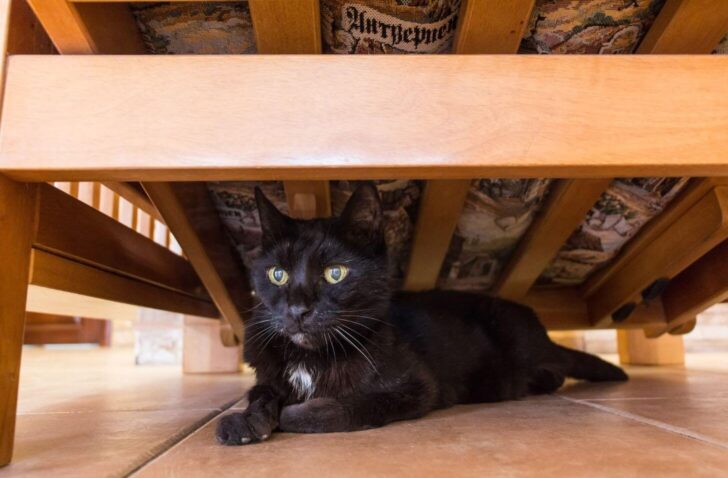 Take quick stock of any clutter that survived the initial Marie Kondo cull.
I bet most of it is stuff you can't justify throwing out, but don't need at arm's reach all the time.
You need a storage place that's out of sight but still accessible.
Under the bed is the perfect solution!
To make this work, you need a bed that's high enough off the ground to accommodate a storage tote, and of course the tote itself.
I have this Zinus platform bed and rave about the quality to anyone who will listen.
It's super sturdy and the tufted headboard makes it look way more high-end than its price suggests.
Don't believe me?
Check the 8,600+ reviews.
There's enough room underneath for a short storage tote.
I prefer a shorter tote with a larger base because when you open it, you can see what you need right away — no digging through piles of stuff.
These bad boys are the perfect size and they come with wheels for easy access.
If you want to store bulky items, you might prefer a higher bed and a taller tote.
Either way, the strategy is the same.
4. A Place for Everything, and Everything in its Place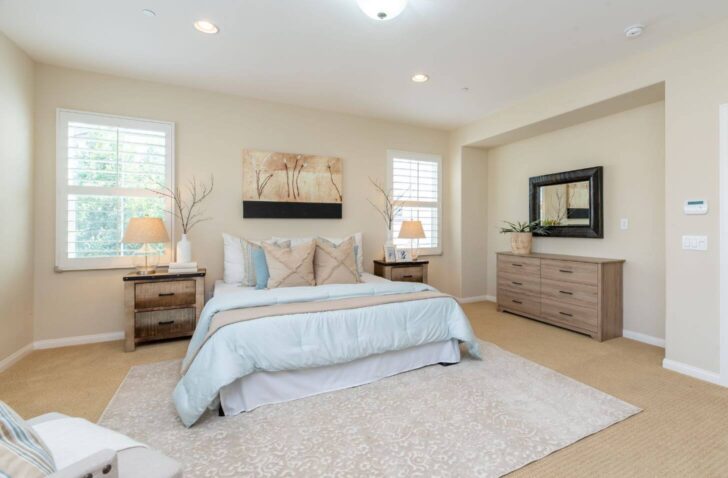 People just drop stuff down on dressers, beds, and chairs when there's no designated space for those items.
Then they accumulate and become clutter.
If you give everything a place, you know exactly where to put it, and you don't put it anywhere else.
Here are some helpful tips:
Assign each dresser drawer to a specific clothing category (i.e., socks/underwear, shirts, pants). Believe it or not, some people stuff clothes into drawers randomly. If that's you, I'm not judging, but it's time to get it together.
Install discreet hooks above your dresser to hang jewelry when you take it off. This works well for chains and bracelets.
If you read before bed, store your current book on a shelf near your bed — don't drop it on the floor. This simple and uber-cheap bedside caddy is a great space-saving option.
If you charge your phone in your room, have a place to store the charger so it's not lying around. Again, the bedside caddy is your friend.
Have a laundry hamper for worn clothes, and empty it regularly. A hanging laundry bag on a sturdy hook is great for saving floor space.
5. Do a Quick Tidy Before You Leave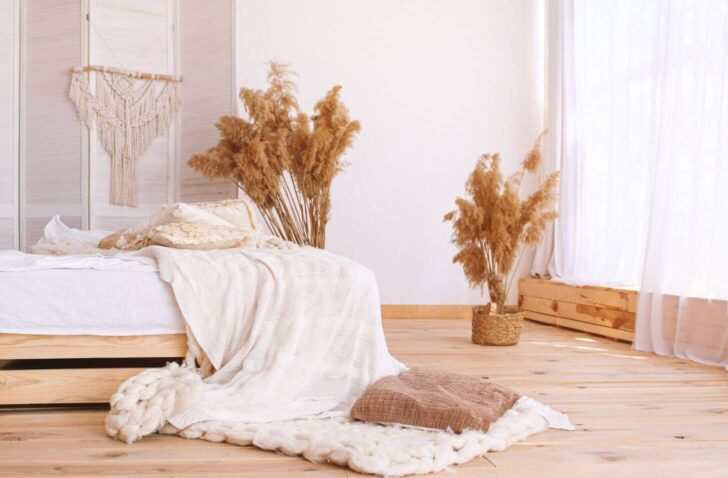 To ensure your room is always on point, do a five-minute tidy before you head out for your day. In addition to making your bed, move any items that are out of place back to their home.
Every few days, quickly sweep the floor and wipe down your dresser before heading out.
These things only take a few minutes, but if you make them habits, your room never gets disorganized or dirty.
6. Ditch the Impromptu Clothing Rack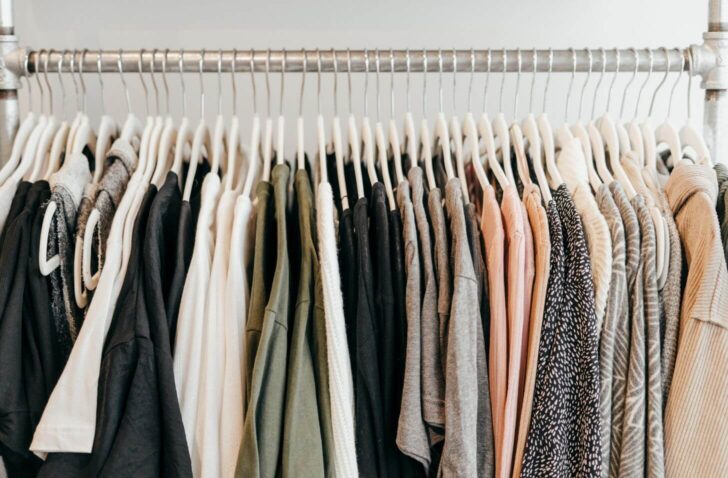 I've found that anytime I've tried an ottoman or chair in my bedroom, it got lots of use — as a clothes rack.
It became the place to throw things, and I never used it for its intended purpose.
The result? My room looked crowded and messy.
If you want your room to look spacious and organized, ditch the extraneous furniture functioning as a cluttered clothes rack.
Use a Hidden Rack Instead
With the extra furniture out of the way, you still need a place to hang your robe, sweater, or whatever. Instead of taking up valuable floor space, a behind-the-door rack is discrete and convenient.
This Amazon find easily hangs on your bedroom door and features nine large hooks. It's perfect for tucking clothes out of the way and takes up zero space.
With a low price and more than 2,500 reviews, you can't go wrong.
Free Workshop – Join our free Simplify Money Workshop
The *only* way to save money is to spend less than you earn. That means you need to decrease your expenses or increase your income.
We want to help you do both.
Join our FREE Simplify Money Workshop to learn the fundamentals of growing wealth. Because when you can spend less than you earn, your money has no choice but to grow. You will build your savings and pay down debt.
What's more? We've got a bunch of free money-hacks to share with you:
Hacks to lower your monthly bills
Hacks to spend less on debt
Hacks to start investing
Hacks to increase your income by $20/month (with no extra effort)
This workshop has everything you need to accomplish the cardinal rule of personal finance: keep your income over your expenses.
Join our free 5-day Simplify Money Workshop, and start growing your wealth today.
7. Install Floating Shelves to Free Up Floor Space
Free space makes a room look open and clean.
Whenever you can, preserve your floor space.
Opt for floating shelves instead of a traditional shelving unit or bookcase.
These floating shelves are great for books, small plants, or decor.
There are two colors to choose from, and you can install the metal brackets above or below the shelf to change up the look.
8. Invest in a Closet Organizer
Let's be real: Closets can be pretty scary.
Your room might look serene and organized at first glance, but what's crammed in your closet?
If you feel stressed or overwhelmed when you crack it open for a peek, it's a surefire sign you need some help.
A high-quality closet organizer can transform your closet from chaotic to calm (not to mention efficient). The problem with many smaller closets is there isn't enough shelving.
That means anything you can't hang ends up stuffed on the lone top-shelf or piled on the floor.
This closet organizer includes shelves on both sides of a two-tiered clothes rack, giving you plenty of space to stow non-hanging items.
Spend Less Online with Capital One Shopping
If you're shopping on Amazon (who isn't?), don't forget to download the free Capital One Shopping browser extension.
It instantly checks other listings so you can compare prices, saving you precious time and money.
When you download the Capital One Shopping browser, you will be notified of any coupon codes or Shopping Rewards (Shopping Rewards can be used to redeem free gift cards) when you visit partner retail sites.
Capital One Shopping is an easy way to save money when shopping online.
Download the Capital One Shopping browser extension for free and enjoy savings and rewards.
Want more life hacks? Check these out…
Want to save these tips for later? Click here to pin this post!
Be sure to follow us on Pinterest for more money-saving life hacks!
*Capital One Shopping compensates us when you get the Capital One Shopping extension using the links we provided*
This website contains affiliate links, which means that if you click on a product link, we may receive a commission in return. Budgeting Couple LLC is a participant in the Amazon Services LLC Associates Program, an affiliate advertising program designed to provide a means for sites to earn advertising fees by advertising and linking to amazon.com