12 Best Cash Back Apps (Make Free Money)
This post may contain affiliate links. Please read our
disclosure
for more info.
[et_pb_section][et_pb_row][et_pb_column type="4_4″][et_pb_text]
What kind of strategies do you have to reduce your expenses? Do you physically or digitally clip coupons? Wait for sales? Look for close-outs or clearances? Those are all good, but have you taken advantage of any cash back apps? If not, then you really need to give them a try and make every purchase a rewarding one — literally.
Why should you use cash backs apps? Because incorporating them into your daily routine will help you incrementally build up rewards. Sometimes this is cash sent to you via a payment service like PayPal or Venmo, and other times it is in the form of gift cards.
With cash back apps, enjoy racking up the dough with purchases you make anyway
Here at the Budgeting Couple, we want you to be frugal, and you know by now that does not mean being cheap. It means budgeting your money, spending it wisely, and letting it work for you. Below we have identified a number of rewards apps that we hope will benefit you, whether in the form of cash in an account or with a gift card in your pocket (or smartphone). We break the apps into three groups: Best cash back apps; Cash back apps for shopping; and Cash back apps for receipts.
Best Apps For Cash
1. Ibotta ($20 Bonus)
What would you do right now if somebody walked up to you and said, "Here is $150 to do whatever you want. You did a great job shopping this year, and I just wanted to say thanks." Think you might finally go out for dinner at the place you always wanted to try but didn't feel like forking out the cash?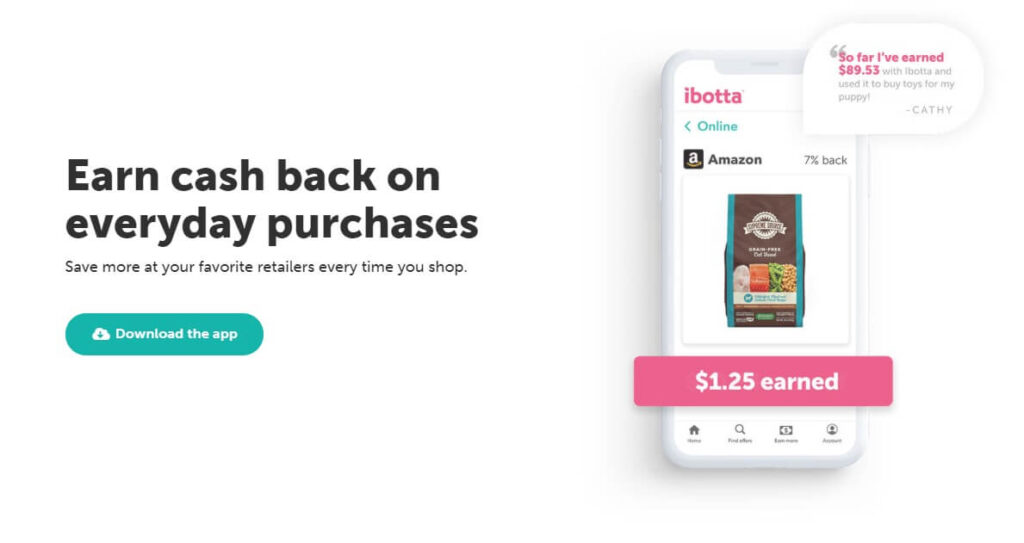 Well, Ibotta — an app that will pay you cash for shopping and give you a $20 welcome bonus when you sign up through us — is not going to walk up to you, but it does reward the average person who uses the app with about $150 a year in cash back (according to the company).
Ibotta will either transfer your rewards to your PayPal or Venmo account or send you a gift card: It's your choice. You will earn cash and rewards simply by shopping and purchasing items you normally would — or trying others you always wanted to, except now you have a reason with those cash back incentives.
Here are some quick tips on using Ibotta:
Link your loyalty cards from Ibotta's preferred partners
Think of Ibotta as you would coupons: Select your items before you shop, just like you would clip a coupon before heading to the store
When you use the "Pay with Ibotta" option, you don't have to scan your receipts
After purchasing eligible items, there are three ways to receive your rewards, and one is to scan the full receipt or a QR code on the receipt. If you have linked your loyalty card or paid with Ibotta, you are good to go; it's done automatically.
Create your free Ibotta account right here to claim your $20 welcome bonus.
We have written a lot about this app. If you are asking is Ibotta legit, the short answer is yes! We write about it because it is such a versatile and rewarding app. How much does it cost? It is free. What are you waiting for?
p.s. You will want to check out the offers below to discover how you can maximize your rewards and cash back bonuses (one offers a $10 incentive). You will also learn how you can — and should — stack these deals like coupons to maximize your rewards and cash back.
Want to hear even more ways Ibotta can save you money? Check out our Ibotta explainer video, here!
2. Capital One Price Protection
Don't you hate it when you spend time researching the best deal for a pair of shoes, a hat, a camera, a television, a computer, a gaming system, or whatever … only to find out the "lowest price ever" just went even lower right after you snagged it? If given the chance, would you want the difference between the price you paid and the new lower price be sent to you? — without having to trade endless emails with customer support online?
If you answered yes, and you know you did, then you will definitely want to sign up for Capital One Price Protection.
Capital One Price Protection is an app that monitors your email account for online purchases. When it finds items at a lower price, it lets you know and works to get you the money back. Their software uses proprietary logic so it is only checking emails that appear to be purchase confirmations or transactions — the rest of your emails remain untouched and unopened.
Capital One Price Protection has discovered more than $29 million in potential savings for its users. This one will not set you back one red cent; it is free.
Download the Capital One Price Protection extension now before you make your next online purchase so you can get money back for shopping.
*Capital One compensates us when you sign up for the Capital One Shopping Extension using the links provided.
3. Dosh ($1 Bonus)
The Dosh App knows the way to our hearts. Jump on its website and you will see why. It says: "Cash back, automatically. It's not points. It's not coupons. Just cold, hard cash." You in from some?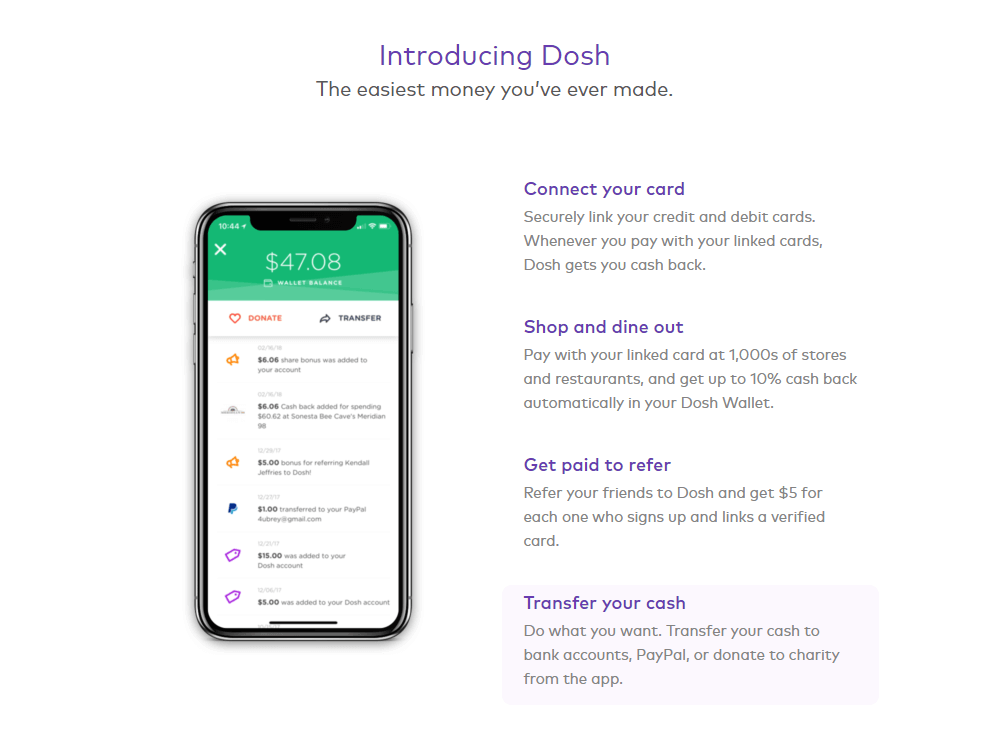 When you connect your credit or debit cards to Dosh's app, you will start earning cash back rewards every time you make purchases at the thousands of affiliated stores, restaurants, and online companies. It is that simple. It is free money. It is automatic. As one person called it, "it is a no-brainer."
You want to be vigilant when it comes to your credit cards and cyber security. Dosh has bank-level security that utilizes multi- and two-factor authentication and SSL encryption. We have written about how safe Dosh is, please check out the article.
So download the free app, join the Dosh movement, claim your $1 bonus, then do what you normally do and let the money start building and rolling in. You did read Dosh works automatically, right?
Here are some recent rewards offered via Dosh:
Walmart – 3% Cash Back
Target – 1.5% Cash Back
Walgreens – 6% Cash Back
Exxon Mobile – 2% Cash Back
Guess – 5% Cash Back
Patagonia – 6% Cash Back
Bed Bath & Beyond – 7% Cash Back
Jiffy Lube – 10% Cash Back
As you can see, there is a lot to love about Dosh.
Download the Dosh app now before your make your next online purchase so you can automatically get money back for shopping.
4. Checkout 51
Do not confuse this cash back app with Area 51. Checkout 51's savings might be out of this world, but it has nothing to do with alien or UFO research. Let's do some research on our own:
Like Ibotta, Checkout 51 offers rewards for purchases at your local grocery store. It is a little bit different in that each Thursday it posts new offers, which are live for one week or until a certain number of items have been sold. The offers have limited quantities. Hmmm, so where do the offers go? Do they vanish in thin air? in the cloud? Let's explore this further.
In a nutshell, here is how Checkout 51 works:
When you sign up, it will ask your gender in order to better customize offers for you
You will be asked how many adults and children you are shopping for (please count husbands as adults)
It will ask for your birthday (both date and year)
You will see your offers, and just tap the plus sign (+) to add it
Because quantities are limited, you will want to double-check that the offer is still valid while you shop
When you checkout, keep your receipt
After purchasing the eligible items, hit redeem to take a photo of your receipt in the app (or upload a photo of the recent via the website)
When you reach $20 in cash back rewards, you can ask for a check to be sent to you or have the money transferred to your PayPal account
When you use the app, check out the bonuses. For example, Checkout 51's offering recently included:
Graham crackers ($1 cash back)
Marshmallows (25 cents cash back)
Chocolate candy bars ($1 cash back when purchasing two multi-bar packs).
However, if you purchased all three of them, Checkout 51 gave you a S'mores bonus, which was an additional $1 cash back for a total of $3.25. So, you are well on your way to that $20 threshold.
And as an added bonus, unless expressly prohibited, you can multiply your rewards from a single shopping trip by getting rewards from Ibotta and Checkout 51.
Create your free Checkout 51 account and start enjoying additional cash back opportunities.
Cash Back Apps For Shopping
6. Ebates / Rakuten + Rakuten Button (plugin)
What's in a name? Are the Cash Back deals that were once so sweet as Ebates just as legit now that the company is Rakuten? Of course. We have written about Ebates in the past, but in early 2019 a decision was made to drop the Ebates name and go with Rakuten, a global internet services company. The name is Japanese for "optimistic," and you will feel very optimistic when you bask in the Cash Back program of the company … no matter what name it's using now.
Here's the deal: Rakuten works with 2,500 companies who are willing to pay a fee to direct customers their way. This is good news for you and me, because Rakuten, in turn, is willing to send some of that Cash Back our way.
Play it smart. Use a Cash-Back Rewards Credit Card when shopping through Rakuten. You will multiply your rewards and the money coming back to you. Here are the Top-Earning Reward Cards of 2019 (#7 is the card we use every day)
If that were not enough, it gets better: Install the awesome Cash Back Button (aka Rakuten's Chrome extension) to make this process as easy as possible. The Cash Back Button works automatically in the background. When it appears you are going to snag a deal at one of Rakuten's partner stores, then it will ask you if you want to activate Cash Back (you better, unless you have done so already).
A lot of the companies will offer 2, 4, 5, 6, 8 or 10% off, which is good, but Rakuten boasts that some offers will give you up to 40% Cash Back. A recent visit to the Rakuten website showed women's Nike shoes were up to 40 percent Cash Back. Hello!
Those cash-back opportunities are automatically applied to your Ebates/Rakuten account when you have the button. Coupons are also automatically applied to your order whenever possible. It's one of the easiest ways to save money. If you have not installed the button yet, I will wait here until it is done. It is that easy.
There are a couple of ways to get your Cash Back rewards: Via PayPal or by way of a Big Fat Check. You will get a Big Fat Check or deposit whenever your balance hits $5.01 in a quarter. If you do not surpass the $5 mark, then your rewards roll over into the next quarter. The good news is that money comes automatically to your account or your mailbox every quarter for which you are eligible.
But, before this deal can be of any help, you need to download the app, sign up or join Rakuten. Then get the Cash Back button installed in your Chrome browser … and do it before you make your next online purchase or you can automatically get money back for shopping. If that were not enough, then do it for the $10 welcome bonus!
7. Capital One Shopping (Coupons Galore)
A single company can't have every coupon code. So if you want to save money on every online-purchase possible, then you need an arsenal of money-saving tools. Capital One Shopping is one of the most essential.

Capital One Shopping is a browser extension that can be added to your internet in seconds. Once it's up and running, your work is done. Capital One Shopping does all of the deal searching and coupon-clipping for you. As you shop online, Capital One Shopping automatically finds coupon codes for items in your shopping cart. Simply apply the code Capital One Shopping finds for you, and collect your discount.

Capital One Shopping has a massive network of partners. You can expect to get LOTS of coupons from LOTS of online retailers – we're talking thousands of online retailers.
Pro tip: Go to the Capital One Shopping website, search for an item, and see which retailers are selling that item and the current price. Pick the retailer offering the lowest price and save!

Try Capital One Shopping (but only if you want to spend less while shopping online.)
8. Swagbucks ($10 Bonus)
Ready to get your swag on? Ready to "Get free gift cards and cash for everyday things you do online"? Swagbucks gives you many options to earn points, like when you shop online, watching videos, search the web and answer surveys. They call their rewards points SBs. If you want to snag some SBs online while you shop, then you need to do so through the links on Swagbucks' website. You can score some points when you print out coupons, which will save you some cash when you make purchases. Swagbucks will kick in some extra SBs when you add its Chrome extension to your browser.
We reviewed Swagbucks in another post, and there were some things we liked and recommend:
Use Swagbucks' search engine to build up those SBs (I earned 20 of them for searching "Budgeting Couple")
Do you play GSN games? Then check out the play option
Shop with Swagbucks at online retailers like Walmart, Target, Amazon, and others and earn a free $10 bonus after your first use
Add some swagger to your step with $10 back when you sign up for Swagbucks and make that first purchase through Swagbucks.
How do cash back apps work?
You might be wondering why services like Ibotta and Rakuten give you money and offer you deals. It's quite simple: companies and brands pay these services to send customers to them. From these fees, a percentage is given back to people like you and me.
Let's face it, money can be a motivating factor. If you are going to buy a $100 digital camera, would you rather pay $100 and be done with it, or find a way to earn a 4% cash back and get a discount simply by having a Cash Back Button installed in your browser?
How do I get started?
I might be a little odd, but when I look at these cash back and rewards opportunities, I always think about it over the course of a year. If you earn $25 a month in cash back rewards, then that equates to $300 a year.
Good luck on this cash back adventure. Let us know how you make out.
I was surprised to learn the cash back market is $80 billion. That's a lot of purchases, and a percentage of that amount is being returned to shoppers like us. So, do yourself a favor and sign up for these deals and start getting your slice of the $80 billion pie. You have a lot of power at your fingertips! When you have all of these deals apps and sites working in your favor, then you will never pay full price again. Not only that, but in minutes you can do some powerful research to see who has the best deal.
Related Posts:
*Capital One Shopping compensates us when you sign up for Capital One Shopping using the links we provided*
[/et_pb_text][/et_pb_column][/et_pb_row][/et_pb_section]
This website contains affiliate links, which means that if you click on a product link, we may receive a commission in return. Budgeting Couple LLC is a participant in the Amazon Services LLC Associates Program, an affiliate advertising program designed to provide a means for sites to earn advertising fees by advertising and linking to amazon.com