This Ebates review will cover Is Ebates legit, how Ebates works, and exactly how to make money with Ebates.
Getting paid to shop…
It's a coveted experience most of us can only dream about—an exclusive perk hoarded by the beauty bloggers and insta models of the world.
But not any longer! Ebates has made 'getting paid to shop' a luxury available to us all!
After 1+ year of research and testing, we have come here, today, to disclose our Ebates experience and to finally answer the enigmatic question that has confounded money-savers for ages…
Is Ebates Legit?
YES, Ebates is legit! They legitimately want to load up your bank account with free money just for shopping online. 
What I'm trying to say is this: If you shop online, ever, then you're missing out on free money.
Do yourself a favor… Sign up for Ebates with this here link (and grab yourself a bonus $10 gift card while you're at it) so that you too can start getting paid to shop online!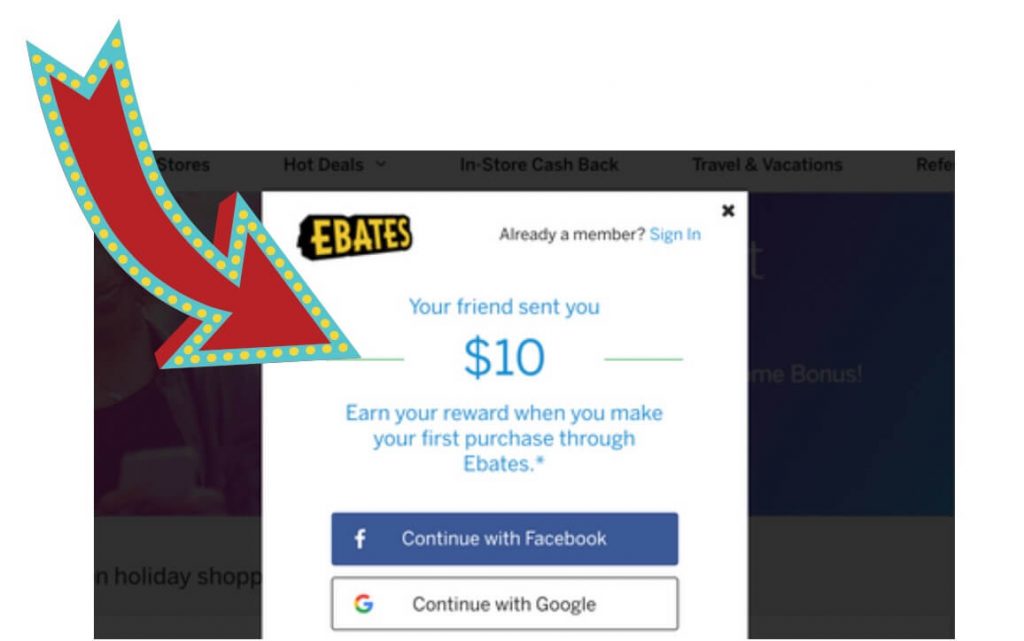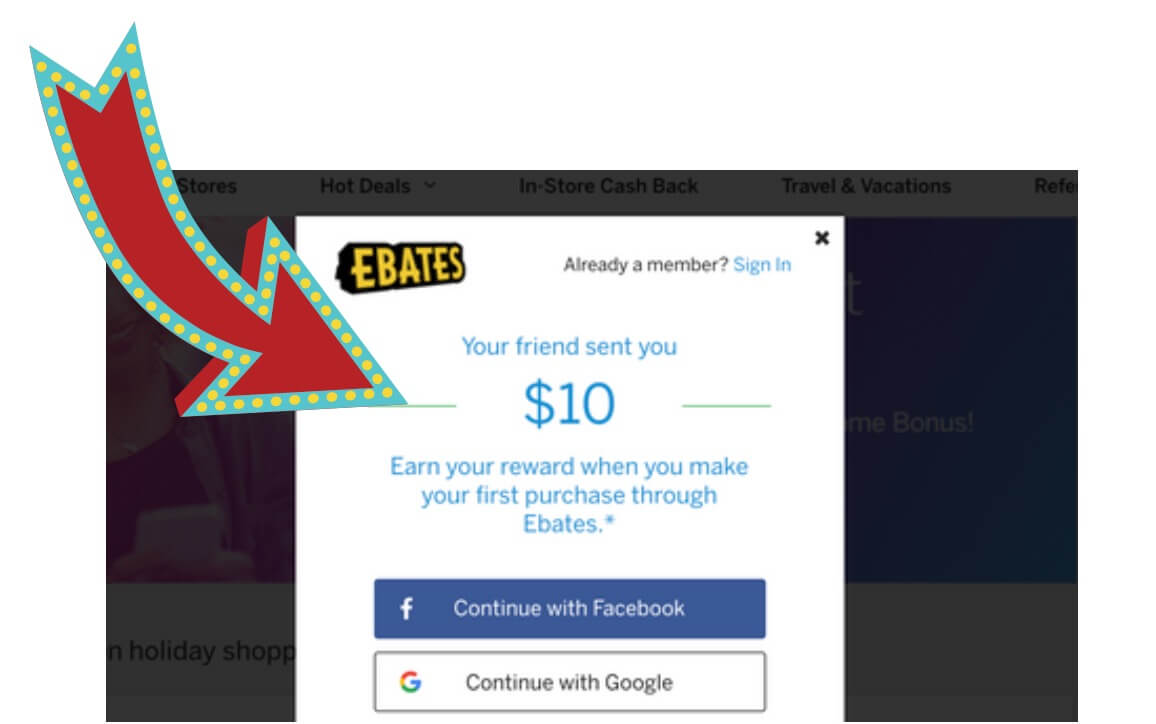 Ok, that was the small "tapas" version of our Ebates review. But if you're still hungry for more Ebates knowledge and want to make the most money possible with Ebates… then tuck a napkin into your collar and adjust your belt down a notch because we're about to serve you up the whole enchilada of this Ebates review.
What is Ebates?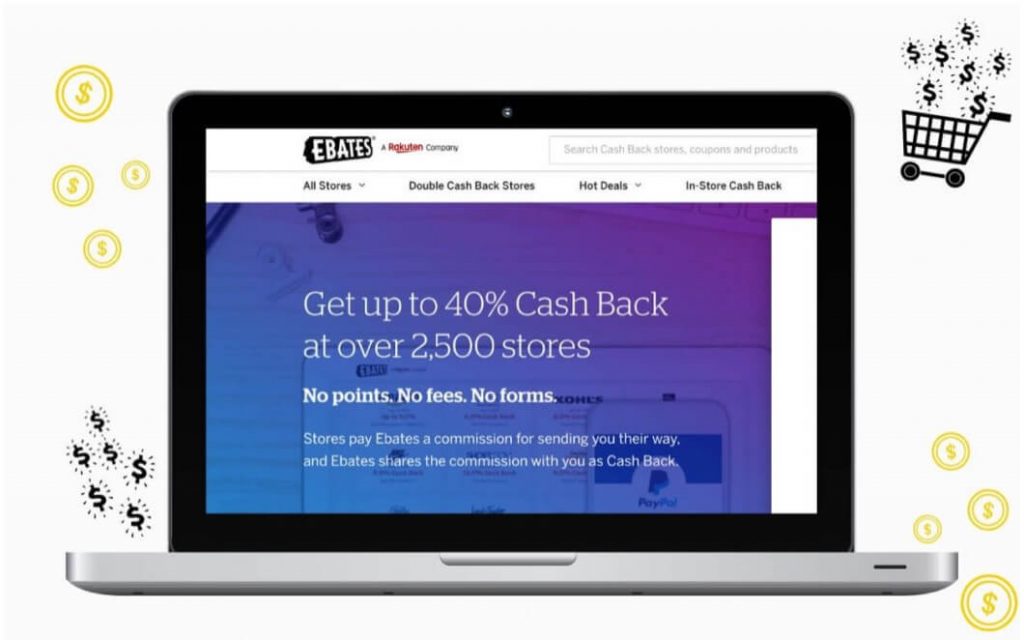 Ebates is an online shopping tool that gets you up to 40% cash back at over 2,500 retailors (online & in-store). DO you shop at one of these places?
Amazon
Ebay
Macy's
Sephora
Kohls
Walmart
And so many more!
Then you're missing out on free money if you're not using Ebates!
How Does Ebates Work?
I'm sure you've heard of a rebate before… Mail in your receipt, wait 3 weeks, get a $10 check in the mail.
Well Ebates makes rebates easy… Easy rebates… Ebates. Get it? So how easy it is Ebates? Extremely easy. All you have to do is head to Ebates.com before loading up your digital shopping cart.
Search the store you're about to purchase from (e.g. Sephora)
Hit the Big "Shop Now" Button
Get PAID!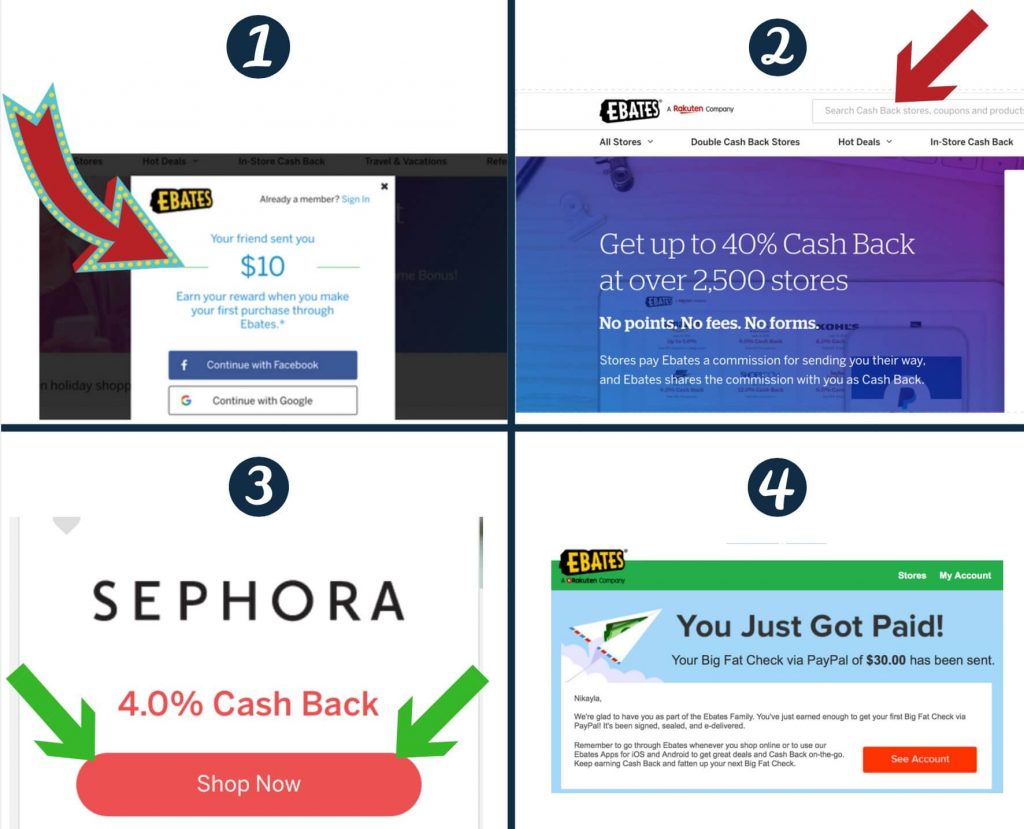 It's incredibly simple and, for all intents and purposes, it's free money!
How Do You Get Paid on Ebates
Two options are readily available for redeeming that sweet free money:
Get a check sent straight to your house.
Get a "Big Fat Check" directly deposited into your PayPal account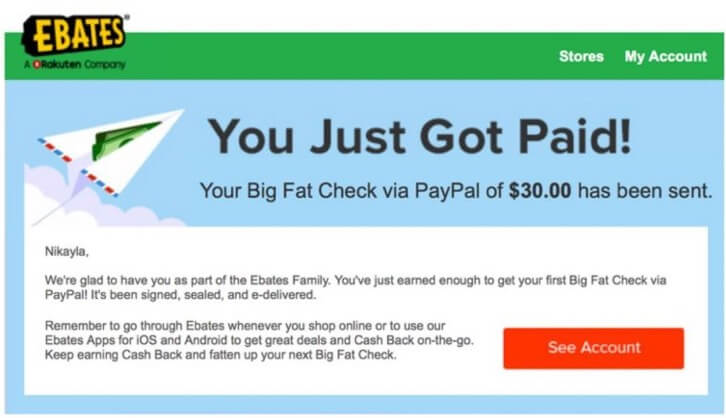 No fees, no forms…. Just free money.
Make Even More Money on Ebates with These Tips
1. Get the Ebates Button and Never Miss Out on a Free Money Opportunity (Our Most Important Tip)
You already know you have to go to Ebates.com before loading up your online shopping cart to receive cash back on your purchase.
Herein lies the problem: What if you forget to visit Ebates before loading up your cart?
Well… You miss out on free money, that's what! You don't want that, I don't want that, Ebates doesn't want that. Nobody wants you missing out on a free gift card to Starbucks.
How to remedy this? Download Ebates' handy-dandy reminder button for your browser. That way, when you're checking out at Khols.com, the Ebates button will say,
"Don't check out yet! Get 7% cash back on this order when you click here!"

You need this button. Sign up for Ebates here (+ get a free $10), then immediately download that Ebates Button.That way, in 2 weeks from now when you're checking out at Amazon, you'll get a pleasant notification from the Ebates button that says, 'Click Here and Get Free Money'!
Ahh, now there's no pressure to remember to use Ebates. That means your next Caramel Macchiato from Starbucks is as good as free.
Get the Ebates button. Right after you sign up for Ebates here, IMMEDIATELY DOWNLOAD THAT BUTTON!
2. Every Coupon Known to Man At Your Fingertips.
There's no need to search "Macy's coupon codes" and click those super sketchy links in hopes of saving a little cash… Instead, let Ebates gather your coupons for you for your cheap living pleasure! Click on "Hot Deals", and you'll find every coupon code, free gift offer, discount, and free shipping code at your disposal!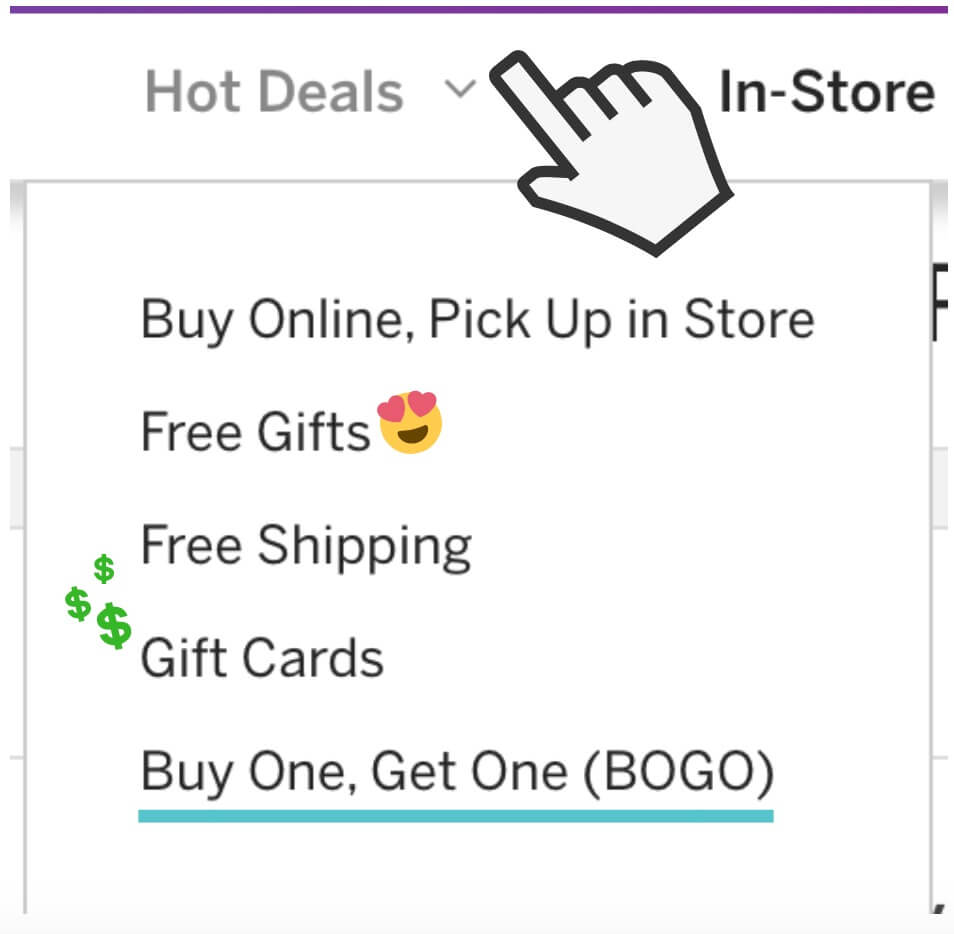 For instance: as I'm writing this, Macy's currently has an 8% double cash back offer PLUS a 30% off coupon code! Yes, please!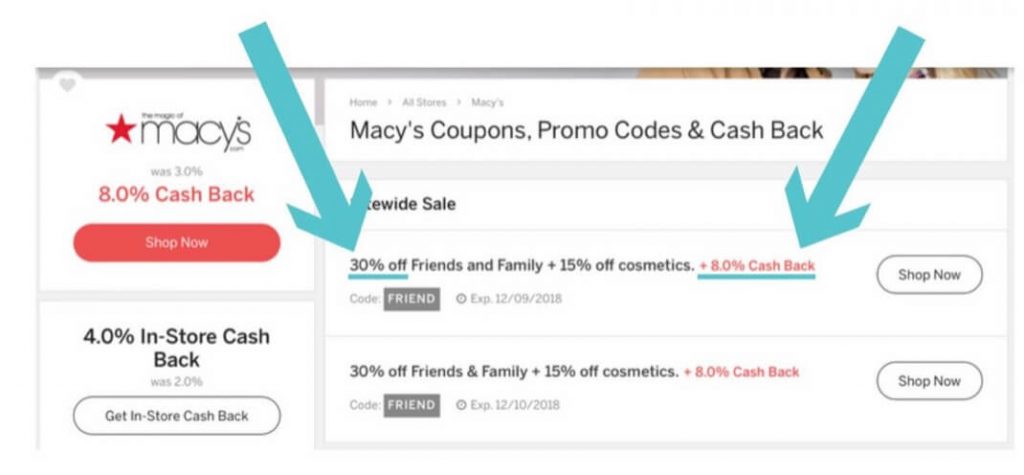 3. Coupons and Cash Back On the Go: Download the Ebates App
The Ebates app is another easy way to save money on your everyday purchases. The app is filled with in-store coupons, a price comparison scanner, and a convenient button that allows you to quickly see how much $$ you've got coming your way in your next "Big fat check"! If you're a frugal living lover, you need this app!
4. Get DOUBLE Cash Back
To add just a little more incentive for shopping with Ebates, they also have a running list of double cash back stores for your choosing. Check to see if your favorite retailer is on there before you make your next purchase!
5. Grab A Free $10 Gift Card For Signing Up Today
Make sure you get your bonus $10 when you sign up for Ebates here. This is exactly what it will look like: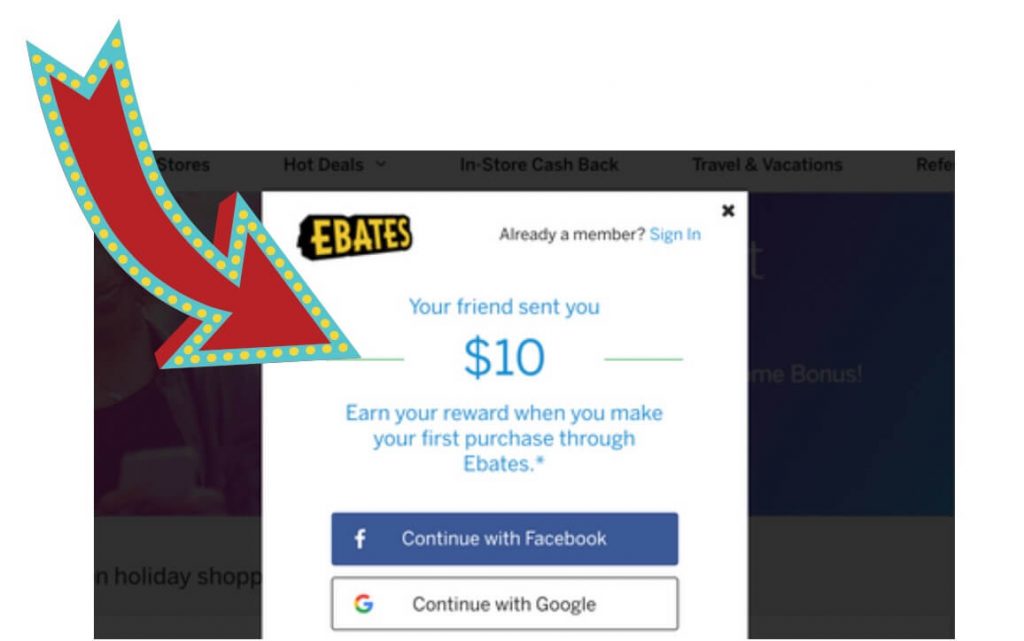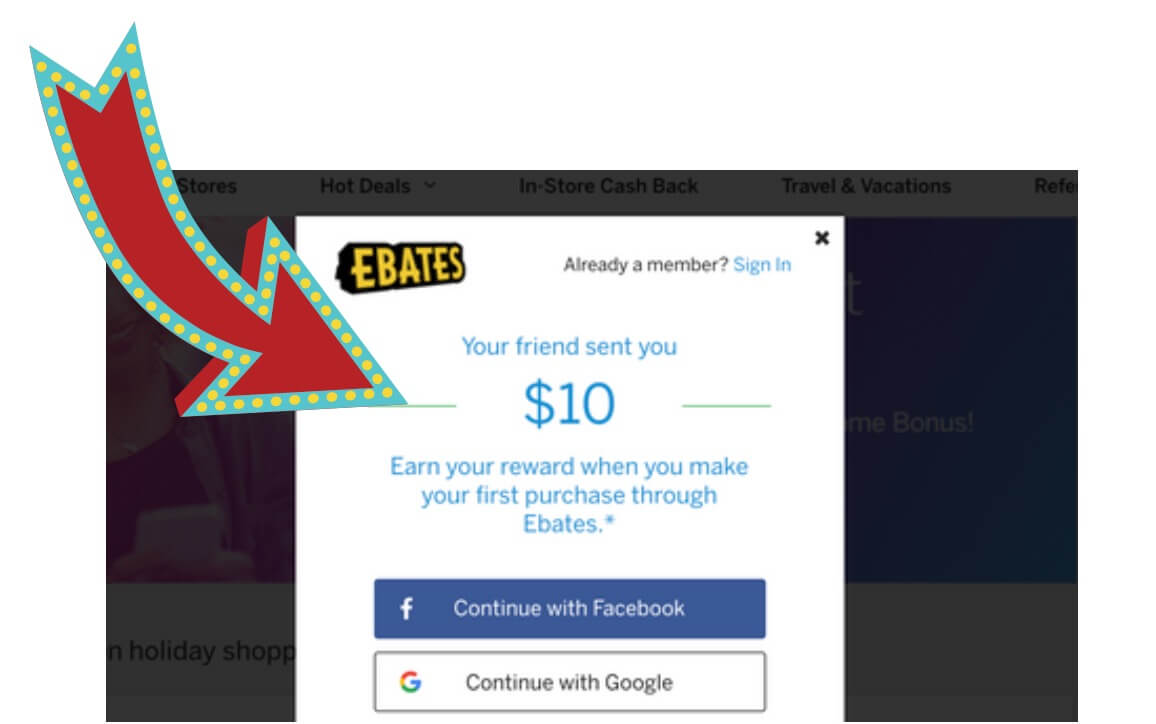 Ebates FAQ
1. Is Ebates worth it?
Yes, 100% Ebates is worth it. A free account that pays you to do the online shopping you were going to do anyways…. You have nothing to lose and tons of free shopping sprees to gain!
2. Is Ebates Safe?
Yes, Ebates is very safe! No personal information is needed. Just create an account with your email address, set a password, and to start raking in the free money.
Is Ebates a Scam?
No. Ebates is not a scam.

I think this money I've personally made through Ebates speaks for itself.
3. Is Ebates Free?
Absolutely! You'll be getting cash back deals, coupons, discounts, and free shipping offers free of charge!
4. Can You Use Ebates After A Purchase?
Unfortunately, no. You must head to Ebates first and click the big "Shop Now" button if you want to make money from a shopping trip. Better yet, get the Ebates button so that you never miss out on a cash back opportunity. Get that button the second after you sign up for Ebates.
5. What stores are on Ebates?
2,500+ stores have teamed up with Ebates to save you money! Here is a list of our favorite stores: Amazon, Macy's, Walmart, Ebay, Kohl's, Barnes and Noble, Bath and Body Works, Calvin Klein, Best Buy, QVC, and over 2,500 more!
6. Can I use Ebates for in-store purchases?
Yes! Ebates has a variety of in-store cash back offers.
7. How does Ebates make money?
Stores pay Ebates a "commission" for sending their members to shop at their stores. Ebates simply shares that commission with you!
8. Any good Ebates alternatives?
Tons! But here are our current favorites:
Dosh App– Earn free cash back on autopilot when you connect your debit or credit card (and get a $1 bonus just for trying it out). Every time you spend money on your connected card, Dosh loads up your account with free cash automatically! You can find out all the deets on the Dosh app in our full Dosh App Review.
Ibotta App– This free app is our favorite way to get cash back on groceries (plus they PAY YOU $20 just to try it out)! Find out how Ibotta can save you money on every grocery trip in our "Is Ibotta Legit" review post.
Related Post: Ibotta vs Ebates – Which is best for you and your wallet?
9. Do you have to buy weird stuff to get paid?
Nope. Do your normal, day-to-day online shopping and Ebates will pay you for it.
Our Final Ebates Review
Ebates is a legit way to earn tons of cash for shopping online.
If you want to get paid to shop and like having coupon codes and discounts right at your fingertips, then Ebates is the easiest (and safest) way to do it.
Start making money from every shopping trip with Ebates today!
How?
Get the Ebates Button
Shop like normal
Get paid!

Alright, that is our final Ebates Review!
Follow us on Pinterest for more money saving and money making tips!
Want to save this article for later (so you can utilize all those Ebates money making tips?) Pin it here!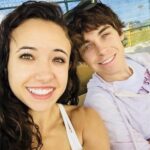 A budgeting fanatic and a frugal living lover! We want to share our budgeting techniques because of how much they have improved every aspect of our life! We teach the ultimate way to budget so you can save tons of money, eliminate debt fast, and achieve guilt-free spending!
Summary
Reviewer
Review Date
Reviewed Item
Author Rating