Cheap Cell Phone Plans: How To Get Over 20 Gigs For Only $75!
This post may contain affiliate links. Please read our
disclosure
for more info.
If you want generous amounts of data, cell phone companies (especially the good ones) charge just about as much as they can get away with.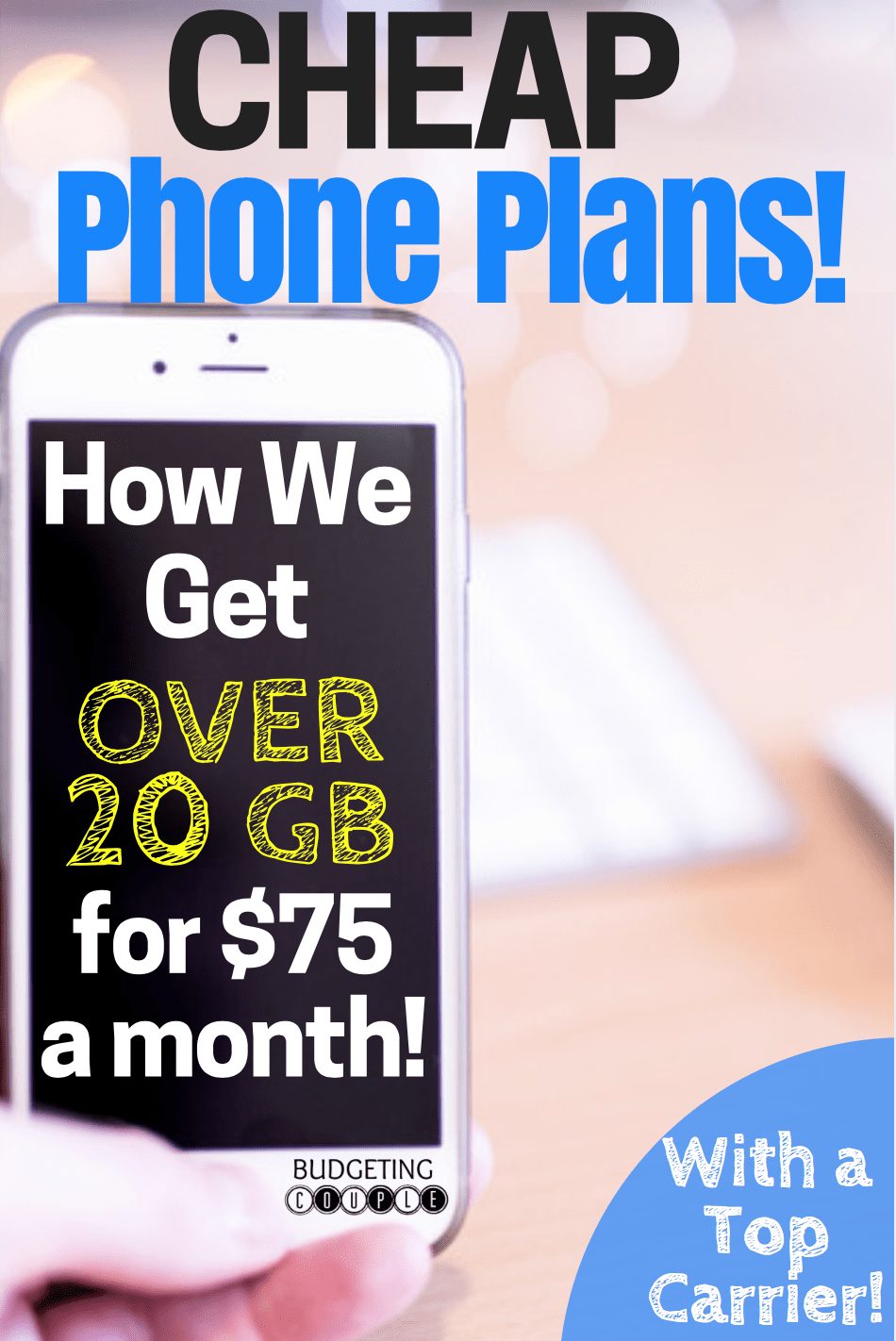 For us, getting a new cell phone plan was all about getting as much data for the best price available.
If money were no object, we would automatically think to go with the typical unlimited data plan.
It would be amazing to watch non-stop YouTube videos and endlessly scroll through Pinterest and Instagram without a care in the world about our data usage.
Sadly, it appeared that getting that amount of data would come with a steep price tag. It looked like we could only afford their minimum data plan!
Related Posts:
What A "Regular" Cell Phone Plan Would Have Gotten Us
When we were shopping for a new phone plan, we were forced to go with a high-quality carrier (we lived in a rural town with poor service).
We decided on AT&T, but the amount of data we were able to afford was insignificant.
Paying for great service meant we could only afford 3GBs of data to SHARE between the two of us with AT&T's Mobile Share Advantage Plan.
I knew I would have to cut back my data usage significantly to make 1.5 GBs of data last me an entire month!
And with this scrawny amount of data, you would think we would get a deal of a lifetime, but it was still going to cost us $80 a month!!
We were floored!
After hearing this high price tag, we decided to do a little research of our own.
The Ultimate Cheap Cell Phone Plan With a Top Carrier!!
Luckily, we happened to stumble upon AT&T's Prepaid plan, and were amazed at everything it had to offer!
AT&T's Prepaid Plan not only comes with unlimited talk and text, but it also includes 6GB of data per month for EACH of us.
We were beyond excited to have 12GB of data for only $90 dollars a month! That's a $10 price increase for 4X more data!
But it keeps getting better! AT&T's Prepaid Plan data actually rolls over!
We regularly have over 20GB of data EVERY SINGLE MONTH!!
Check out our screenshots!!

This past month, I had 9.1GB of data to use and Evan had 11.4GB!!
Combined, we had a total 20.5GB of data! That is almost 7X the data (3GB –> 20.5GB) we were originally going to have for only $10 more dollars ($80 –> $90)!!
But it STILL keeps getting better!
What We Had To Do To Get Seven Times the Data for only $75 A Month
AT&T's prepaid plan originally costs $45 a month per line, bringing our total to $90 a month.
Fortunately, this plan has two fantastic money-saving opportunities:
The "Multi-Line" Discount
AT&T's Prepaid Plan has a multi-line discount! Every phone line added onto the "account owners" bill saves an additional $5.00 per line!
We added 1 extra line (2 lines total) so we save $5.00 every month bringing our total from $90 a month to $85 a month
If you're a family of 4 (so 3 extra lines) you will receive a $15 savings every month!
When you turn on Auto-Pay, you receive an Auto-Pay Discount! This amazing discount brought our total monthly phone bill down from $85 a month to $75 dollars a month!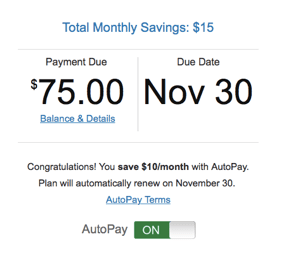 So there you have it, instead of paying $80 a month for 3GB, we pay $75 dollars for 20GB!
Alright, What's the Catch?
There is one small catch:
AT&T is willing to provide these awesome discounts because you lose one "privilege". When you choose AT&T's Prepaid Plan, you are no longer able to finance your phone through AT&T.
What this means is, you can't get the new iPhone X for $33.34 a month. Instead, if you wanted the new iPhone you would have to pay the full price of $999.99 up front!
So if you want 20GBs of data for $75 per month, you need to buy your cell phones cash!
Paying for a phone in cash may seem outrageous, but it's actually quite easy if you have a budget in place.
Think about it–you need a new cell phone every other year. A $1,000 dollar phone only costs you $42 per month! You can afford that! Especially when you'll be saving so much on your monthly phone bill!
There is no reason to be in debt to a cell phone carrier when you can own your phone for less than your spending right now. (Plus, when you own your phone, you can make some money selling your used phones online!)
Alright, that's it for this one! I hope you enjoyed this article and can now switch to a better phone plan with WAY more data (and maybe soon buy a brand new phone too) so you can pin on Pinterest and stream YouTube videos to your hearts desire!
If you enjoyed this article on finding awesome cheap cell phone plans or have any questions, please leave them in the comments below. 🙂
P.S. Have you followed us on Pinterest? We are Pinterest up-and-comers and don't want you to miss out on more FREE content! Follow us here!
This website contains affiliate links, which means that if you click on a product link, we may receive a commission in return. Budgeting Couple LLC is a participant in the Amazon Services LLC Associates Program, an affiliate advertising program designed to provide a means for sites to earn advertising fees by advertising and linking to amazon.com