How to Live Cheap: 32 (easy) Cheap Living Tips
This post may contain affiliate links. Please read our
disclosure
for more info.
Living frugally doesn't mean depriving yourself.
There are many ways to save while enjoying life and having fun.
But how can you live cheap and still do the things you love?
Hint: it's not all about clipping coupons.
Living cheaply doesn't mean eating rice and beans and washing your Ziploc® bags.
There are many different ways to save on anything from groceries to razors and even video games.
And just because you pay less doesn't mean you get less.
Often, you can continue buying the same products.
Here's how to live on the cheap and save on what you're already planning to buy anyway.
Services That Help You Live Cheap
1. Ibotta (+ $20 Welcome Bonus)
One of the easiest ways to save money is by using a cash-back app such as Ibotta.
First, go grab yourself $20 just for signing up (we'll wait).
Next, download the app and look at the list of stores where it offers rebates.
You will find many grocery stores and big box stores such as Walmart, Target, Costco, and Sam's Club.
Before each shopping trip, browse the list of rebates and add any that match up with what you plan to buy for that day.
Many of the rebates are for brand-name items but there are some that allow you to save in a general category such as bread, pasta, milk, eggs, etc.
Some of the rebates may require you to watch a quick video before you can add them.
Go shopping as usual, matching your purchases with the brand and size on your Ibotta list.
When you get home, just scan your receipt and free money will immediately hit your account.
Here's your $20 bonus for trying it out
Want to hear even more ways Ibotta can save you money? Check out our Ibotta explainer video, here!

Here's a detailed review of Ibotta with tips and tricks for using the app

2. Dosh ($1 Welcome Bonus)
If you are looking for a mindless way to save money, check out Dosh.
It's an app that gives you cash back when you make purchases with your credit and debit cards.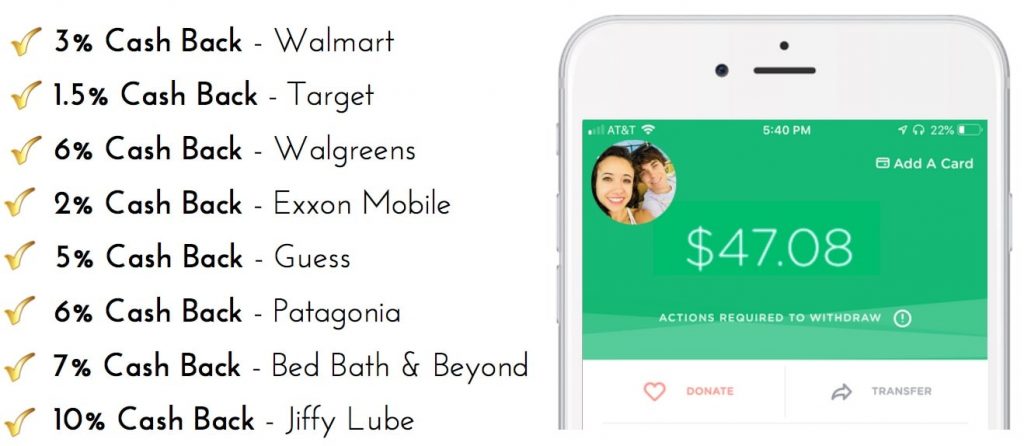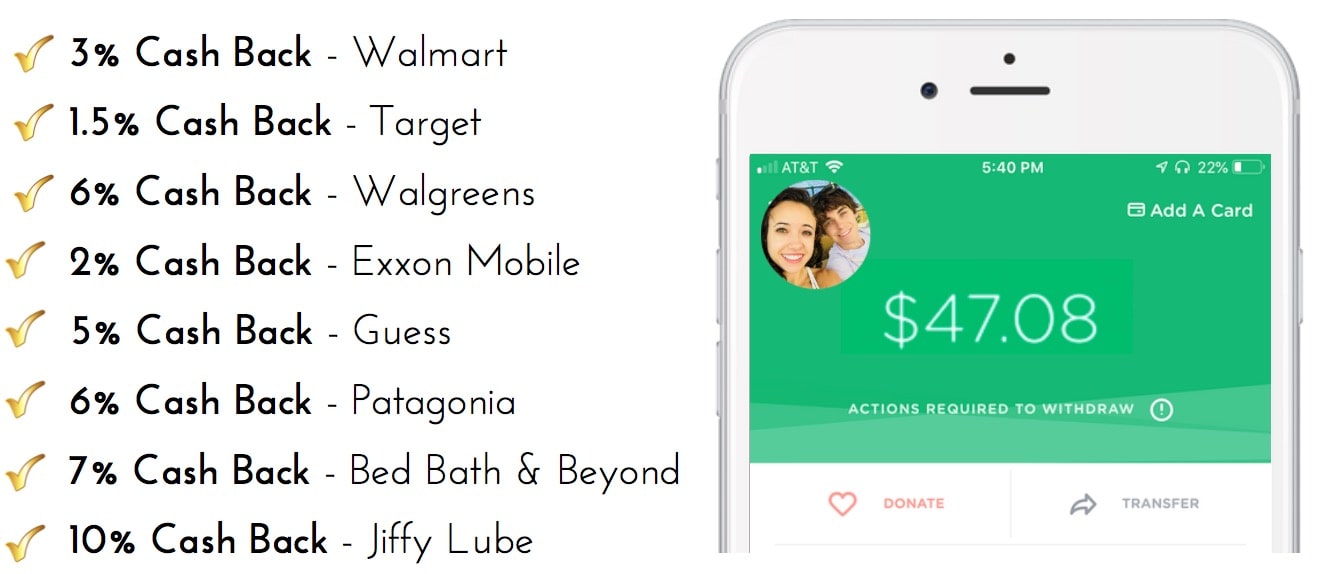 Use the app to find retailers in your area where you can get cash back.
This can include anything from the corner Exxon gas station to restaurants or big box store such as Walmart or Target.
Simply like your debit or credit card to the app (you'll get a $1 welcome bonus the second you do this), and you'll start making free money with the Dosh app.
That means when you go shopping, you'll get cash back from both your rewards credit card + automatic cash back from the Dosh app.
Download the free Dosh App here to start earning money on autopilot.


Here's an in-depth review of Dosh so you can see how it works
3. Collect Free Money From Your Credit Card
Do you have credit card? How much cash back do you earn? 1%?
You could be getting double that (or more).
As long as you're responsible with your credit card payments (ie. pay your bill in full), you could be collecting free money on every purchase.
Unlike cash back apps and websites, credit cards will not make you jump through hoops to earn your bonuses.
Instead, reward credit cards *automatically* rack up free cash for you month after month!
Head over to Credit Land, and find out how much free money you could be making with the "Best Reward Credit Cards of 2020" (we use and LOVE #7)
4. Rakuten ($10 Welcome Bonus)
Rakuten is a cash-back machine. Here's how it works:
Rakuten sends you to an online retailer (like Amazon).
When you buy from Amazon, Rakuten gets paid, and they share some of that money with you.
Check out the Raukten screen shot below (formerly known as Ebates).
You can see that Rakuten is offering 5% cash back at Amazon.
When you click on that Amazon link, you will be taken to the Amazon home page.
Do your shopping like normal, and when you check out, Rakuten can reward you with up to 5% cash back.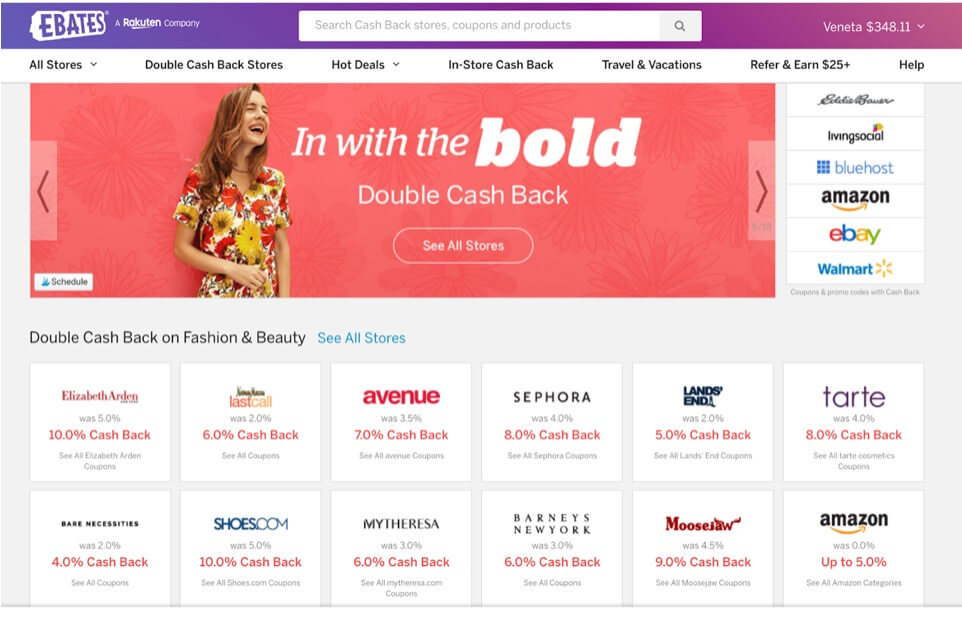 The cash back you earn from shopping online is then sent by check to your mailbox every 3 months.
It's cold hard cash.
You can also see from the screen shot that I am currently expecting a $348.11 check in the mail.
That is all free money from shopping online.
What's more, you get an additional $10 welcome bonus after your first cash-back purchase.
Start making serious money while shopping online.
Open a free account (here's your free $10 bonus) and search for the stores where you want to shop.
Create your free Rakuten account right here
Free Workshop – Join our free Simplify Money Workshop
The *only* way to save money is to spend less than you earn. That means you need to decrease your expenses or increase your income.
We want to help you do both.
Join our FREE Simplify Money Workshop to learn the fundamentals of growing wealth. Because when you can spend less than you earn, your money has no choice but to grow. You will build your savings and pay down debt.
What's more? We've got a bunch of free money-hacks to share with you:
Hacks to lower your monthly bills
Hacks to spend less on debt
Hacks to start investing
Hacks to increase your income by $20/month (with no extra effort)
This workshop has everything you need to accomplish the cardinal rule of personal finance: keep your income over your expenses.
Join our free 5-day Simplify Money Workshop, and start growing your wealth today.
5. CoinOut
If you're looking for a simple app that rewards you for shopping, check out CoinOut (as seen on Shark Tank!)
You will get a random reward for every receipt you upload.
In addition, you can earn cashback by shopping through CoinOut at online merchants and signing up to CoinOut partners.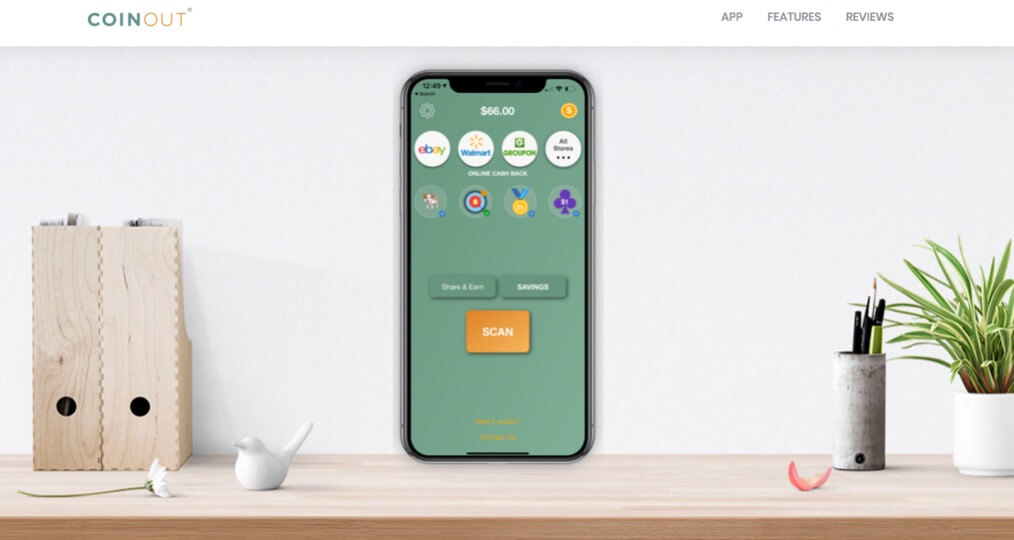 Start your purchase from the CoinOut app by clicking on the merchant logo.
You will get CoinOut cash back automatically after completing the purchase.
Use the app to find all of your transactions from in-store to online cash back so you can see all bonuses and watch your balance grow.
Click here to download the free CoinOut App!
6. Trim: Cancel unused subscriptions
The Trim App is another app that helps you automate your savings.
The app analyzes your accounts to find recurring subscriptions and determine where you can save more.
It can cancel subscriptions on your behalf, negotiate your Comcast bill, find you better car insurance, and more.
Please note that Trim takes their payment immediately.
For example, if Trim saves you $10/month, they will request their 33% fee ($40) right away. But you keep 100% of the savings after that.
You can also use the app to set your savings on autopilot.
Trim's Simple Savings gives you the option to set weekly automated transfers into a high-yield savings account.
It can also help you get out of debt by creating a payoff plan tailored to your needs.
Click here to try Trim and start saving today
7. CIT Bank – Grow Your Savings Faster
You need to start growing your emergency fund or else it will get absorbed on things that are not financially productive.
Start making progress on your emergency fund by growing your savings as fast as possible with a high interest yielding savings account.
Earn Higher Interest Rates With CIT Savings Builder
People who put their money in the CIT Savings Builder earn +10X more interest than the average savings account.
For reference, the national average APY is 0.08%.
The current CIT Savings Builder APY can be found on the live banner below.
You can earn CIT's Savings Builder APY with an opening deposit of $100 and automatically depositing $100 a month into your CIT Savings Builder account.
I would say that is a pretty sweet deal.
Trust me, without having goals for your money, it will get squandered somewhere, somehow.
You need to save just $100/month to build your emergency fund to earn game-changing interest.
The CIT Savings Builder is a great opportunity to build your emergency fund faster than ever.
Grow your emergency fund fast using a high APY savings account like the CIT Savings Builder.
Bank your savings and use it to build your emergency fund or save for retirement.
8. The Upside of this Free App is Free Money
Had enough of high gas prices? Do something about it with a free app that pays you cash back when you fill your tank at the pump.
Upside, formerly GetUpside, is a cash-back app that focuses on local businesses. You will start earning rewards with just a few taps at gas stations, grocery stores, and restaurants.
Download the free Upside app, sign up, look for offers around you. When you see something you like, claim it. Visit the establishment to purchase your gas, food, or meals with your linked debit or credit card. When done, just check in on the app.
Upside started as a cash-back app for gas and has been adding grocery stores and restaurants. The app works at 45,000 locations across the United States.
Choose how to get paid: PayPal, bank account, or gift card. Start earning cash back at nearby stores when you install the Upside app. Use the promo code AFF20 to grab a 20 cents-per-gallon sign-up bonus. Best of all, Upside is a free app. Get some free cash-back today.
9. Cushion App (refunds on bank fees)
How would you like to get a refund on those pesky bank fees without having to call customer service?
The Cushion app does just that, looking through you statements for bank fees and haggles on your behalf to get them refunded.
If Cushion is successful at waiving your fees, it keeps 25 percent of the refunded amount.
The app will ask your permission first before trying to negotiate any fees. You will get a summary of your refund within 24 hours.
Worried about security? Don't be.
Cushion uses the highest security standards to protect your data, including 256-bit SSL encryption.
10. Buy used electronics (Gazelle)
Electronics are a big ticket item that can add up.
Going used is one way to save money and still get that iPhone you wanted.
Gazelle is a website that buys and sells used smartphones and other devices, helping you save.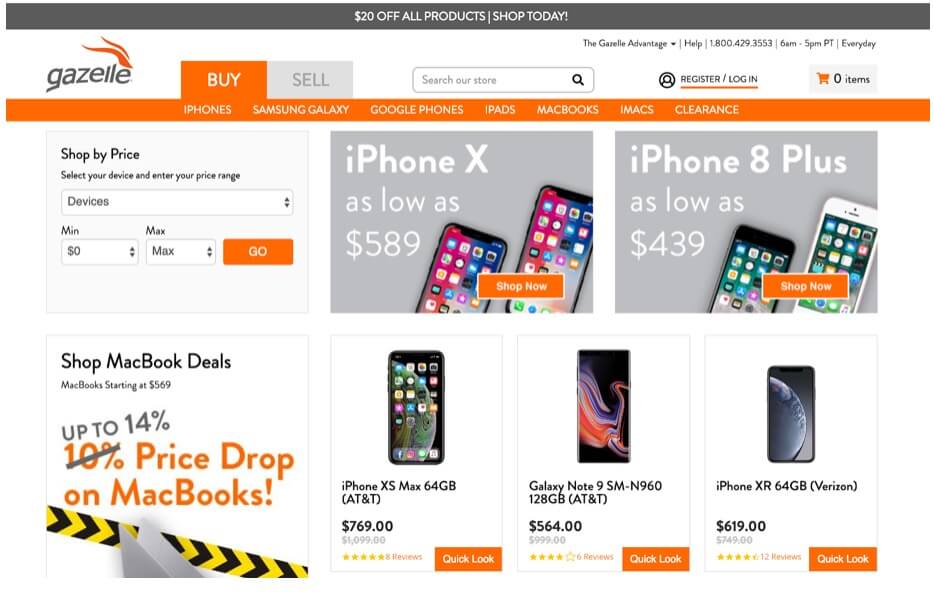 Trade-in your used devices for cash and buy certified pre-owned electronics.
You can find anything from a Galaxy Note 9 to a 15" MacBook Pro for a fraction of the price you'd pay at a big box retailer.
Try Gazelle today and start saving
11. GameFly: Cheap Video Games
Big gamers know costs for games can add up.
Instead of spending all your hard-earned cash, try a services such as GameFly.
GameFly offers over 9,000 video game titles for most major gaming systems including Nintendo Switch, Wii U, GameCube, Playstation 4, and many more.
Get all the popular new releases and older classic games that are difficult to find.
After selecting the title through the online catalog, you'll receive it in the mail and return it at your convenience using a prepaid mailer.
Subscriptions start at $15.95 per month.
Bonus tip: Still have your PlayStation 4, XBox 360, or Wii? Buy the old games you didn't get around to playing. Most are less than $10 and you can find many of your old favorites to enjoy on your gaming console.

12. Check Your Local Library
Another great way to save money is by using your library membership.
Libraries are not just for books. Many offer movies, TV shows, and audio books.
Some libraries also check out local attraction passes to members for free.
Most libraries offer free Wi-Fi, which can be useful if you're looking to get out of the house to work but don't want to spend money at a coffee shop.
Check out the website for your local library or talk to a librarian to get more information on available perks.
Quick Tip: The average family spends over $100/year on toilet paper. Why waste this money when there is solution thats cheaper, benefits the environment, and is significantly more sanitary.

Use a Bidet. Europeans use them. It's time for us to get on board. Here's a couple of options on Amazon right now:

– Handheld Bidet– This one is the #1 Best Seller on Amazon
– Easy-Install Bidet– This is more like a typical bidet you attach to your toilet seat. It has over 1,700 4.5 Star Reviews!
Save On Food
For most people, food is usually one of the top three expenses.
The average household spends more than $7,700 on food according to the Bureau of Labor Statistics [source].
While the other two large expenses – housing and transportation – are a little harder to tackle, you can easily make the changes below and save on your food bill.
Living cheaply doesn't mean giving up your favorite foods or brands.
These money saving tips will help put money back in your pocket with little effort on your part.
Save on Groceries
The price of groceries such as eggs and milk continues to climb while your salary doesn't keep pace.
How can you feed your family well on the cheap and live well?
Here are some ideas to help you save money on what you already buy.
1. $5 Meal Plan
Are you struggling with what to eat and what to cook each week?
For just $5, you can get a fresh meal plan delivered to your inbox.
It will have everything you need, including recipes, for every meal each week.
Many people know they should create a meal plan but find it time-consuming and boring.
Going with a service such as $5 Meal Plan, you take the guesswork of what's for dinner each night – and breakfast and lunch.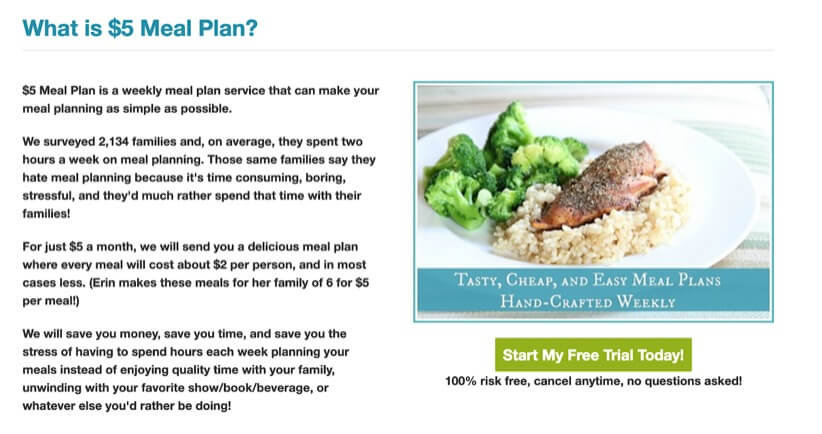 Most meals will cost you $2 per person or less, saving you money while reducing your stress.
The recipes are easy to follow, and you will also get a shopping list to help you organize your grocery trip.
Ready to try it? Here's a free two-week trial

2. Vitacost
Vitacost is an online marketplace that sells natural and organic products for less.
Besides discount vitamins and supplements, you can also buy healthy foods for a fraction of the price you'd pay at your local store.
In addition, Vitacost often runs sales and sends out coupons to email subscribers so join their mailing list.
You can find discounts on foods from big brands such as Pacific Foods and Yogi. Save on everything from nut butter to olive oil and flour.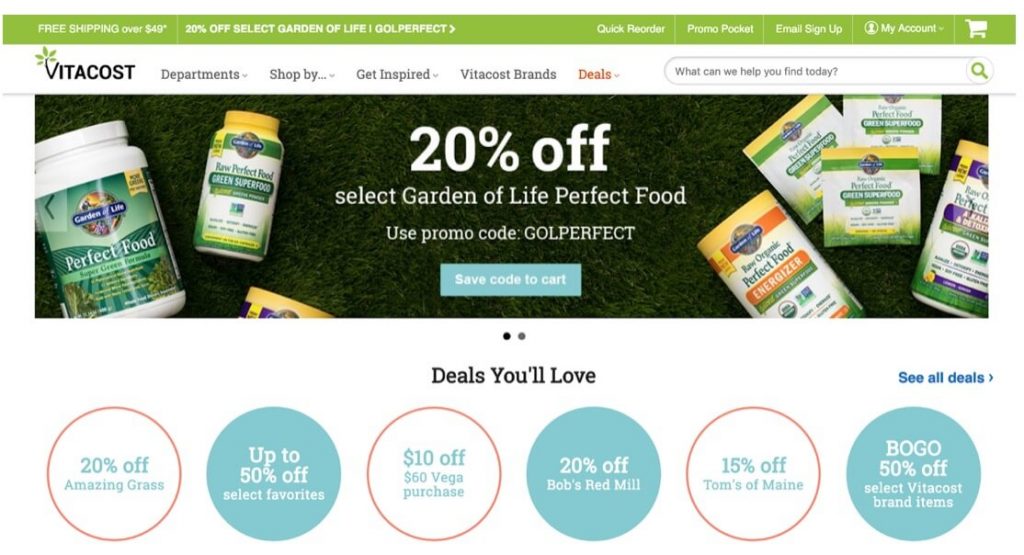 Vitacost also carries their own brand of products that meet some of the same standards for larger brands but for much less.
It's also a great place to find foods for specialty diets such as gluten-free, dairy-free, vegetarian, and so on.
Get all the deals with Vitacost here.
3. Thrive Market
Another great website for buying organic for less is Thrive Market.
Save 25 to 50 percent on the organic brands you love including gluten-free, non-GMO, non-toxic products.
There is a monthly membership but you can try it for free for 30 days.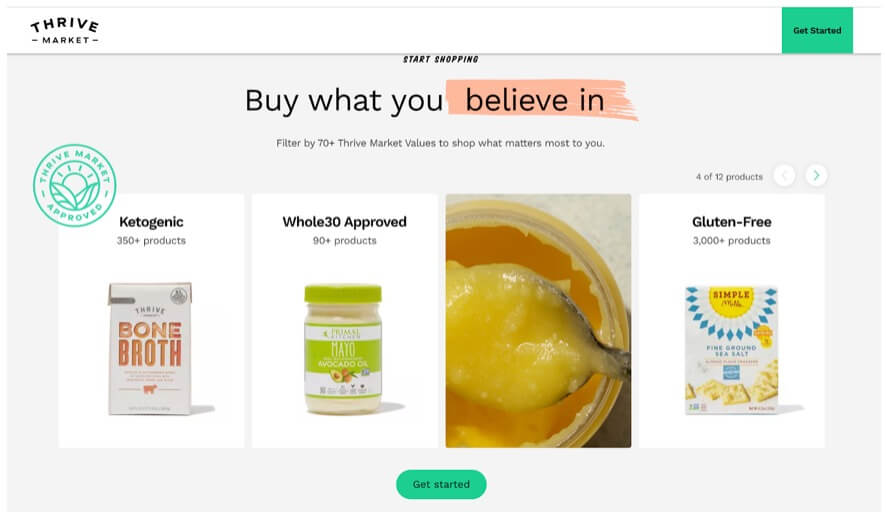 If you decide to get the membership, it's only $60 per year and earns you free gifts and guaranteed savings.
Members enjoy wholesale prices every day.
According to Thrive Market, you can save an average of $30 per order, helping you break even on your membership in two orders.

Get a free 30-day trial to try out Thrive Market today

4. Make a shopping list
You've heard this tip before but it's very important.
If you're not already making a shopping list when going to the store, start today.
It's an easy way to save money and live cheaply without making sacrifices.
Go through your refrigerator and pantry to see if you're out or almost out of any staples.
Add those to your list and everything you need to make breakfast, dinner, and lunch plus snacks for the next few days.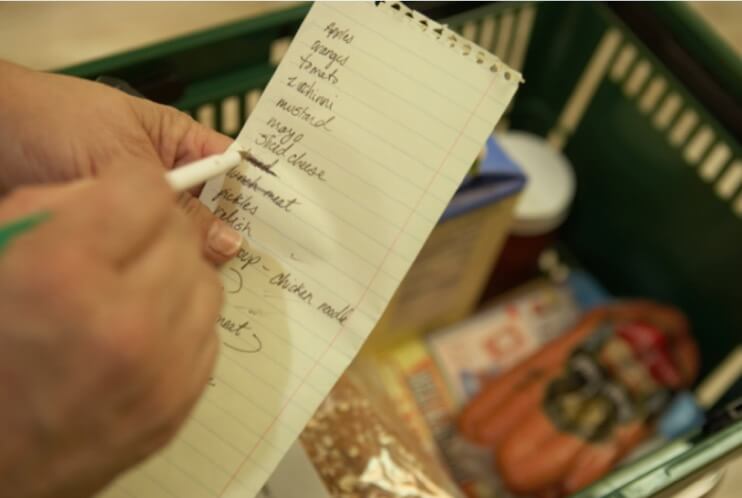 When you go shopping, only buy what's on your list.
This is why it's important to make sure you have everything you need on it. If you left something out, don't buy it.
This will teach you to get better at planning out your trips and helps curb impulse purchases.
5. Don't shop hungry
Here's another common but powerful tip – don't shop hungry.
Even if you think you can resist, your stomach and your brain will conspire against you.
Eat a small snack or go shopping after a meal.
When you're at the grocery store, avoid the samples and keep moving.
Those samples will get you and you won't even know how they ended up in your grocery cart.
6. Drink water
Many times when you think you're hungry you're thirsty.
Don't confuse the two as it can lead to eating unnecessary calories.
Drink plenty of water throughout the day so you're well hydrated.
Still buying bottled water?
Consider switching to tap for an easy way to live cheaply and save money.
Switch to using a water filter instead and carrying around a reusable water bottle – better for your pocket and better for the planet.
7. Frozen over fresh fruits and vegetables
Eating fresh is always best but going with frozen is a close second.
Frozen fruits and vegetables are picked at peak freshness and flash frozen to keep nutrients.
Consider hitting up the frozen aisle if you're shopping for produce out of season.
Frozen fruits and vegetables work well when using them for cooking or in smoothies.
If you're shopping when something is not in season, you'll get more nutrition for less in the frozen food section.
8. Compare the price per ounce
Food companies are tricky, trying to get you to buy less food for more money.
Have you noticed how some of the packages for your favorites have continued to shrink while the prices stay the same?
The easiest way to save is to compare the price per ounce.
If you have two products that are different prices and different sizes, divide the price by the number of ounces.
Now you have an apples-to-apples comparison that will help you decide which one is a better deal.
For a more advanced version, keep a price book for the items you buy most.
This way you can tell if you run across a great sale and you can stock up.
It will also help you compare prices between different stores and different brands.
9. Try grocery-store apps
Most grocery stores have a store app you can download to your phone or tablet.
Use it to find coupons and deals exclusive to that store and keep track of your discounts.
Many will offer exclusive discounts to app users.
You can also add your store reward card on the app.
Most apps let you browse the latest store sales, clip coupons, review special offers, and more.
You may also be able to combine the in-app discounts with third-party coupons for even bigger savings.
For example, if the app has a store coupon for Bounty paper towels and you also have a manufacturer's coupon for the same brand, you may be able to use both.
Make sure you read the fine print.
10. Chew Gum
Here's a cheap and easy way to save money on food: chew gum.
Sometimes when you think you're hungry, chewing gum can help.
This is true between meals when you're likely bored.
Instead of snacks between meals, pop a piece of gum in your mouth.
Check if you're still hungry after 20 or 30 minutes.
Also, make sure you fill up at each meal.
Chances are, you won't be hungry, saving you money on food.
11. Eat at Home
One of the cheapest ways to save money on food is by eating at home.
When you buy already prepared food, you're paying for the convenience of having someone else cook it for you. Instead, cook your own food and reap the savings.
Stumped for where to start?
Here are a couple of ideas to help you eat well for less.
Spend Less Money
Spending less money is easier said than done.
However, there are a few things you can try today that will save you money and make your life easier.
1. Use Napkins
While paper towels are handy to have around the house for cleaning up messes, try using a napkin next time you're eating.
Napkins are much cheaper and are meant for helping clean up food messes.
2. Stop Buying K-Cups
If you have a Keurig, the cost of k-cups adds up.
Instead of giving it up in favor of a drip coffee maker, why not try reusable k-cups?
Yes, they exist and they can save you hundreds.
Use them with your favorite ground coffee to brew the perfect single serving cup of coffee.
Don't forget the k-cup filters, which help keep your coffee sediment-free and improve the taste.
3. Safety Razor
Shaving can get expensive when you have to keep buying new razors every couple of weeks.
Also, all that plastic ends up going to the landfill, which is bad for your wallet and the planet.
Try a safety razor instead, which can last for a long time and it's made of metal.
You can get replacement blades cheap.
The razor will last you for many years so no more worries about dull blades.
4. Floss
Do you only floss twice a year before going to the dentist for a cleaning?
If you ignore your dentist's advice to floss, it's time to pay attention.
Flossing is a cheap way to prevent tooth decay, saving you money and pain down the road.
Also, it can help you fight heart disease.
Several studies have shown that people who have poor oral health have higher rates of cardiovascular problems such as heart attack or stroke compared to people with good oral health [source].
Floss your teeth every day – your heart will thank you.
Grow Your Emergency Fund Faster with Ibotta and Rakuten
If you are using Ibotta, then you already know you are saving money at the grocery store.
Every trip means a little more money in your pocket.
Download Ibotta and start earning free money every tip to the grocery store
Then be sure to use our most lucrative cash-back app: Rakuten (formerly known as Ebates).
Rakuten helps you earn cash back on many of your online purchases (more info on how Rakuten works here).

TL:DR After creating your free Rakuten account, you will receive a check in the mail every 3 months for the money you "earned" (thanks Rakuten) while doing your normal online shopping.
I.e. you don't have to do anything.
Create your free Rakuten account to get a taste of genuine mailbox money.
Then stock those Rakuten and Ibotta savings away in your CIT Savings Builder account to 10X your interest.
Cheap Living Definition
Cheap living means spending less.
When you can live on less than you earn, you will save money and set yourself up for success.
Cheap living will get you there.
Alright, those are the best ways to live cheap but good!
Do you have any favorite tips for cheaply living? Let us know in the comments below!
Save Money At Your Favorite Stores:
Want to save these tips for later? Click here to pin this post!
Be sure to follow us on Pinterest for more money-saving life hacks!
This website contains affiliate links, which means that if you click on a product link, we may receive a commission in return. Budgeting Couple LLC is a participant in the Amazon Services LLC Associates Program, an affiliate advertising program designed to provide a means for sites to earn advertising fees by advertising and linking to amazon.com