Dosh Review: Is the Dosh App Safe or a Scam?
This post may contain affiliate links. Please read our
disclosure
for more info.
"Dosh" is British slang for cash, and cash they do deliver.
Dosh has paid out over $25 million to its 3 million users since its founding in 2016. What's more, their users didn't lift a finger to earn it.
With Dosh, you earn Cash Back automatically: just spend money with your credit or debit card and watch your Dosh Wallet load up with free cash!
… But you have to give up your credit card and banking information. Naturally, you're worried about the safety of your private information. Is the Dosh app safe? How secure is Dosh? What kind of protection do they offer? And how is it possible to earn cash back 'automatically'?—is Dosh a scam?
These are important questions to ask, especially before giving out any information regarding your money. So let's answer them shall we? Let's find out if Dosh is safe and whether or not their 'Cash Back Automatically' claim is legit or just a scam.
Is the Dosh App Safe? What If Dosh Gets Hacked?
Let's step back for a second: Dosh isn't going to get hacked and is 100% safe. Their app is secured with 256-bit bank-level encryption technology which means their app is as safe as it gets. (The U.S military secures their data with this same level of encryption.)
With this level of security, it becomes virtually impossible to hack into their system—even if the hacker had access to the world's fastest computers.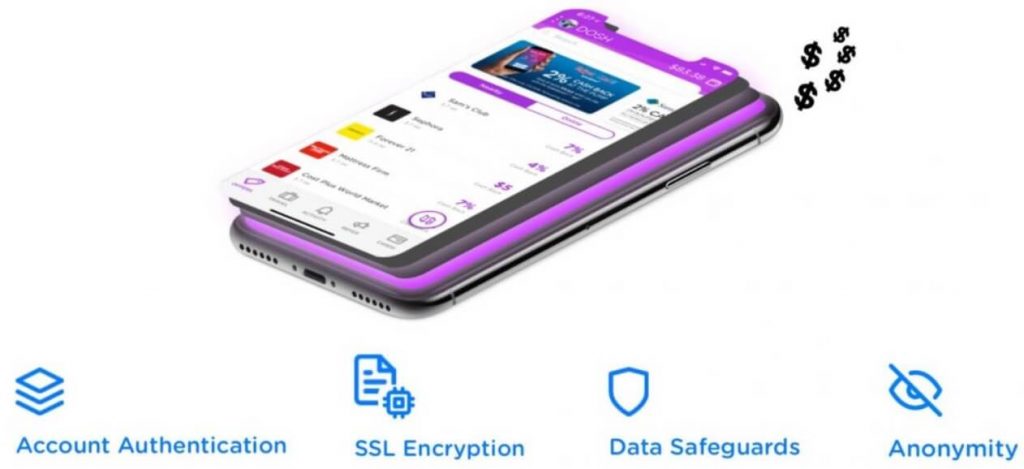 But Let's Just Say Dosh Did Get Hacked… Would The Hacker Get My Information?
If for some reason Dosh did get hacked (which, again, they won't because it's virtually impossible), the hacker still wouldn't get access to your information. Dosh does not store password, credit or debit card data, or bank account information in the app or on their servers.
All of your private information is kept on a full-stack payment platform called Braintree, a PayPal service. And since PayPal is the leader in online commerce and protects all banking and credit card information with industry-leading security and fraud prevention services, you can rest assured in knowing your private information is as safe as it gets.


Knowing How Dosh Works Is The Secret To Making The Most Money
Dosh is a Cash Back app for your phone. Simply download the Dosh App, link your favorite card to the app, and you will earn free money every time you use that card at Dosh-participating businesses and online stores (hundreds of thousands of businesses have partnered with Dosh.)
In effect, the Dosh App gives you free money for doing nothing—literally, nothing. The app sits on your phone untouched—maybe even forgotten—while your money continues to grow automatically. No having to opt-in to offers or scan receipts like other Cash Back Apps. Just link your credit card and you're done.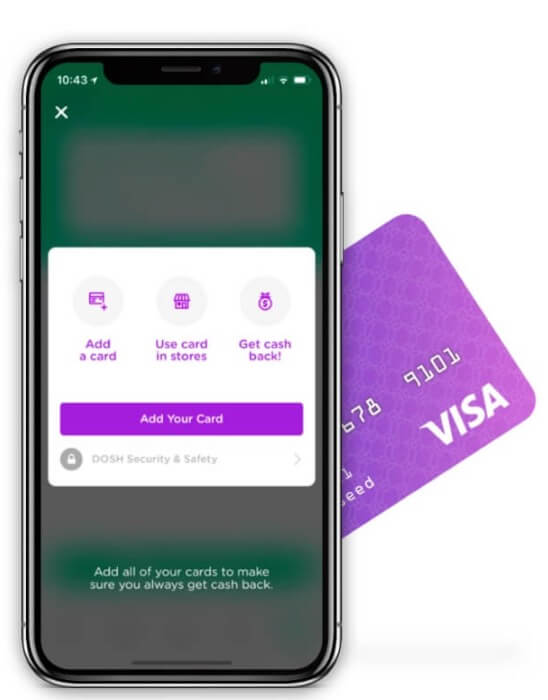 But how? How are you earning free money?
This following information is essential if you want to make money with Dosh: Dosh is a referral app. They give you Cash Back for shopping at specific locations like WalMart, Nike, and Joe's Crab Shack.
For example: if you bought shoes at Nike, Dosh would say to Nike that you bought those shoes to earn cash back with the Dosh app. In return, Nike would pay Dosh money to thank them for the extra business, and Dosh would share that money with you. That's where the money comes from—the store is paying for the program.
The Secret to Making Money With Dosh
Do not let Dosh influence where and how you spend money. Just download the app, and forget about it—pretend like it isn't even there.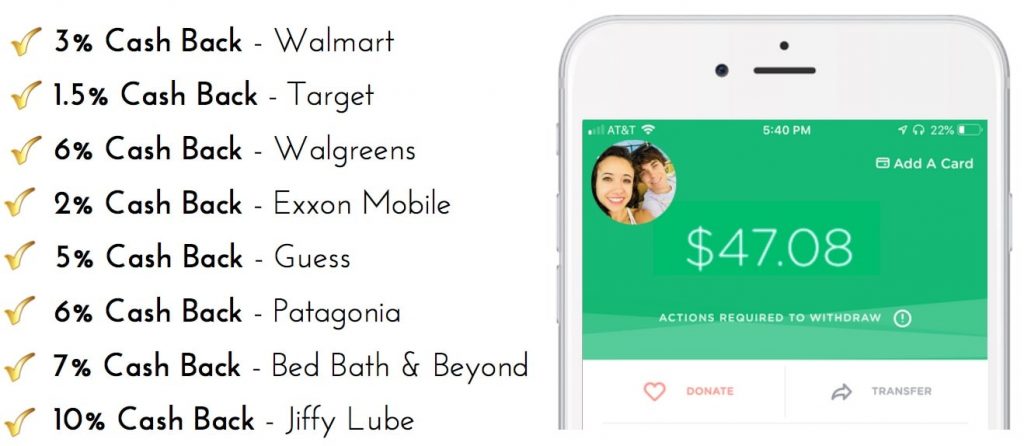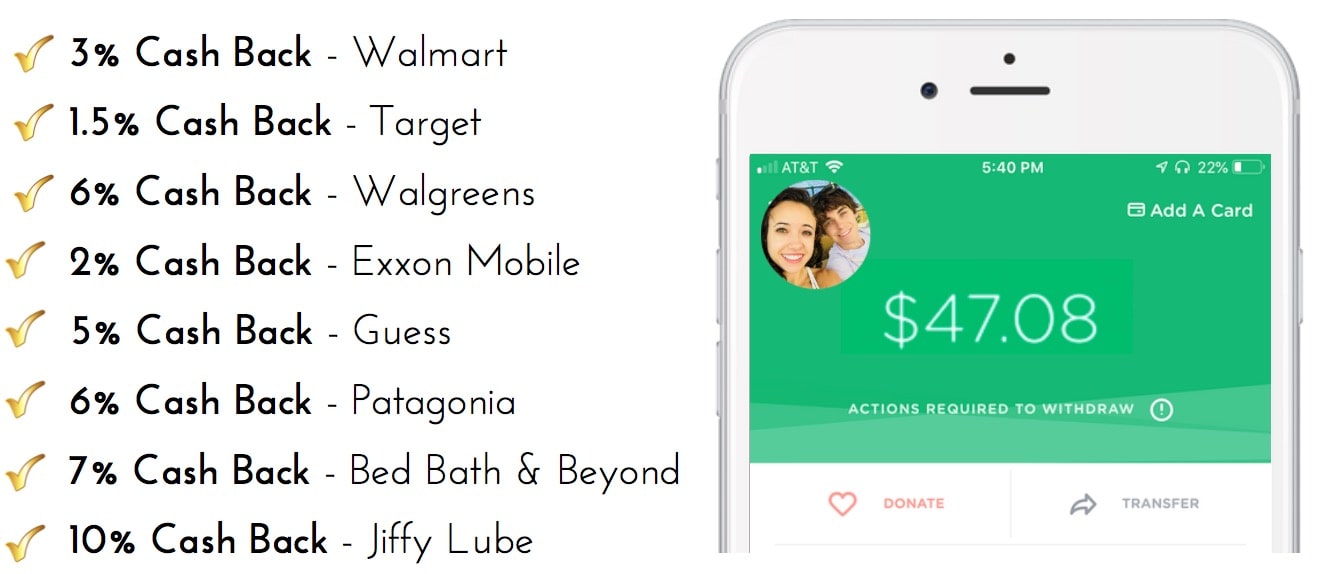 If you spend your money like normal, then everything you earn with Dosh will genuinely be free money. (If the only reason you buy a pair of $120 Nike running shoes is to earn a $5.40 Cash Back with Dosh, then you're not saving money.)
How To Maximize Your Free Cash Back With Dosh
1. Here's $1 for Linking Your First Card
Download the app, and link your credit or debit card. The moment Dosh verifies you have linked a legitimate credit card (should only take a few seconds), $1 will be deposited into your Dosh Wallet automatically. Think of it as a jump-start towards all the free money you're about to earn with the Dosh App.


2. Shop In Store
Dosh has partnered with *thousands* of stores and restaurants to offer you up to 10% Cash Back for shopping with them. Just click the 'Nearby Offers' tab to see a list of all the Cash Back offers in your area. Here's a few places near you:

Walmart – 3% Cash Back
Target – 1.5% Cash Back
Walgreens – 6% Cash Back
Exxon Mobile – 2% Cash Back
Guess – 5% Cash Back
Patagonia – 6% Cash Back
Bed Bath & Beyond – 7% Cash Back
Jiffy Lube – 10% Cash Back
3. Shop Online
After downloading the app, click the 'Online Offer' tab: all available online offers and discounts are located here. Just spend money at these locations like normal, and free Cash Back will automatically go into your Dosh Wallet—no having to remember to make online purchases through a link like other cash back services.
4. Tell your friends about Dosh
If you like Dosh, tell your friends about it. For each person you get to download Dosh, you'll find an extra $5 in your Dosh Wallet!
Should I Get the Dosh App?
Dosh is a customer-centered business. Their mission is use their app to move billions of dollars from mega industries to their millions of users. They want to take brands' advertising/marketing budgets—much of which is wasted—and put that money back into the pockets of their customers. And they do this in such a way to create better connections between the business and consumer. It's a win-win situation. Dosh has already paid out more than $25 million to its users—why not download Dosh and get your share of some free, automatic cash back?
Dosh App Review FAQ
1. What is the conversion rate for Dosh Points to Cash:
Dosh does not use points. When you earn $3.25, they tell you you've earned $3.25—everything you earn is cold, hard cash.
2. Will Dosh sell my information to third parties?
No. Dosh keeps your private information private.
3. How do I redeem my Dosh Wallet money?
You have 3 options: Deposit the money into your bank account, transfer the money to your PayPal account, or make a tax-deductible donation to your favorite charity (they have over 2 million to pick from).
4. Can I use my Debit Card with Dosh?
Yes, but *please note*: you must swipe your debit card like a credit card (do not use your PIN number). Otherwise, you will not receive cash back. Dosh tracks your Cash Back through credit card transactions, not bank transactions.
5. Can I link my card to Dosh along with other cash back programs at the same time?
No. You can only use one 'automatic cash back with your credit card' service at a time. These systems do not allow the same card to be linked across multiple accounts.
6. How many cards can I link with Dosh?
Unlimited. Dosh recommends you link all of your cards so that you don't have to remember which card to use where.
7. Which credit cards can I link with Dosh?
Visa, MasterCard, and American Express cards. Dosh does not currently accept Discover or department store credit cards at the moment.
8. Any other easy ways to make money with your phone?
Yes, a ton! But they are not all are created equal (so be careful). Here's a compilation of our favorite apps that pay you money with minimal effort.
A couple of our favorite apps include: Ibotta, Ebates, and Drop! Check out our review articles of each for more info!
Our Final Stance On: Is The Drop App Safe? Or a Scam?
After a great deal of research, we can confidently say: the Dosh App is safe and 100% not a scam. If you want to earn free cash effortlessly download the Dosh App (and get a $1 bonus just for trying it out).


That's it for our Dosh App Review!
Do you have a favorite money making app? Let us know in the comments below!
Follow us on Pinterest for more money saving tips and tricks!
Related Money Saving Articles:
This website contains affiliate links, which means that if you click on a product link, we may receive a commission in return. Budgeting Couple LLC is a participant in the Amazon Services LLC Associates Program, an affiliate advertising program designed to provide a means for sites to earn advertising fees by advertising and linking to amazon.com