Drop App Review: Is it Safe? + How Drop Works
This post may contain affiliate links. Please read our
disclosure
for more info.
Remember when you found that first "free-money-app"? You were gung-ho for it! You used that app as often as possible.
That was until you realized the app wasn't worth your time. You couldn't answer drawn-out surveys or remember to opt-in for discounts to save a measly $0.35 cents.
Yeah free money is great, but to be frank, the only way you're going to hop on the "free-money-app" bandwagon again is if you can earn automatic money. No time commitments, no opt-ins, no videos to watch—just free cash in your virtual wallet, ready to be redeemed for free gift cards.
Good news, that kind of app exists. Let's take a look at Drop App.
We're going to let you in on if the Drop App is safe and exactly how Drop works in this full Drop App Review.
Drop App Review: Is Drop Safe Or A Scam?
What is the Drop App?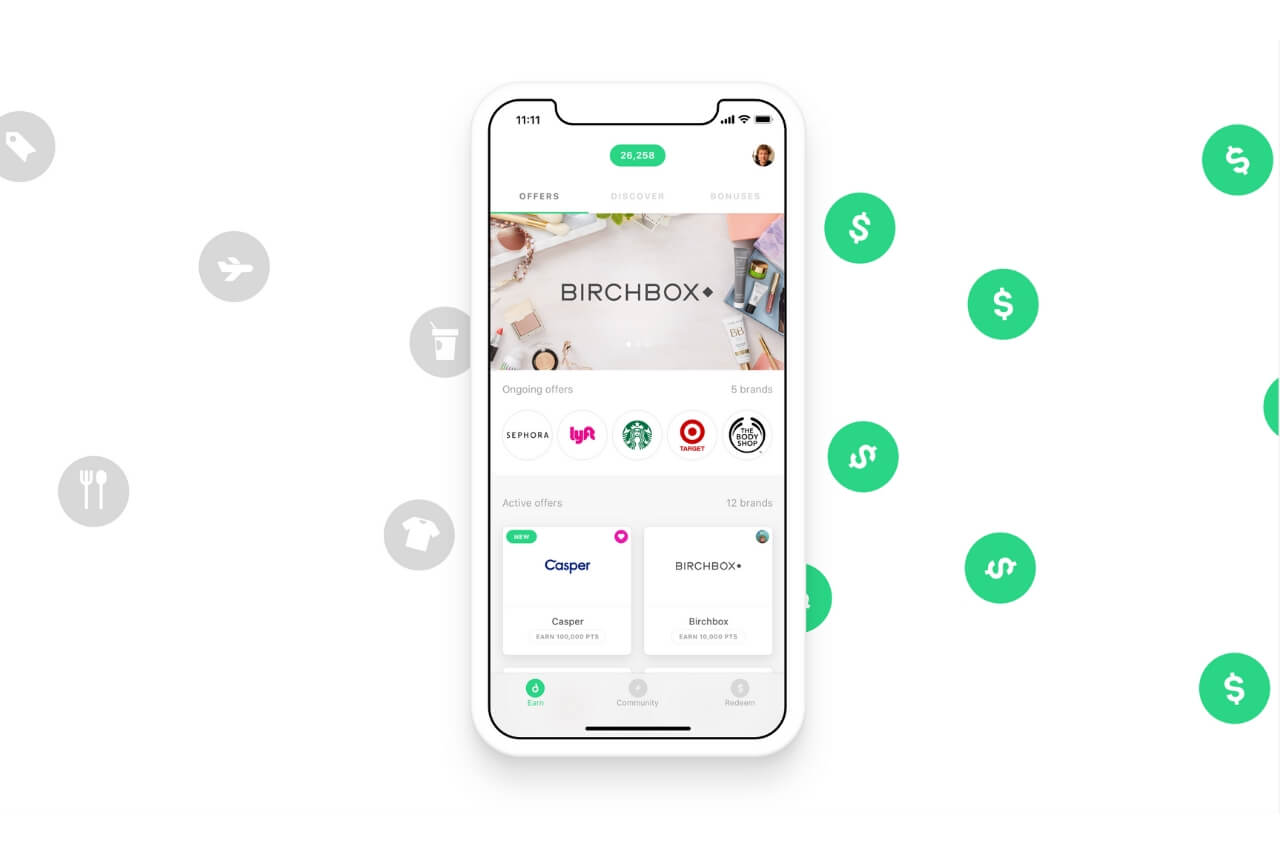 The Drop app is a free smartphone app that turns your credit and *debit* cards into Cash Back earning machines.
In other words, your everyday purchases generate free money.
In other, other words, the Drop app gives you free money for swiping your payment card. Just spend money like normal and watch your Drop Wallet fill up with free cash.
How Does The Drop App Work?
After linking your credit or debit card to the Drop App, you will be shown a list of all available Cash-Back location offers. Select the location you want to shop at…
1% Cash Back at Safeway
1.5% Cash Back at Walmart
1.5% Cash Back at Sam's Club
(offers are current as of 06/05/20)
Then you're done. When you spend money using your linked card at any of your selected locations, you will automatically earn cash back
What Can I Buy With My Drop Points?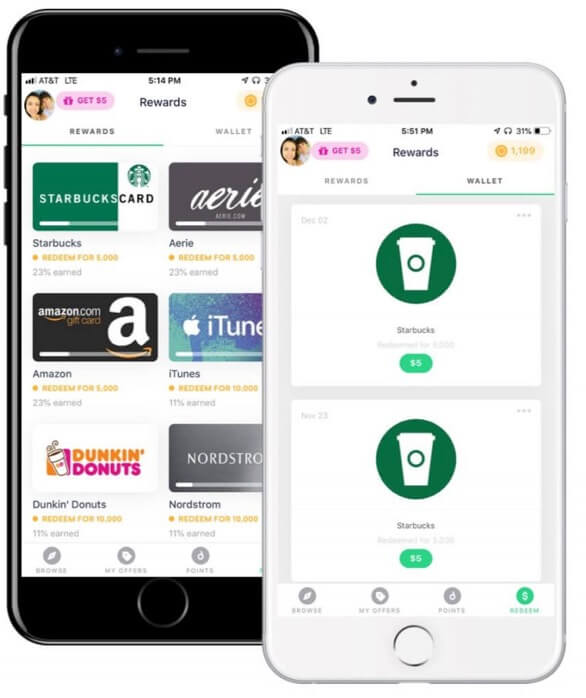 Free gift cards! After a month of spending money like normal, open the Drop App to exchange your Drop Points for a free gift card to Starbucks, Nordstrom, Uber, Ray-Bans, Trader Joes, Lululemon, Amazon, Domino's Pizza, Target, Shake Shack, and so many more!
Many Drop users redeem their first gift card within the *first month* of downloading Drop.
How Do I Redeem My Drop Points:
As soon as you have enough points you can snag your first gift card!
Update 05/09/20: Snag your first free $5 when you use our link and exclusive promo code: BudgetingCouple for a free $5 gift card
Simply click "Redeem" in the app and pick out the gift card you want!
That's it. Here's how it looked when I snagged my first Starbucks gift card from Drop: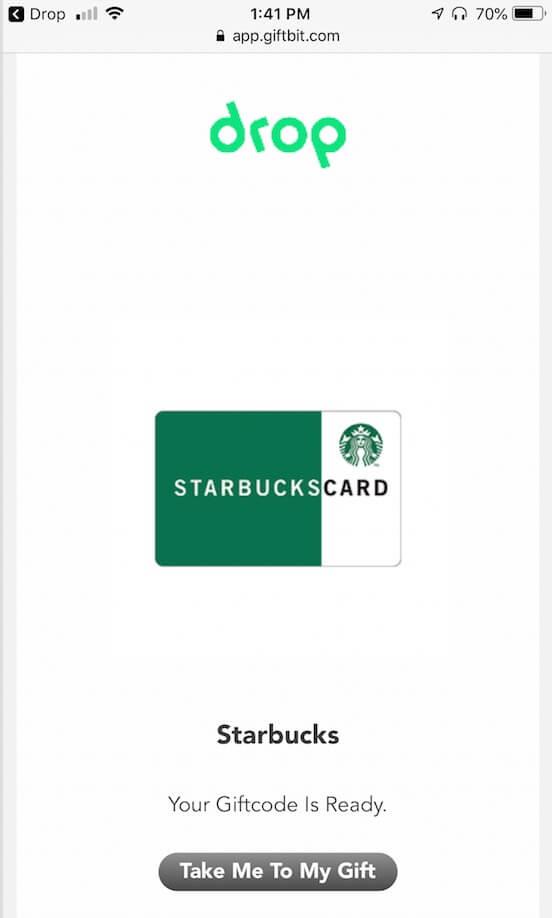 Are There More Ways To Earn Money With Drop?
1. Earn $5 From The Start With Our Promo Code!
Enter the exclusive (Budgeting Couple reader's only) promo code: BudgetingCouple when downloading the Drop App here. After you confirm your email and link your card, Drop will put a free $5 gift card into your account.
What's more, you can redeem this $5 immediately. That means you can grab yourself a free Starbucks gift card (that's a free Grande Blonde Iced Vanilla Late) just because you downloaded this app using the promo code BudgetingCouple.
2. Earn Up To $100 Every Night For Staying In a Hotel
The next time you go on vacation, book your hotel through Rocketmiles. For every night you stay in the hotel you will always earn 10,000 – 100,000 Drop Points every night.
3. Love Drop? Tell Your Friends
If you're impressed with all the free money you earn through Drop, why not tell your friends and get paid? You will earn 1,000 Drop points every time you get a friend to start using Drop!
To find your personalized referral, tap Profile > Invite Friends.
4. Bonus In-App Offers
Shop through Drop's mobile offers to earn even more Drop points. It's an easy way to grab yourself extra points and get a little closer to redeeming your next free gift card.. Just be sure to carefully follow the offer's steps to earn those points.
5. Supercharge Bonus Games
Any good at the game Snake? I hope so because it's about to earn you even more free Drop Points you earn. After every 5 transacations, open the drop app and play the Supercharge bonus game (aka snake). The more points you score, the more free Drop points you earn.
6. Do You Live In British Columbia, Ontario or Newfoundland and Labrador?
Download the health app Carrot to earn Drop points for taking small steps towards a healthier life. The Carrot app pays you to walk a little extra, take a health quizzes, and learn about your health. Carrot Rewards is a free app created in partnership with the Public Health Agency of Canada, the provincial ministries of health, Heart and Stroke Foundation, Diabetes Canada, and more. But remember, this app is only available to the residents of British Columbia, Ontario, and Newfoundland and Labrador.
Is The Drop App Right for Me?
Usually I'd use this section to describe why this app is worth your time, and why you should at least try it to see how much money you can earn.
But Drop is different. This app sits on your phone collecting free money while you do *nothing!* So yes, Drop is right for you—no question. Download Drop and start earning free gift cards.
How Do I Get Started?
Download Drop, and enter in the promo code BudgetingCouple for a free $5 gift card
Confirm your email
Link your debit and credit cards
Redeem your free gift cards!
Your work is done!
Simply spend money like normal and let the Drop App load up your account with points automatically.
Then after a few months, you'll say, "Oh yea, I should check my Drop App," and find $20 of free money waiting for you to spend.


Drop App FAQ
1. Is the Drop App safe?
Yes! Drop securely connects to your online banking and credit card accounts via the same technology that leads financial technology companies such as Mint, Acorns, and Robinhood. What's more, this data is secured using 256-bit bank-level encryption (same security as the government, NASA, and the military) to keep your banking information extremely safe. According to this article, Drop already has over 1 million active users earning free gift cards on autopilot!
2. How long does it take to earn a reward?
The average Drop user grabs their first gift card within the first month of using the app!
BUT if you take advantage of our link and enter in our exclusive promo code BudgetingCouple, you will find $5 in your Drop Wallet today!
(don't forget to link your card and confirm your email to take advantage of the offer)
3. Do Drop points expire?
Nope, never. Your points will be always be ready to be redeemed for a free gift card.
4. Will I still earn my regular credit card points?
Absolutely! The Drop app lets you double up on points. You'll get cash back from your credit card + cash back from the dosh app. So make sure you have one of the top 7 credit cards of 2020, and pair it with Dosh.
5. What if I only have a debit card?
You still get points! One of the many features that sets the Drop app apart is turning your "non-point-earning" debit card into a rewards cards!
6. Is Drop a scam? Is there a catch?
Drop is not a scam! We have been using the Drop app for the past month and have already racked up 10,471 points ($10.47)! And it's 100% free to use.
7. What makes the Drop app better than all those other free gift card apps?
The advantage to the Drop app is that it works in the background. After you downloaded the app and select a cash back location, you can leave the app untouched. When you finally opened it back up, you'll have accumulated free money to exchange for free gift cards.
If you want other ways to rack up free gift cards, head to our "Free Amazon Gift Card" guide.
8. What can I redeem my Drop points for?
Free gift cards! The Drop app has a generous selection of gift cards and certificates for you to choose from.
Some of our favorites include: Amazon, Starbucks, Target, Nordstrom, Best Buy, movie theaters, and more! Drop points cannot be redeemed for cash.
9. What is the Drop Points to Cash Conversion rate?
1,000 Drop Points = $1.00
10. How is the Drop app's customer service?
Speaking from experience, Drop's customer service is extremely quick and helpful!
I sent a help request through the app and got a response within a few hours with my problem resolved.
11. Any Drawbacks to the Drop App?
None that we have found. If you've got a smartphone and plastic to spend money, you can earn free cash.
Our Final Drop Review
If you're looking for a hassle-free way to double up on your credit card points or turn your debt card into a Cash Back rewards card, the Drop app is the perfect tool for you!
Pros:
[custom_list type="check"]
Free to download and use
Effortless Cash Back on everyday purchases
Works with credit and debit cards
$10-$100 Cash Back every night when you book with Rocketmiles
Bank-level 256 encryption for maximum security
[/custom_list]
[custom_list type="x"]
Cons:
Limited cash back locations
[/custom_list]
With its user-friendly interface and "lazy" point earning potential we are definitely hooked!
>> Start earning free gift cards on autopilot with Drop app today!
How?
Enter in our exclusive promo code: BudgetingCouple for a free $5 gift card
Link your credit/debit cards and confirm your email
Treat yourself with those free gift cads!

Do you use any phone apps that help you earn free gift cards? Tell us about them in the comments below!
Want to save this article for later? Pin it here!
Be sure to follow us on Pinterest for more money saving and money making tips!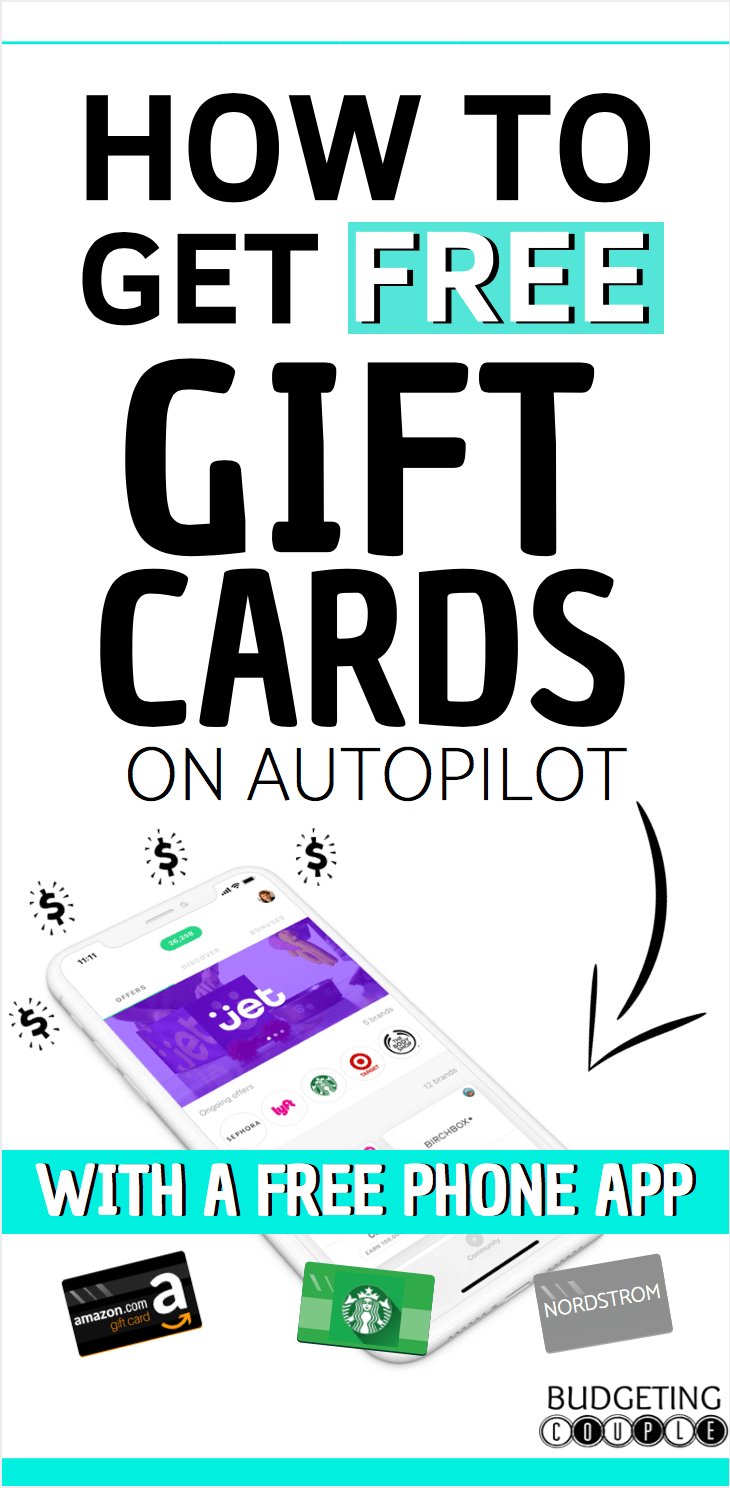 Want more money making phone app reviews?
This website contains affiliate links, which means that if you click on a product link, we may receive a commission in return. Budgeting Couple LLC is a participant in the Amazon Services LLC Associates Program, an affiliate advertising program designed to provide a means for sites to earn advertising fees by advertising and linking to amazon.com