Anyone can save money. Just spend less of it—live on the bare minimum, live cheaply, and you'll grow a small fortune in no time. But that's no hack.
Hacks are exciting. Hacks make your life more efficient. Once you learn a hack, you wonder how you survived without the clever skill.
So let's learn some. Here are 11 Money Hacks you can start using today.
11 Money Hacks For Saving And Making Money Fast
1. More Coffee Flavors – Keurig
There are two problems with Keurig K-cups:
One, they're expensive. And two, your coffee selection is limited. Why limit yourself to 20 K-cup brands when there's a cornucopia of coffee flavors waiting to be tasted? So let's set up your Keurig to brew any and every coffee favor while saving money in the process.
You'll need to invest in two items:
1. Reusable K Pods: I use these pods every day. They're dishwasher safe, super easy to clean, and are built to last. I've had mine for a little over a year, and they still look and feel brand new. They do have one downfall though: the mesh is very porous. If you don't coarsely grind your coffee beans, grounds will slip through the mesh and into your coffee. But a coarse-grind coffee also results in a week cup of coffee—we don't want that. That's why you need item number 2.
Get the Reusable K pods on Amazon
2. K Pod Filters: These filters nestle perfectly into Reusable K pods to keep all unwanted grounds out of your coffee. With these filters, you are free to grind your coffee extremely fine so that each brew is flavorful and strong.
That's it. With this Keurig setup, every coffee bean is yours to taste at a fraction of the price. What's more, you'll also help the environment—no more plastic K-pods. Have fun becoming a coffee-by-the-cup coinsure.
2. $20 For Grocery Shopping – Ibotta
Grocery shopping is intolerable. Maneuvering through tight isles, having people stand directly in front of the food you need, choosing the slowest checkout line… it's enough to irritate the Zen out of a monk. Luckily, Ibotta makes the trip a little more enjoyable for us all.
The Ibotta app pays you *good money* to grocery shop. All you have to do is take a picture of your receipt, and virtual money is immediately deposited into your Ibotta account.
Next, redeem that Ibotta money for cold, hard cash. Grab yourself a gift card to Starbucks, GameStop, Olive Garden, or any of your other favorite locations for spending money, OR transfer your Ibotta money into your PayPal account.
What's more, when you download Ibotta using this link, a bonus $20 will automatically be deposited into your account after saving money on groceries for the first time. Not too shabby.

Check out ALL the deets on the Ibotta app in our full review!
Update 03/23/20: Ibotta has cash-back offers on grocery and restaurant delivery services:

– DoorDash– $2.50 Cash Back on your first order
– Instacart– 2% Cash Back
– Grubhub– 10% Cash Back for new customers, 2% Cash Back for existing.
– Blue Apron– $12.50 Cash Back for new subscribers
– Home Chef- $10 Cash Back for new subscribers

Download the free Ibotta App here (and grab this $20 Welcome Bonus for trying it out)
3. $10 For Shopping Online – Rakuten (formerly Ebates)
Having a secret, 15% off promo code while everyone else is paying full price feels devious and satisfying.
So what if you knew every coupon code for every online retailer (Amazon, Vitacost, Turbotax)? And what if using those coupon codes meant being rewarded with bonus Cash Back?
Rakuten (formerly Ebates) makes this possible. Rakuten *automatically* applies coupon codes your online orders AND gives you free Cash Back. All you have to do is click Check Out, and free money will immediately appear in your Rakuten account.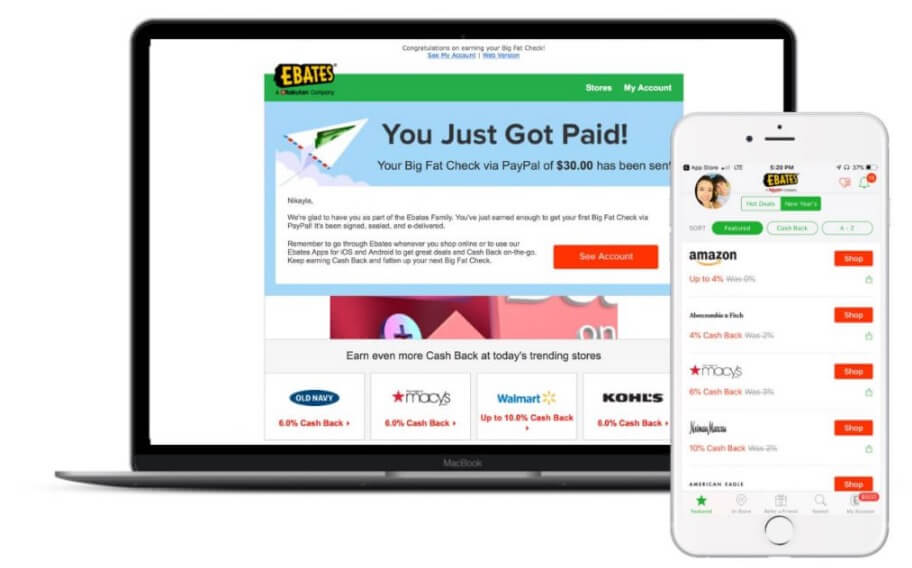 Here's how to set up Rakuten so that it works automatically.
**Download the Rakuten button to your bowser** (This allows Rakuten to work automatically)
Watch every coupon code and cash back opportunity get automatically applied to every online order
One last Rakuten surprise: when you create a free Rakuten account here, $10 will be deposited into your account after your first shopping experience with Ebates.
Already have Rakuten but always forget to use it? Download the Rakuten Button here and start saving money automatically.
For more information on Rakuten and how it works, see our full Rakuten review.
4. $5 Cash Back Rewards – Dosh
Want to double-up on your credit card points?—or transform your debit card into a veritable Cash Back Rewards Card?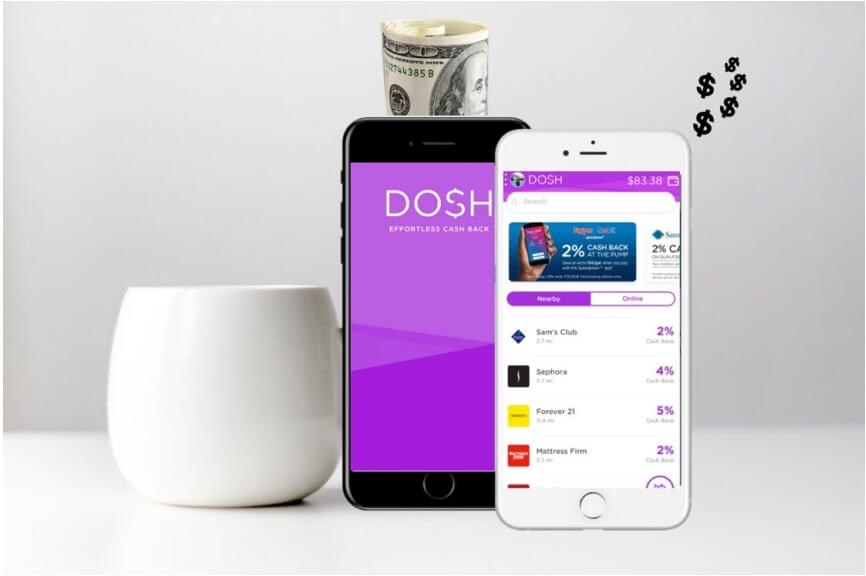 Dosh, a free smartphone app, pairs to your cards and automatically collects Cash Back rewards as you swipe your card at one of their 1,000+ partnered locations:
Walmart – 3% Cash Back
Target – 1.5% Cash Back
Walgreens – 6% Cash Back
Exxon Mobile – 2% Cash Back
Guess – 5% Cash Back
Patagonia – 6% Cash Back
Bed Bath & Beyond – 7% Cash Back
Jiffy Lube – 10% Cash Back
Download Dosh Here, and you'll find a $1 bonus in your Dosh Wallet after linking your first card.


Worried about linking your card to Dosh? Find out all the deets on their extensive safety measures (including their 256-bit bank-level encryption technology) in our Dosh review.
Related: Looking for apps to effortlessly save money? Check out our 11 Best Money-Saving Apps You Need to Download Today
5. Get Paid To Walk – Sweat Coin
Start taking brisk walks around the neighborhood and you will:
Also See: Top Immunity Boosting Food & Vitamins
And of course, you will save money! If you're walking outside, you're not watching TV (i.e. saving money on power) or eating because you're bored. You're being proactive with your health. Start walking now, and you will save tens of thousands in future medical bills.
But if your health and wellness isn't enough of a motivator (no judgements, it wasn't enough for me either), try SweatCoin.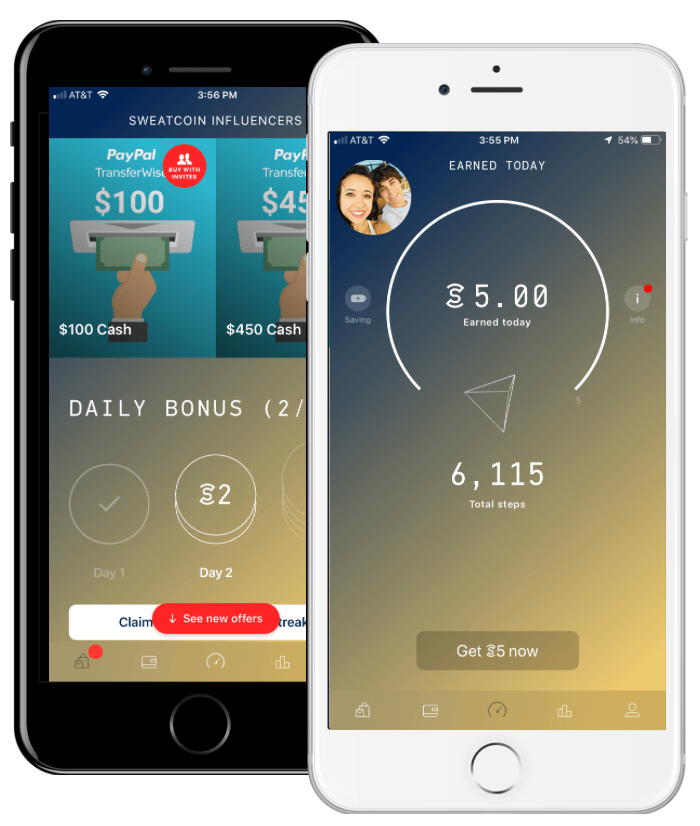 SweatCoin pays you to walk outside. The app tracks your location and uses your phone's pedometer to track your steps and pay you money (1000 steps = $0.95). It's a very productive way to put a little extra free money in the bank.
Download the free SweatCoin app here and start getting paid for those steps!
6. Everything is 2% Off – Credit Cards
You have two options when it comes to credit cards: you can either go into debt and pay a fortune in interest payments, or you can earn free money.
We make $1,000+ every year with our credit cards. Our main card gives us 2% cash back on all purchases. Our travel card allots us free checked baggage and one free plan ticket every year. We also have multiple retail credit cards which offer huge cash back offers (the Express Next credit card offers 8% cash back on every purchase).
Check out the Best Reward Credit Cards in 2020 here (we use #7)
Find your favorite Travel Credit Card in this top list here
The secret to never going into debt with a credit card? Budget. You'll spend your money the exact right way, every month which means you'll never take on another dime of debt, ever again.
7. Step Away From Reality – Read
Step 1. Create a Goodreads account
Step 2. Find a high-rated book with a synopsis you find interesting
Step 3. Read it (or get the audiobook) for free*
*Take a family trip to the library to get everyone their own library card.
I can't explain why a trip to the library is so gratifying… maybe it's the sense of being productive… maybe it's the feeling of being part of a community… or maybe it's because everything in the library is free. The computers are yours to use, the movies and documentaries are waiting to be watched, the CDs are yours to take home and download to your playlist, and the books and audiobooks are yours to read.
Now, I understand if you're not a fan of reading. But if you haven't tried listening to a book, do yourself a favor and pick up an audiobook (maybe one of our favorite personal finance books!). They make is so easy to become completely immersed in another world, giving your mind a chance to forget about money, chores, stress, work, and everything else that's been weighing you down. I know this sounds cliché, but it's only because it's true. Find a good book on Goodreads, check it out for free at the library, and I promise you won't regret it.
8. The Exact Right Way To Spend Your Money – Budget
What is the most efficient way to spend your money? How do you pay the bills, become debt free, grow your savings, save money for retirement, AND still have a little stash of fun money to buy random stuff at the mall?
The only way is to become hyperaware of your income and expenses. You have to budget.
A budget isn't some gimmick that tricks you into living on the bare minimum. When done correctly, a budget is a simple yet thorough representation of your monthly financial situation. It brings clarity to your money. The most efficient way to spend your money becomes glaringly apparent. You will know how to be responsible with your money, watch it grow steadily and consistently every month, become debt free, retire with the most money possible, and, most enjoy your money! So if you've ever wondered what your life would look like if you knew the exact right way to spend your money, consider starting budgeting.
"Help me stop being poor!"
The *only* way to save money is to spend less than you earn. That means you need to decrease your expenses or increase your income.
We want to help you do both.
Join our FREE Simplify Money Workshop to learn the fundamentals of growing wealth. Because when you can spend less than you earn, your money has no choice but to grow. You will build your savings and pay down debt.
What's more? We've got a bunch of free money-hacks to share with you:
Hacks to lower your monthly bills
Hacks to spend less on debt
Hacks to start investing
Hacks to increase your income by $20/month (with no extra effort)
This workshop has everything you need to accomplish the cardinal rule of personal finance: keep your income over your expenses.
Join our free 5-day Simplify Money Workshop, and start growing your wealth today.
9. No Brainer Investment – Banking
Your bank is paying you to bank with them—they are paying you interest on the money you have in your savings account.
Do some bank shopping. See which banks are offering the highest interest rates and make the switch.
10. Spend Less On Data – Cell Phone Plans
With AT&T, Nikayla and I pay $75/month for 20GB of data. If you want to drastically decrease the cost of your monthly cell phone bill and substantially increase your data, call your cell phone provider and ask them about their Prepaid cell phone plans.
For more information on how we save so much money on phone service, check out our cheap cell phone plans article.
11. Save On Shaving – Safety Razors
Guys, your Gillette, disposable razors heads are costing you a fortune. I've got the perfect, high-class shaving set up that will easily save you $100+ every year.
Vikings blade: I like this razor because you can switch out a blade in 5 seconds (compare that to other safety razors that require you to take the razor apart to replace the blade—a 45 second process). Plus it comes with a sweet carrying case. I've had mine for over 6 years, and it looks like new.
Personna Double Edge Razor Blades: This box contains 100 blades, individually wrapped in paper, and made here in the USA. The shave is smooth and sharp, and each blade lasts me about 5 shaves each. That's 500 shaves, almost 2 years' worth of shaving, for a cheap box of blades.
Alright, those are our FAVORITE money life hacks that help us save and make money right now!
Do you have any favorite money hacks you use every day? Let us know in the comments below!
Be sure to follow us on Pinterest for more money hacks and tips!
Want to save these hacks for later? Pin this article here.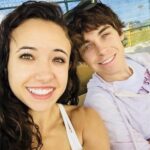 A budgeting fanatic and a frugal living lover! We want to share our budgeting techniques because of how much they have improved every aspect of our life! We teach the ultimate way to budget so you can save tons of money, eliminate debt fast, and achieve guilt-free spending!