Best Free Checking Accounts: Top 3 With No Fee
This post may contain affiliate links. Please read our
disclosure
for more info.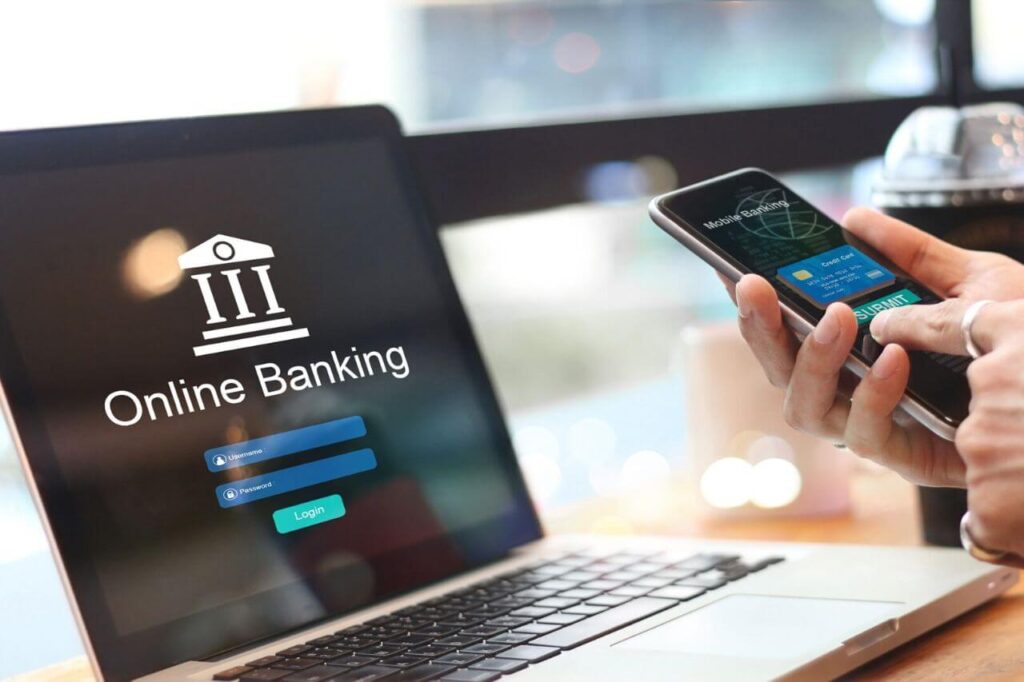 Do you pay for your checking account? The average fee for a checking account has risen to more than $13 a month. Over a year, the costs amount to more than $161. Hard-working people needlessly squander hundreds of dollars annually when there is no reason to do so.
A checking account is at the heart of your everyday life. From quick trips to the gas station to major purchases, no financial tool faces the rigors of a checking account. Whether you are still writing paper checks or making debit card transactions, your checking account needs to be ready to be put to work at a moment's notice.
For all it does for you, it is worth $161 a year. But, financially savvy people do not pay anything close to that. In fact, they pay nothing at all. Free checking account options abound online.
Should you open a checking account online?
Most Americans already engage in digital banking, whether they opened up an account at an online bank or a physical location. We make deposits using our phones; we pay bills on the bank's website; we check balances online. With the trend toward digital banking, it seems like the question about whether to open a checking account online has been answered. But, with online banking, who does the bulk of the work? You, right? So, why are you paying checking account fees?
It's tough for a bank to offer free checking when it must pay for branches in the community. Bank customers who pay fees are paying for the upkeep of those buildings, the heat in the winter, the air conditioning in the summer, a cleaning crew, carpet cleaners and carpet installers, asphalt companies to repave the parking lot, and maintenance companies to keep the drive-thru equipment working.
Online banks avoid just about all those costs, which is why they can offer sustainable free checking accounts.
Here are some of the best free checking accounts on the market. Find one that fits your needs, sign up and start paying yourself instead of your bank.
Best Free Checking Accounts With No Fees
Chime
Chime is one of the fastest-growing internet-only banks in America and for a good reason: More than 5 million people trust Chime with their hard-earned dollars.
Chime is changing the way people approach banking by offering:
free checking overdraft protection
no monthly service fees
no minimum balance fees
no foreign transaction fees
and more than 38,000 fee-free MoneyPass ATMs.
Not only does Chime have your financial interests in mind, but they also know that you are busy — very busy. That's why they created one of the most intuitive — not to mention award-winning — mobile banking apps to hit the cyber world.
The Chime app allows you to stay on top of your finances by sending you daily bank balances and instant transaction alerts, so you always know where you stand. If something doesn't look right, you have the peace of mind knowing that you can instantly disable your account with the swipe of a finger.
With no physical branch locations to insure and maintain, online banks like Chime can offer higher interest rates while reducing operating costs. (This reduction of cost adds up to more money in your account for life's surprises.)
Some banks charge you $20 or more in monthly service fees; add another $35 in case of a checking account overdraft and you can end up in a financial bind fast.
A financial crisis can occur at any time. Isn't it reassuring to know that Chime won't take advantage of an unfortunate situation by hiding fees in the fine print?
Chime offers fast direct deposit, so you can get your hands on your money up to 2 full days in advance when you sign up for early direct deposit. No more waiting in virtual limbo for your funds to clear. Chime makes your money available to you as soon as your employer deposits it.
Chime accounts are insured up to the standard maximum deposit insurance amount of $250,000 through their partner bank, Bancorp; member FDIC. With more than 62,000 ratings in the Apple store alone, the app boasts a 4.7 star rating out of 5 and, they boast an Excellent Rating from Trustpilot. Chime received an A+ Rating from the Better Business Bureau (BBB).
If ease of use, security and fee-free banking are important to you, visit Chime Bank today and take control of your finances before they take control of you.
Radius
Usually, you pay fees to a bank to handle your checking account transactions. Would you be interested in one that pays you? After all, you deserve a reward, don't you? The online banker Radius believes that you do!
When you open an eligible free checking account with a $100 balance, you will start earning a 1% cashback on signature-based purchases each month. Consider cashback free money for doing what you normally do.
If free cashback isn't a big enough reason to open an account, rest assured, there are no monthly account maintenance fees to pay either. This leaves more of your money available to spend or save as you see fit.
Have a friend or family member that would enjoy earning cashback on their purchases as well? Radius will reward you for referring them. For each valid account opened by a friend or family member, Radius will give you $50. There is no limit to the number of invitations you can send! How is that for a sweet deal? Did you say side hustle?
Radius has built a portfolio of services to make your financial life easier. Whether it is a checking account, a savings account or online banking services, Radius allows you to manage your money 24 hours per day, seven days per week, 365 days per year.
Want to keep an eye on your financial health? Radius makes it easy. Along with rewarding you for being a customer, Radius helps you manage and strengthen your finances by offering you a series of educational videos and other courses in finance to help ensure that your financial goals get met. Course topics include budgeting, building emergency savings and reading your credit report, among others. Everyone knows that in today's digital world, it is more important than ever to monitor your finances for peace of mind.
Deposits in checking accounts, savings accounts, and Certificates of Deposit (CDs) are insured up to $250,000 per depositor, per insured bank, for each account ownership category under the FDIC's general deposit insurance rules. Radius has earned an A+ Rating from the Better Business Bureau (BBB).
Start earning money right now by signing up for a free checking account from Radius. Encourage a friend or family member to open a free checking account and receive even more!
How do you open an online checking account?
Before you get started, there are a few things you will need to get set up. First, the bank will need to confirm your identity, so have information like your Social Security number or equivalent document ready. Also, have a government-issued identification card such as a driver's license or military ID ready — along with its issue and expiration dates. Another requirement is that you have a physical address, even if you plan to use a P.O. Box, federal law requires that you disclose where you live.
Finally, you will need a way to transfer an opening balance (typically $100) to the account. This can be done by using a credit or debit card, or by providing the combination of a routing and account numbers from a current checking account.
How many checking accounts should I have?
The answer depends on what you want your checking accounts to do for you. Many families have more than one checking account for a number of reasons, like this:
Primary account to take care of the household bills
Emergency fund to keep at least three months worth of living expenses
Personal checking account to hold small balances, sort of like an allowance, to pay for lunches and other things you want to buy for yourself.
Can you trust online checking accounts?
The numbers speak for themselves: The American Banking Association said 93 percent of Americans rated their bank's digital experience as excellent, very good or good. One in six said they would change banks for a better digital experience. Seventy percent used a mobile device in the past month to manage their bank account. Nearly 60 percent used their phone to snap a photo of a check so they could electronically deposit it.
Also See: How to Get Bank Fees & Overdraft Fees Waived
Best Online Checking Account
Radius
You will not go bad with any of the online checking accounts featured, but Radius Bank stands just a bit taller. Its Rewards Checking Account pays interest to the tune of 1.00% APY when you have a balance of at least $2,500. (In case you think that is a lot of money, you will start building toward that after you read and implement the 5 hacks outlined in our Ultimate Saving Guide.) You can also earn interest at a lower balance if you total at least $2,500 a month in direct deposits.
If you happen to have more than $100,000 deposited in that checking account, then you can earn 1.20% APY. At the low end, you are looking at $25 in free money (remember you are paying no fees), and at the high end it is around $1,200.
If you think you will never reach the $2,500 limit to earn free money from interest, you can still earn 1% on your money. Except, it will be on what you spend instead of what you save because Radius pays 1% cashback on debit purchases. You get "free cash" coming and going.
Radius makes it easy to bank with them despite having only one location in Boston. You can use any ATM, and they will not charge you. If another bank charges you a fee, Radius will reimburse the money. You are already banking digitally, you might as well get the full experience of an online bank. Sign up for Radius Bank today.
This website contains affiliate links, which means that if you click on a product link, we may receive a commission in return. Budgeting Couple LLC is a participant in the Amazon Services LLC Associates Program, an affiliate advertising program designed to provide a means for sites to earn advertising fees by advertising and linking to amazon.com