In 2017, more than $2.3 trillion was spent by online shoppers, and that number is expected to more than double by 2021 [source]. If you're like most people, you helped contribute to that number, whether it was by shopping on Amazon, bidding on auctions from eBay, or shopping at any number of retailers' websites.
If you're a savvy shopper, you're probably familiar with the concept of coupons. Bring a coupon with you when you shop and you can save some money off your purchases.
While you can't bring a physical coupon with you when you shop online, that doesn't mean that there's no way to save money on your purchases. Think about how much you could save if you had instant access to a massive database of coupons for thousands of online stores.
This Honey App review will dive into how a simple browser extension will streamline your online money saving potential (ten-fold).
Couponing Without the Effort – Honey Browser Extension
What is Honey?
Honey is a shopping tool that is designed to help online shoppers save money. It accomplishes this task in a number of ways, but Honey is best known for applying coupons to your online orders using the Honey browser extension.
The Honey Browser Extension
Whether you use Google Chrome, Firefox, or Safari you can install the Honey extension. With the extension installed, you'll be ready to start saving money, automatically.
When you go to check out at any participating website, the extension will appear, asking if you'd like to save money. Click the extension, and it will automatically input coupon codes for your order to give you the largest savings possible.
Since its launch in 2012, Honey has added other ways to save money, such as Honey Gold, Honey Travel, and Honey Droplist (more on this later).
How Do I Start Using Honey?
One of the best parts about using Honey is that it's incredibly easy to get started.
Just visit the company's website, joinhoney.com, and click the button that says "Add Honey." You'll be prompted to install the browser extension.
Once it's installed, you're ready to go. You don't even have to sign up for an account to get started, though doing so will bring some additional benefits.
How Does Honey Work?
Once the Honey extension is installed, using the app is incredibly easy.
Do your online shopping as normal. Unlike cash back referral websites like Ebates, you don't have to make sure to click through to the online store from a specific link.
When you fill our cart and get ready to check out, Honey will appear, prompting you to search for valid coupon codes. All you have to do is click the button and let Honey work its magic.
When you click the button Honey will search its database for any coupon codes that may be valid on the website you're buying from. It will automatically enter every coupon code to determine which codes are valid for your purchase.
If it finds valid codes, Honey will automatically compare the final price that results from each coupon before finally applying the coupon that will save you the most money. If no coupons are valid, Honey will let you know.
You'll have one more opportunity to review your purchase, including the new total after the coupon discount, before submitting the order.
Where Can You Use Honey?
So, you've signed up for Honey and you're ready to start saving. The only question left is, "what stores work with Honey?"
One part of Honey's magic is that it can work at any and every online store. If Honey has a coupon code for what you're buying, it will be applied to your order automatically.
Currently, Honey boasts that it has coupons to more than 37,000 online stores, including:
Amazon
eBay
decluttr
J.Crew
Bath & Body Works
BareMinerals
QuickBooks
Sprint
Papa Johns
JCPenny
DSW
In short, if you can make an online purchase from a company, there's a good chance that Honey works with their website.
Going Beyond Coupon Codes
There is one major flaw in Honey's strategy of helping people save money with coupon codes. There is no guarantee that there will be valid coupons at the time that you want to make a purchase. Everyone who uses Honey has seen the dreaded message stating that no coupons were valid and that they won't be able to get a discount.
Since the company's launch, Honey has added a few additional features that can help its customer save even more money, even when there aren't valid coupon codes.
Honey Gold
Honey has partnered with a selection of more than 4,000 online stores to offer Honey Gold to its customer every time they make a purchase from one of those stores. Not all stores that support Honey's coupon feature support Honey Gold, so you'll see an additional icon when the site you're on support Honey Gold.
When you make a purchase from a participating website, a certain amount of your purchase's value will be added to your Honey Gold balance. The amount that you earn is randomized, so if you're lucky, you can earn a large percentage of your purchase as Honey Gold.
Occasionally, you'll get the opportunity to earn some bonus Gold. These opportunities appear at random and are time-sensitive.
For example, you might get an offer to receive 500 Honey Gold when you make a $20 purchase at a specific store in the next 48 hours. If you meet the requirements, the additional Gold will be deposited to your account, on top of the Gold that you earn for the purchase itself.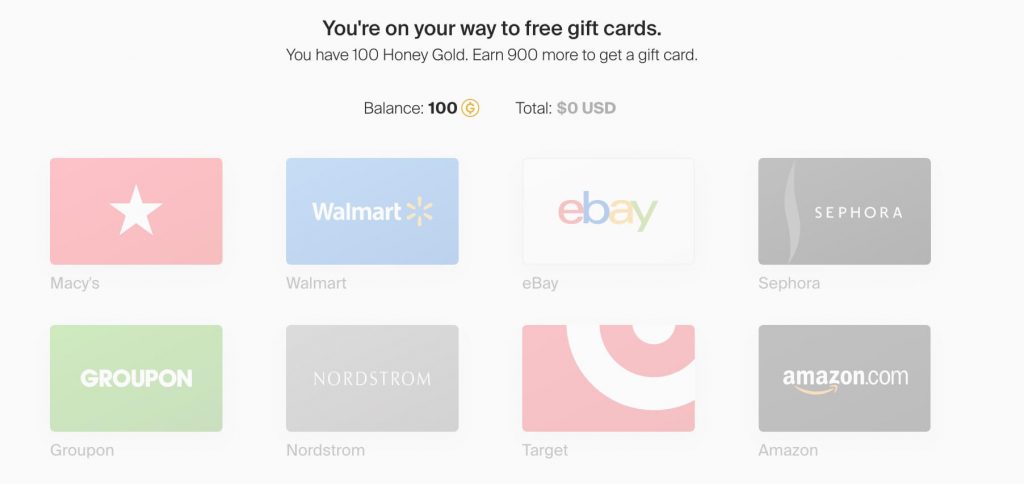 1,000 Honey Gold, you can redeem it for a $10 gift card to any of the following websites.
Amazon (US, Canada, Australia, or UK)
Walmart
Target
ebay
Nordstrom
Sephora
Groupon
Macy's
1-800 Flowers
Honey Droplist
Have you ever wanted to buy something, but not been willing to pay the price for it?
Honey Droplist lets you add items to your wishlist, and get automatic notifications when they drop in price.
When you visit a supported website, you'll see the option to add an item to your Honey Droplist. If you do, Honey will take note of the item and its current price and add it to the list. While you're adding the item, you can let Honey know how long it should keep an eye on the item so that you don't clutter your list with things you wanted years ago.
Honey will automatically keep track of the price of everything on your Droplist. If the price every falls below the price that was being charged when you added it to your list, Honey will send you an e-mail. You can then decide whether you want to make the purchase.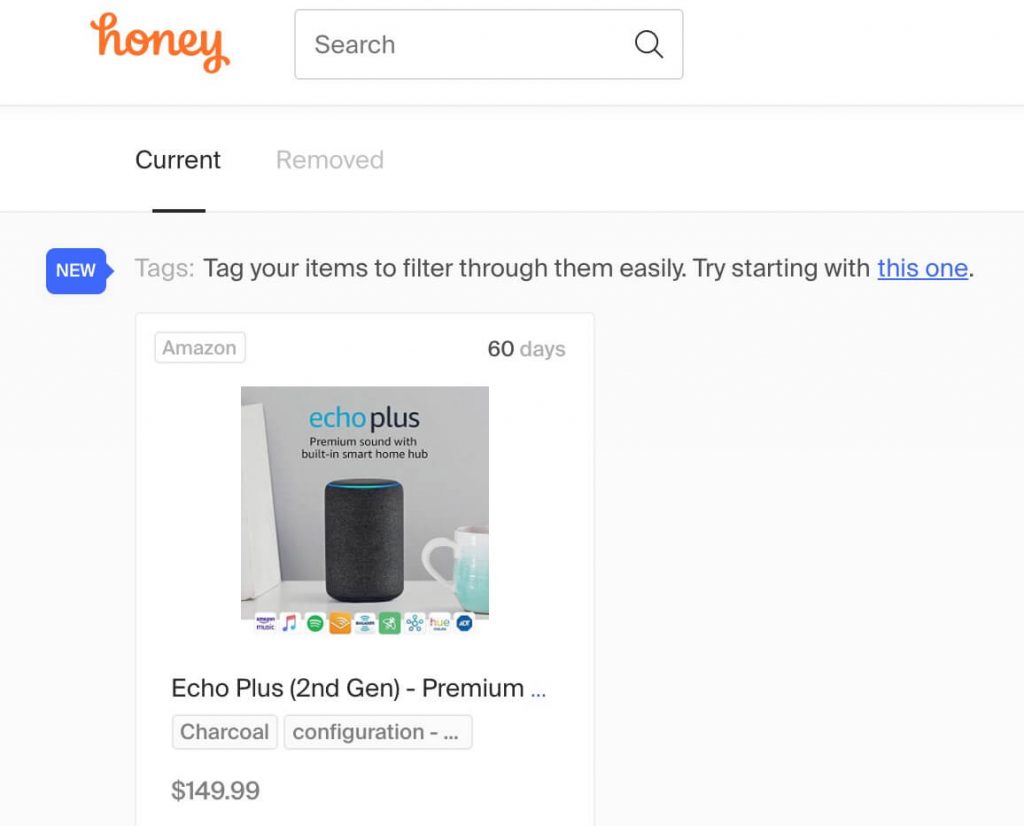 Honey claims that the average savings on an item purchased after a Droplist notification is $25, so the savings are nothing to sneeze at. Best of all, when you go to make the purchase, Honey can check for coupons to try and knock the price down even further.
Droplist is currently supported on:
Amazon
Macy's
Overstock.com
Walmart
Target
J.Crew
Saks Fifth Ave
Honey is always adding new stores to Droplist, so be on the lookout for your favorite online stores to be added.
Honey Travel
When you do your regular shopping with Honey, you'll occasionally earn Honey Keys. These keys can be used to unlock special rates at popular hotels around the world.
Once you've earned a Key, you can visit the Honey Travel page and start searching for hotels. Enter the location and date range and Honey Travel will automatically display a list of the Hotels in the area.
When you select a hotel, Honey Travel will show you the rate that it charges, as well as the prices available from select competitors, like Priceline.com and Expedia. You can use these competitor rates to make sure that you're getting a good deal.
If you like what you see, you can book the hotel right through the Honey Travel website. You'll see how many Honey Keys will be used when you finalize the booking and make your payment, so make sure that you have enough Keys to make all of the hotel bookings that you need to.
Honey FAQs
Here are some of the most common questions that people have about Honey?
1. Is Honey legit?
It's understandable that you might worry about whether Honey is for real or not. Let's be honest, the promise of free savings without you having to put in any effort can make it seem like a scam.
The good news is that Honey is completely legit. The company has been covered in all sorts of mainstream media and has a long track record of helping its customers save money.
2. Is Honey free to use?
Yes, you can use Honey for free. In fact, there's no premium version of Honey and no additional benefits for paying money. The only time that Honey will ever ask for payment information is if you use Honey Travel to book a hotel and it will only use that payment information to book the room for you.
3. Can you use Honey on smartphones?
While smartphone browsers do not support extensions, making it impossible to use Honey through the phone's built-in browsers, Honey has released an app called Honey Smart Shopping Assistant.
With this app, you can take advantage of Honey's coupon powers and earn Honey Gold while you do your shopping.
4. How does Honey make money?
Every company needs to pay its employees and keep the lights on somehow. Rather than charging its users for the service it provides, Honey makes money from the companies that you make purchases from. When you make a purchase at select websites or through Honey Travel, Honey receives a small commission from the merchant as a thank you for referring your business.
Honey does not sell personal information or your shopping history.
5. Does Honey work in the UK?
Yes, Honey works no matter where you are located, so long as the store that you're purchasing from is supported by the browser extension. Customers in Canada, Australia, and the UK can even take advantage of Honey Gold, redeeming their balance toward Amazon gift cards valid in their country.
Tips for Using the Honey Extension
Here are some useful tips to get the most out of Honey.
1. Always check multiple websites to find the best deal
If you're buying something that is available from multiple websites, take the time to check the final price from each website.
For example, if you can buy the same laptop from Amazon or from Dell.com, add the device to your cart on both sites, then let Honey works its coupon magic. Even if one website has a higher initial price, it might have a coupon that makes the final cost cheaper than its competitor's.
2. Let Honey check for discounts, even if you already have a coupon code
Even if you received a coupon code directly from a website, let Honey check for other coupons before you place your purchase. You might be able to get an even better deal.
Either way, don't forget to let Honey know about the coupon that you received so that you can help other Honey users save money.
3. Tell your friends
If your friends aren't already using Honey, tell them about it. Not only will you be helping them save money, but you can get paid too. For every person that you refer to Honey, you'll receive $5 in Honey Gold when that person makes their first purchase.
Honey Review Summary
Honey is one of those no-brainer internet tools that everyone should use. Setting up an account and installing the browser extension takes just a minute or two and there's no cost for an account. In exchange, you can save huge amounts. Even if Honey finds just one coupon code that you can use, signing up will have been more than worth it.
Start Saving Money With Honey Today!
Alright, that is our un-biased, honest review of the Honey App and Chrome/Safari browser extension!
Do you have a favorite way to save money online shopping? Let us know in the comments below!
Be sure to follow us on Pinterest for more money saving and couponing tips and tricks!
Check out some of our other app Reviews here: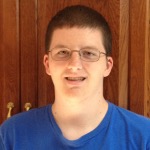 TJ Porter is a Boston-based freelance writer who specializes in covering personal finances. He has contributed to publications including Credit Karma, My Bank Tracker, and CardCruncher. In his spare time, TJ enjoys cooking, reading, playing games (of the board and video variety), soccer, ultimate frisbee, and hockey.
Summary
Author Rating





Product Name