6 Tips to Achieve Financial Wellness
This post may contain affiliate links. Please read our
disclosure
for more info.
People tend to associate wellness with health and fitness. But it's so much more than that. It includes the practice of healthy habits so you thrive in all areas of your life – including your finances.
Financial wellness is simply the practice of managing your finances wisely and intentionally for positive outcomes.
When you strive for financial wellness, the overall quality of your life will improve as you get out of debt, take control of your finances, and develop personal financial habits that lead to financial security.
Here are 6 tips to get you on the path to financial wellness:
1. Live Within Your Means
The beginning of financial wellness means knowing where you stand financially. Most Americans live above their means, or they struggle paycheck-to-paycheck with nothing leftover for emergencies.
Here's a quick way to tell if you are living beyond your means. Answer these questions honestly:
Are you spending more money than you are bringing in?
Do you rely on credit cards to make ends meet?
Are you unable to save money because of all your expenses?
If you answered yes to any of these questions, you are living beyond your means.
Make a budget, track your spending using a budgeting app, and eliminate unnecessary purchases.
Empower Makes Budgeting Easy
There's a reason the Empower app is called "budgeting for people who hate budgeting!" — it makes budgeting easy for everyone, including those who dread it.
Empower includes budget suggestions, as well as fully customizable budgeting options and categories, such as major expenses, coffee, fashion, rideshare, and beauty. Best of all — Empower lets you set up spending limits in each category and will send you alerts when you're close to going over budget.
Download the Empower app and customize your budget today.
2. Recognize That Stuff Doesn't Equal Happiness
It feels good to spend money on stuff. Especially when you get a good deal. But when stuff fills your home with clutter, it causes stress (and it's not doing your bank account any favors.)
"More" does not make you any happier. It feels good for a moment, but "wanting more" always leads to the opposite result.
But that doesn't mean you shouldn't spend money. Not at all. It means to be more strategic with your spending.
What could you buy that would save you time? Is there a product that could help you get a chore done faster?
Healthy financial habits means spending money on things that bring value to your life – not clutter.
Free Workshop – Join our free Simplify Money Workshop
The *only* way to save money is to spend less than you earn. That means you need to decrease your expenses or increase your income.
We want to help you do both.
Join our FREE Simplify Money Workshop to learn the fundamentals of growing wealth. Because when you can spend less than you earn, your money has no choice but to grow. You will build your savings and pay down debt.
What's more? We've got a bunch of free money-hacks to share with you:
Hacks to lower your monthly bills
Hacks to spend less on debt
Hacks to start investing
Hacks to increase your income by $20/month (with no extra effort)
This workshop has everything you need to accomplish the cardinal rule of personal finance: keep your income over your expenses.
Join our free 5-day Simplify Money Workshop, and start growing your wealth today.
3. Prioritize Quality Food
As you start practicing healthy financial habits, such as budgeting and spending wisely, you will have the ability to increase your budget in certain areas. When this happens, the first budget increase should be the food category.
Let's say you were paying down debt and living on nothing. Your food budget covered rice and beans. Then you pay down your debt, you are debt free, and now you have extra cash. What are you going to do with it?
Buy quality food that makes you feel better, improves your mood, and boosts your energy level.
Buy local because the food will be fresher and processed less. Think fruits, vegetables, humanely raised meats, pasture-raised dairy, and pasture-raised eggs. Look for foods with less sugar.
Save Money on Your Groceries with Ibotta
It's no secret that grocery prices continue to creep higher. We cannot negotiate with the manager at a local grocery store for lower prices, but we can use the No. 1 grocery app to get some cash back. Shoppers all over the country rely on Ibotta to get free money when they shop at their favorite grocery stores.
Download the app, connect your loyalty programs, select items to buy, and then snag a quick pic of your receipt using the Ibotta app and watch your cashback total grow. Ibotta has paid out more than $680 million to shoppers just like you. Download the app today and get a $20 welcome bonus.
Want to hear even more ways Ibotta can save you money? Check out our Ibotta explainer video, here!
4. Buy Sustainable Products
Most people tend to buy many things that wind up in the garbage. Plastic goods, cheap clothing, and other items end up in our landfills and harm our environment.
Not only is it better for the planet, but it's also better for our finances when we buy sustainable products.
Sustainable products, like reusable sandwich bags, Swedish cleansing clothes, and reusable bottles are great because they save our finances and the earth!
Instead of buying things that you'll soon toss to the trash, invest in quality, sustainable products you will use over and over again (and get your money's worth out of).
Pay Less with Capital One Shopping
When you shop online, pay less for those quality, sustainable products by using Capital One Shopping. When you download the Capital One Shopping browser extension, it will automatically search for coupons and promo codes for you.
When you're checking out from Amazon, Capital One Shopping will scan your cart.
If a product you're buying has a coupon code, the Capital One Shopping button will let you know.
You can then apply the code to your cart, and effortlessly save money.
The Capital One Shopping browser extension works across the entire internet.
Try the free Capital One Shopping extension here! Because why say no to free coupons?
5. Invest in Useful Items
Financial wellness does not mean going without. It means spending your money in ways that better your life. It means knowing what things are worth spending your money on versus things that are not.
For example, if you are spending your money on stuff that just clutters your home, you aren't practicing financial wellness.
In contrast, if you are spending your money on things that are useful and helpful to your life, you are practicing financial wellness.
Buy what is useful. Purchase what makes you a more efficient person. It feels good to drop money on a productive item, and it makes you want to use it. Here are some ideas:
$5 Meal Plan: Meal Prepping Made Easy
Cooking at home is great, but many say planning dinner every night is the worst! If this sounds like you, there is a simple solution: The $5 Meal Plan. You won't have to worry about what to cook, what ingredients to buy, or how to cook the meals.
The $5 Meal Plan is a weekly service that sends you the recipes, a detailed shopping list, and recipes. They do the thinking for you, so all you have to do is follow the plan. Each meal will cost around $2 or less. Get started with a $5 Meal Plan so you can eat better for less.
6. Be Content with What You Have
There is a show on Netflix called "How to Get Rich" hosted by Ramit Sethi. In this show, Sethi continually reminds viewers that a "rich" life looks different from one person to the next.
What does a rich life look like to you? It may look like having more vacation time or buying luxury items.
But in order to have this "rich life" tomorrow, you must learn how to manage the money you bring in today.
For example, the show highlights people with vastly different amounts of money. It might seem counterintuitive, but some who have the most money in their bank accounts do the worst when it comes to managing their money.
This typically comes from not being content with what you have. People tend to overspend instead of being content with the amount of money they earn. As a result, they often get themselves into financial messes.
If you can find ways to be content with what you have, it'll go a long way toward your personal and financial well-being.
Don't Dwell on Wanting More
Don't dwell on wanting more money. Make the most of what you have now.
Budget, buy good food, and buy productivity.
Do what you can to make the money you have now feel like abundance.
You got this!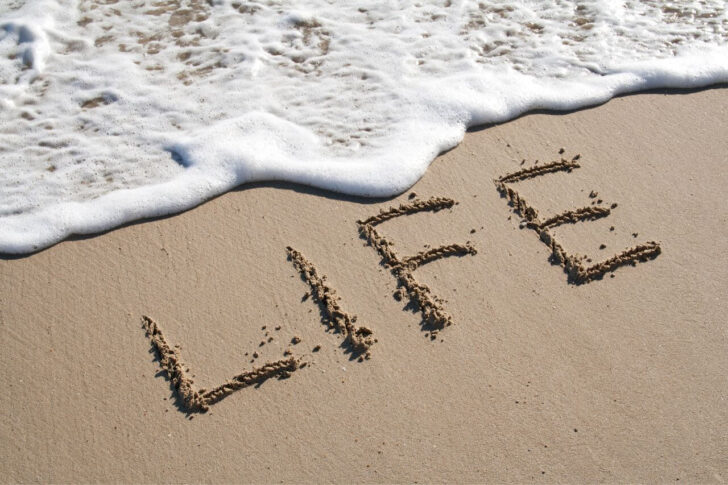 SAVE MORE MONEY! READ THESE NEXT…
Want to save these tips for later? Click here to pin this post!
Be sure to follow us on Pinterest for more money-saving life hacks!
*Capital One Shopping compensates us when you get the Capital One Shopping extension using the links we provided*
This website contains affiliate links, which means that if you click on a product link, we may receive a commission in return. Budgeting Couple LLC is a participant in the Amazon Services LLC Associates Program, an affiliate advertising program designed to provide a means for sites to earn advertising fees by advertising and linking to amazon.com