Eating healthy on a tight budget is the ultimate oxymoron…
… that I have set to destroy, right now.
With these 11 money saving tips added to your tool belt, eating healthy and saving money are one in the same.
1. Snap A Picture Of Your Grocery Receipt and GET PAID.
Want healthy food to become instantly affordable?
Then download the app that pays you to go grocery shopping!
You no longer need to be afraid of loading up your cart with healthy foods like:
> Kale
> Apples
> Hummus
> Greek Yogurt
Because once you get home and pour yourself a well-deserved glass of wine (for health purposes of course), you can open the free Ibotta app, snap a quick picture of your grocery receipt, and watch money INSTANTLY flood your account….
And we're not talking $0.05 here and $0.10 there… we've already made over $170 with the Ibotta app!
Don't take another trip to the grocery store without utilizing the Ibotta app (unless of course you're super rich and you couldn't care less about saving serious dough. In that case, go away, nobody wants you here.)
Download the Free Ibotta App here and get a free $20 gift card after snapping your first grocery receipt pic!

Related Post: Is Ibotta Legit?
2. Utilize the Shortcut To Meal Prepping
Meal prepping is one of the best ways to eat healthy on a tight budget.
>> You're spending less time in the grocery store which prevents you from making those "I'm hungry. This looks delicious. I'm buying it, now!" purchases
>> You've always got healthy food at the ready (which comes in handy when you're having one of those "I'm too lazy to cook dinner… let me throw this 1K Cal. TV dinner in the microwave" kind of nights).
And yet…
Meal prepping is kind of the worst.
You slave in the kitchen for 2 hours+ only to be left with 5 rock solid chicken breasts, a lump of soggy sweat potatoes, and 25 limp asparagus stalks (that all seem to taste like smoke).
How are you supposed to eat that for an entire week?!
That's where $5 Meal Plan comes in for the win.
With $5 Meal Plan, you get a week of awesome meal prepping recipes (gluten-free options too) delivered every Friday morning straight to your inbox…. for $5/month (that's it!).
Each meal is specifically engineered to cost $2 or less/person WHILE remaining mouthwatering AND healthy!
They even send you a curated shopping list so you only buy the healthy things you actually need.
Try out $5 Meal Plan with your 14-Day Free Trial and start healthy prepping like a pro!
3. Rack up Free Gift Cards For Guilt-Free Health Food
If you were given a $50.00 gift card to Safeway, you would literally have a stash of guilt-free money ready to buy all the healthy food you want!
(You can't spend the money anywhere else anyways…)
You could finally try that healthy brownie Pinterest recipe even though it requires you to buy a $14 tub of coconut oil.
You got free gift cards!
There's only one problem…
You don't "got" a gift card. 🙁
So how do you get a gift card without buying one yourself? (and completely defeating the purpose of having guilt-free money…)
You use Rakuten (formerly Ebates)!
Do you shop online… ever?
Then you should be making it rain free gift cards!
Head to Rakuten.com before your next online shopping expedition then watch your Rakuten account load up with free cash waiting for you to redeem in the form of gift cards or PayPal cash.
Yep, you get paid free money to do your normal day-to-day online shopping.
What's more?
Get a Bonus $10 Gift Card the first time you use Rakuten and make a $25 online purchase!
Redeem your $10 Gift Card by signing up for Rakuten/Ebates here
Want other (easy) free gift card methods?
Try out these awesome free survey websites like:
MyPoints
Leading brands and merchants are curious about consumer interests. Through MyPoints, you can take surveys from these leading brands to earn free money. What's more, MyPoints members are able to earn cash back shopping at their favorite stores (think Amazon, Target, Walmart). With MyPoints, you earn money from taking surveys and save money with the MyPoints cash-back feature.
Find a little more cash for your grocery budget with MyPoints
Opinion Outpost
Opinion Outpost has all sorts of different surveys across my different subjects and sectors. That means there is plenty of opportunity for you to earn a little cash. Opinion outpost works hard to find companies that are willing to pay you for you opinion.
Earn a little extra cash in your down time with Opinion Outpost
4. Buy Healthy Food Without the "Healthy Food" Prices
We've all walked into Whole Foods dreaming of the day we can fill our cart to the brim with healthy foods we've never heard of before without a second thought about the cost…
(or is that just me?)
Until then, I've discovered a fantastic alternative:
Thrive is an online "Whole Foods like" marketplace where you get to purchase ALL them fancy healthy food items at 25-50% retail prices!
Stock up on your favorite non-GMO, organic, gluten-free, and vegan groceries for wholesale prices.
The best part?
Everything you buy is delivered right to your front door.
And while a yearly membership fee is required, they GUARANTEE the annual membership will pay for itself in savings.
>> Try out Thrive Market with your free 30-Day trial PLUS 25% off your first 3 orders when you sign up with our link!
5. Get Produce While In Season and Freeze
If you're not careful, produce can blow your budget fast.
Take note of when your favorite fruits and vegetables are in season, so you can stock up and freeze!
Soon you'll have a stash of all your favs and will have avoided dishing out $8/strawberry.
6. Learn To Love Beans
Beans are filling.
Beans are healthy.
Beans are cheap.
Check, check, and check!
Start adding beans into your weekly meals!
Our favorite bean is the lentil, FYI. 😉
Mmmmmmmm. Leeeentilllls.
*No bank breaking required.
7. Get Whole Grains (and everything else) In Bulk
Don't spend $20 on a bag of quinoa.
Not when you've got a handy-dandy bulk foods section to help you rack up those savings.
Check out places like:
And you'll find out you can easily afford those healthy, ultra-filling, whole grains!
8. Stop Eating Out (as much)
I think this tip goes without saying, but I figured I mention it anyway.
Eating out is expensive AND unhealthy!
Do your wallet and body a favor by making most of your meals at home!
(they'll thank you later)
9. Schedule Your Meals With Sales
Check Ibotta and your local grocery store's app to find the sales and deals currently going on!
Then plan your meals accordingly.
10. Use Sales and Ibotta Deals To Stock Up
If your favorite non-perishables ever go on sale OR have sweet cash back Ibotta Deals: STOCK UP.
Our favorite healthy foods to get on sale are:
Beans
Soup
Grains
Chia Seeds
Honey
Cuz when my favorite $2.89 Progresso Soup is on sale for $.89 cents, I'm taking every soup I can carry up to the self-checkout (no judgments from the cashier, that way.)
11. When On The Go, Pack A Snack
When you're on the go, whether that's work, soccer practice, or a road trip, bring your own healthy snacks!
Sure, a bag of sour gummy worms from the gas station sounds great…
… but it's neither healthy or money savvy.
Save money, be healthy, and pack your own snacks!
Do you have any tips for eating healthy on a budget? Let us in on the secret in the comments below!
Follow us on Pinterest for more money saving tips!
Did you enjoy this post? Save it to Pinterest (so you don't forget the tips!)
Related Posts: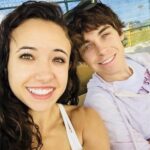 A budgeting fanatic and a frugal living lover! We want to share our budgeting techniques because of how much they have improved every aspect of our life! We teach the ultimate way to budget so you can save tons of money, eliminate debt fast, and achieve guilt-free spending!