Plain and simple, grocery stores are where your monthly budget goes to die.
You go in ready to buy exactly what you "need" for this week's meals. Nothing else.
You Really mean it this time!
But then that "grocery store hypnotism" sets in:
…I've never tried THAT flavor of Doritos before!
…Ooooo I still haven't used my Instant Pot… maybe I can throw together chili?
…Is that a NEW Halo Top flavor?!
And suddenly, you're at the checkout counter. Every bleep of the scanner feels like another shot of adrenaline as you watch the price rise above $150. You're only halfway through checking out.
Grocery stores are a money black hole…
That means we need to come up with LOTS of awesome (and fun) ways to save money on groceries!
How to Save Money On Groceries: Our Favorite Tips
A grocery list is the key to saving money at the grocery store. When you stick to buying only the items you need, you will save hundreds if not thousands on groceries every year. Good news: technology has made keeping a grocery lists effortless.
The moment you notice you're low on on a food, take out your phone (or use a smartwatch) to tell Seri, Alexa, or Google to add that item to your grocery list. Try it right now. When you get to the grocery store, you will have a complete list of everything you need. It's so easy and convenient, you'll wonder how you've gone this long without this life hack.
Then to maximize your savings at the grocery store, follow every one of our 15 favorite tips:
1. Take a Picture of Your Grocery Receipt For Cash
Want to make money for snapping a picture of your grocery receipt? As bizarre as it sounds, it's totally legit. Here are two apps to use after every grocery visit
Ibotta
Ibotta is a free phone app that pays you to grocery shop. Before you go to the grocery store, open Ibotta to select cash back offers on foods you want to buy
Here are a few things you can get paid to buy:
Anything (they pay you at least $0.25 just for scanning your receipt)
Bananas ($0.50)
Avocados (YAAS avocado toast)
Bread (any brand)
Chobani Yogurt ($1.00)
Tic Tacs (I swear I made more money than I paid for these)
And countless others.

When you get home, open the Ibotta app, snap a picture of your receipt, and instantly, you will have more free money in your Ibotta account. Redeem your free money for PayPal Cash or free gift cards to your favorite restaurant (if you're eating out for free, that means you're saving money on groceries)
Ibotta is free to sign up. Receive a $20 welcome bonus just for signing up and earning free cash-back with Ibotta.
We've already put over $170 back in our pocket from grocery shopping:
Start getting paid instantly for grocery items already on your list.
Grab this $20 welcome bonus when you download the Ibotta App here!
Checkout51
After you scan your receipt with Ibotta, scan that same receipt again with the Checkout51 app to earn even more free cash.
Checkout51 works just like Ibotta. Before you head to the grocery store, open Checkout51 to move cash-back offers to your "Shopping List." Once you get home from shopping, take a picture of your receipt, and you will earn cash-back on those items in your shopping list.
Once your account reaches $20, you can request a check in the mail.
Every receipt you scan is money off your grocery bill. With both Ibotta and Checkout51, you will get as much cash back possible from every grocery receipt.
Create your Free Checkout51 account here to double up on your cash-back opportunities
2. Buy In Bulk (And I don't mean at Costco/Sam's Club)
Who enjoys the Costco crowds?
Or the hordes of people at Sam's Club elbowing their way to the front of a free-samples line….
Yeah… no one.
The catch 22 here is: buying in bulk is a great way to save money on groceries while living frugally!
With Amazon's Bulk Foods section, you can leave the sweaty crowds and pushy people behind.
While still saving that dough.
Not only will you be saving at least $50/year on membership dues…
…most of the time you can get those bulk items cheaper on Amazon!
But did you also know you can "subscribe" to your favorite foods and "save" even more?!
Check if any of your favorite food items are available on Amazon's "Subscribe and Save" store to start saving 15% on EVERYTHING you're subscribed to!
Some things we're subscribed to:
Check out more ways to save hundreds on Amazon in our Ultimate Amazon Hacks for Saving Money post!
3. Meal Prep Without The Hours Of "Prep"
Truth: When you don't plan out your meals you waste money.
That's why you need easy, go-to recipes that taste delicious (like our favorite spicy veggie recipe), and you need to make them 8 servings at a time. That's how you cook dinner once, and eat all week.
That's where $5 Meal Plan comes in.
For just $5/month (go figure), $5 Meal Plan sends you mouth-water-worthy meal plans and a curated weekly shopping list straight to your inbox!
Just having a plan for your meals, is going to save you at least $100/month, but $5 meal plan wanted to go above and beyond:
>> Every recipe is designed to be delicious AND frugal: only costing $2 or less/person!
**The meals are healthy too!**
Go into the grocery store with confidence, filling your cart with ONLY the things you need for the week.
Start your 14-Day Free Trial Today (and start saving money AND time with $5 Meal Plan!)
4. Get a $10 Walmart/Target/Amazon Gift Card
Get. Paid. To. Shop.
Need I say more?
Rakuten is a website that pays you cash-back nearly every time you shop online.
With over 2,000 stores to choose from like Walmart, Target, and Amazon, I'm *almost* 100% sure you can make money next time you buy anything online (like groceries).
I know you can see it now…
You load up your digital cart with all your Walmart essentials, and get paid 10% cash back!
Not to mention, you'll get a free $10 Walmart Gift Card just for trying out the site!
Here's exactly how to redeem your free gift card:
>> Sign up for Rakuten Here (it's free and awesome) with your Facebook profile or email
>> Go to Rakuten before your next online shopping expedition (and spend at least $25 within the next 90 days to redeem your gift card)
>> Your account will be loaded up with a bonus $10 that you can redeem for a Walmart gift card or CASH just because you signed up with THIS LINK!!
Check out our full Rakuten Review: Is Rakuten Legit?
5. Get Whole Foods Groceries Without Whole Foods Prices
Whole Foods: The Mecca of healthy, organic, expensive – slash that unbelievably expensive-, I wish I could buy everything, grocery store.
You think: "I can do this; I can be frugal at Whole Foods. I'll only pick out a couple things…"
>>>> Your total is: $53.77
Yeah…. Whole Foods is not where you go to save money on groceries.
But what happens when you take the cheap world of online shopping and combine it with the just as amazing, organic, and wholesome foods you would get at Whole Foods?
And take out the middle man (slashing all prices to 25-50% retail price)
You get Thrive Market.
Thrive Market is an online marketplace where you can get "Whole Foods like food" (non-GMO, organic, gluten-free, vegan options) at wholesale prices.
And all of this wholesome food is delivered directly to your doorstep- fast and free.
They do require a yearly membership fee, but it will pay for itself within the year.
They guarantee it!
If it doesn't… they will pay you the difference in Thrive gift cards!
Plus, Thrive is giving Budgeting Couple readers (YOU) 25% off your first 3 orders and a free 30-Day Trial Membership!
Start your free 30-Day Trial Membership and receive 25% off your first 3 orders by clicking here!
6. Love Eating? Get Paid For Your Opinion on Food!
Feed your hunger for money by answering Q's about food.
Countless food brands (and tons of other companies) are desperate for the public's opinion on their product……
…. And are willing to pay YOU for it!
Through survey websites like Swagbucks, you will get paid a couple bucks for 20 minutes (or less) of your time.
Fill out surveys in your spare time and you could be well on your way to adding an extra $20/month to your grocery budget!
Get paid for your opinion on Swagbucks and get a FREE $5 gift card after making your first $25!
Additional fun online surveys (that pay you for your opinion):
PointClub– Give your honest opinion and get PAID (and get a $5 cash sign up bonus)
Pinecone Research– Give your opinion on product before they hit the shelves and get $3 for every survey you complete!
Survey Rewardz– Create a free account, take surveys, and earn rewards!
InboxDollars– Get paid to read emails, take online surveys, and go shopping! (and get a $5 bonus just for singing up!)
Want more easy ways to make some extra cash?
7. Learn to spend your money
Can I be honest?
None of these 'Frugal Living Tips' are going to have any significant impact on your actual savings.
If you're struggling with money, and want a real solution for growing your wealth…
You need to learn how to spend your money correctly with a budget.
Learn more about what it means to 'spend your money correctly' (and start saving more money than you could with all of these other money saving tips, combined!)
8. Understand How Pricing Works
When comparing prices at the grocery store, you shouldn't ONLY be looking at the price.
Instead, start looking at the price/weight: Ex: $1.73/ounce
Compare every item's price per weight so you always know you're getting the cheapest option.
9. Buy in Bulk
Now that you know how pricing works, check out the bulk section in your local grocery store and see if there's any hidden gems!
Everything in the bulk section is labeled with a price/weight making it ultra-easy to find a steal.
Food items to buy in bulk:
Nuts
Trail Mix
Flour
Pasta
Spices
Candy
10. Be Open to Store Brands
They don't look nearly as pretty….
…. But store brand food items are the MVP when it comes to saving you money on groceries.
Just about everything at the grocery store has a store brand "twin" that you can get for a fraction of the price!
11. Check Fruit Prices Before They Go In Your Cart
Fruit prices often resemble a stock market chart.
They go up and down with no perceivable rhyme or reason. (ok…. sometimes the season has something to do with it)
So check when your favorite fruits are in season and stock up them.
And make sure you ALWAYS check the price before you even think about plopping them in your cart.
12. Never Go Shopping Hungry
This frugal living tip is huge.
When you go grocery shopping hungry you will ALWAYS be tempted to buy way more food than you went in for.
It's a simple fix: eat before each and every shopping trip.
And be ready to have your mind blown by the savings.
13. Get Your Grocery Store's Free App
Cutting coupons is the literal worst.
Sure, you're going to find some great savings….
…but the whole time you're flippin-and-clippin them coupons, it's hard to ignore that voice in your head telling you: "This is just not worth it"
Grocery stores heard you loud and clear so they decided to make it
So. Much. Easier.
Go to the app store on your phone and search your favorite grocery store's name.
Then, download the app. (I'm not kidding, that was the hardest part)
Now, simply search for the items you're about to buy and see if they have any sales or coupons available….
And then digitally "clip" them.
Get ALL the benefits of the traditional coupon without the time or hassle!
14. Limit Your Grocery Trips To Once A Week (helps to meal prep)
You already know meal prepping is going to help you save money on groceries.
The reason this is true is because an entire week's worth of grocery shopping is done in one trip.
When you're only grocery shopping once a week you will significantly reduce the chance of one of the costliest things at the grocery store:
Impulse buys.
15. Write a Shopping List (We mean it!)
If you want to save money on groceries, WRITE A LIST.
If you're just browsing the aisles waiting for something to catch your eye…..
…. everything is going to catch your eye (especially the stuff you don't need).
Stop wasting money on food. Make a grocery list, and only buy exactly what you need.
I hope you enjoyed this post and got some easy ways to save money on groceries!
How do you save money at the grocery store? I would love to hear your money saving tips in the comments below!
Follow us on PINTEREST for more saving money and frugal living tips!
If you enjoyed this article, Pin it here!
Related Posts: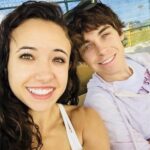 A budgeting fanatic and a frugal living lover! We want to share our budgeting techniques because of how much they have improved every aspect of our life! We teach the ultimate way to budget so you can save tons of money, eliminate debt fast, and achieve guilt-free spending!