How to Save on Groceries- 12 Frugal Tips
This post may contain affiliate links. Please read our
disclosure
for more info.
If you're looking for ways to cut back on your spending, start with your biggest expenses. According to the most recent data from the Bureau of Labor Statistics' Consumer Expenditure Survey, the average family spends $7,729 on food every year. [source]
Struggling to cut back on your own food spending? The tips below will help you save money grocery shopping and slash your food costs without much effort.
12 Easy Tips to Save Money On Groceries

Grocery retailers know exactly how to get you to spend your hard-earned cash without you realizing. Here are some frugal tips for grocery shopping to make food more affordable without compromising on quality.
1. Ibotta
If you've never used the Ibotta App, you're missing out on a great and easy way to save money on groceries.
Before each grocery shopping trip, open the Ibotta app to pick cash-back offers available at your grocery store. Then go shopping like normal!
When you get home, take a photo of your receipt and redeem your free money instantly. You can even combine Ibotta with in-store coupons and double-dip on your savings.
Do I have to buy items I wouldn't normally buy to earn free money?
Nope. Ibotta saves you money on items you already planned to buy. Follow these steps to save the most money at the grocery store:
Write a grocery list!
Open the Ibotta app to select cash-back offers for only the items on your grocery list
Shop like normal
Take a picture of your receipt for free cash back
Get on an Ibotta Team!
Tell your friends and family to join Ibotta. When you join forces, you all make even more money together.
Every month, each member on your team will get individual objectives as well as group objectives. If all goals are complete within the allotted time, your whole team makes money together. It keeps Ibotta fun and keeps your motivation up.
What's more, Ibotta will give you $20, right now, just for trying their app!
Ready to save? Grab your $20 bonus just for trying it out
Want to hear even more ways Ibotta can save you money? Check out our Ibotta explainer video, here!
Download the Ibotta app and grab your $20 bonus!
2. Write a Shopping List (We mean it!)
Saving money on groceries begins with a list. If you're just browsing the aisles waiting for something to catch your eye… everything is going to catch your eye (especially the stuff you don't need).
Stop wasting money on food. Make a grocery list, and only buy exactly what you need.
3. Never Shop Hungry
Hunger will ALWAYS convince you to buy more food than you went in for. It's a simple fix; eat before you shop for food. This is a must if you want to stick to your list, and save at the grocery store.
4. Dosh
Would you like a completely mindless way to save money grocery shopping? Give Dosh a try and you will wonder why you never knew about this money-saving app. It's as close as you can get to a set-it-and-forget-it way to save cash.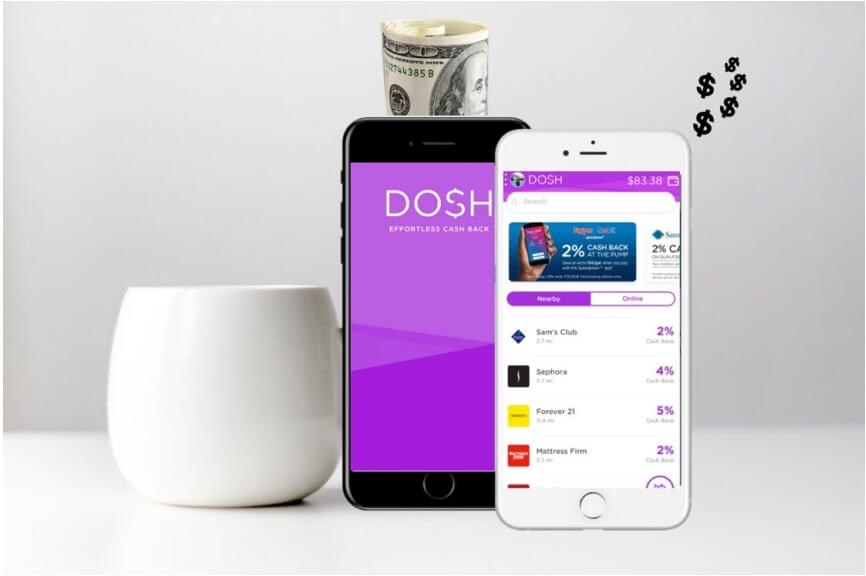 Here's how it works: download the app on your phone (here's $1 just for signing up) and enter your credit card information for the cards you use most frequently when you go shopping. Worried about safety? Dosh uses bank-level encryption technology to keep your information safe.
Read this definitive review of Dosh and how to make the most using the app.
Make sure you enter the credit card information for the cards you use most frequently when shopping. Once you have everything set up, click on the "Nearby Offers" tab to see what retailers are available in your neighborhood.
Here are some examples of offers you may find near you:
Walmart – 3 percent cash back
Walgreens – 6 percent cash back
Target – 1.5 percent cash back
Sam's Club – 2 percent cash back
Offers change so check the app regularly. You may be surprised at the number and types of retailers offering cash back through Dosh in your area. Just shop as usual and get cash back for stuff you already planned to buy.
Sign up now for Dosh and get $1 for adding your first credit card


5. Home Chef Meal Delivery
One great way to save on groceries is to try a home meal delivery kit. Home Chef Meal Delivery offers great options starting at $7.99 per serving. Using a home meal delivery service will teach you how to create cheap meals.
Having all of the ingredients ready to go in your fridge and pantry will also cut down on how often you eat out. Home Chef offers easy-to-follow recipes and restaurant-quality meals so you won't feel like you're missing out.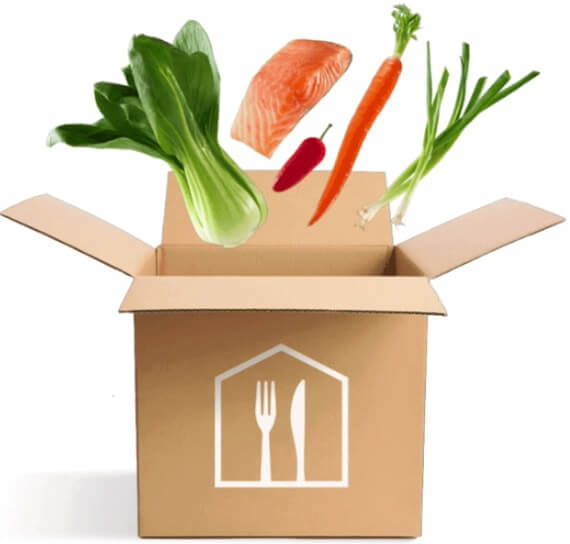 If you like a particular recipe, you can keep the recipe card and make it again and again. Meal delivery services also expose you to new recipes and broaden your palate. It's a delicious way to save money grocery shopping while enjoying gourmet meals at home.
Want $30 off your first order? Sign up here for delicious meals straight to your doorstep
6. $5 Meal Plan
If you're stuck eating the same meals every week, getting a meal planning service can help you spice things up. For only $5 per month, you'll get a weekly meal plan with ideas that cost $2 per person or less.
It's a great way to save time and money while not stressing about what you'll be eating this week. Meal planning is a great way to save money grocery shopping since you buy only what you plan to eat that week.

However, it can be easy to get stuck into a cycle of eating the same five to 10 meals every month. This is why a service like $5 Meal Plan can give you fresh ideas and recipes that will save you money and simplify meal planning.
Try $5 Meal Plan free for 14 days
7. Amazon Subscribe & Save
One lesser known way to save on groceries is by using Amazon's Subscribe & Save feature. You can get a variety of pantry items through Amazon delivered straight to your door for free.
If you use the Subscribe & Save feature, you also get up to 20 percent off on your order as long as you get at least five different subscriptions in a shipment. Make sure you compare prices on Amazon with what you can get at your local store to see if you're getting a good deal.
Shopping through Amazon saves you gas because you don't have to drive to the store. In addition, it saves you from the tempting impulse buys awaiting you down the aisles of your neighborhood grocery store.
You can set your subscriptions for different frequency delivery intervals up to six months. Once your order arrives, go back on Amazon and either cancel any future orders or space out your orders as far as it makes sense for you.
Want more ways to save on Amazon.com?
8. Get Produce While In Season and Freeze
If you're not careful, produce can blow your budget fast. Take note of when your favorite fruits and vegetables are in season, so you can stock up and freeze! Soon you'll have a stash of all your favs and will have avoided dishing out $8/strawberry.
9. Download Grocery Store Apps
Chances are, your local grocery store has an app you can download on your phone. Store apps are a great way to save money grocery shopping since they frequently offer exclusive coupons and deals.
In addition, they feature the store's sales circular with the current weekly store specials. Use the circular to plan your meals around what's on sale and then look for coupons to use on your purchase.
The coupons can usually be loaded on your store loyalty card through the app and scanned at checkout. It's an easy and painless way to pay less during checkout.
Tired of cooking? Try these top recommended delivery options!
10. Try the Store Brand
If you're only buying name brand products, you're missing out on a great opportunity to save. Store brands often are just as good as name brands but at a fraction of the price. In many cases, the products are manufactured in the same facility but packaged differently.
Next time you go grocery shopping, make it a point to try one or two store brand items. Start with canned beans or tomatoes since they are used in cooking. It usually doesn't matter what brand they are – they taste the same in a meal.
Once you've found a few substitutions that work for you and your family, consider trying other store brand options. Go one-by-one through each item that you buy regularly and try a generic equivalent.
For some items, you'll find something that you like just as well (or better); for others, you may end up going back to the name brand. The more generic alternatives you can swap out, the lower your grocery bill.
11. Compare the Price/Ounce
When comparing prices at the grocery store, you shouldn't ONLY be looking at the price.
Instead, start looking at the price/weight: Ex: $1.73/ounce
Compare every item's price per weight so you always know you're getting the cheapest option.
12. Buy in Bulk
Bulk comes in handy for recipes. When you only need a little of something you don't have, head to the bulk section, and grab as much as you need.
Not to mention, the bulk section is cheaper and has many hidden gems!
Food items to buy in bulk:
Nuts
Nut Butter
Oil
Spices
Almond Flour
Chia Seeds
Baking Powder
Sugar-free sweeteners
Also See: Top Cash Back Apps in 2020
Alright, those are the easiest ways to save on groceries every time you shop!
Be sure to follow us on Pinterest for more money saving tips and tricks!
Want to save this post for later? Pin it here!
Save more money! Read these next…
This website contains affiliate links, which means that if you click on a product link, we may receive a commission in return. Budgeting Couple LLC is a participant in the Amazon Services LLC Associates Program, an affiliate advertising program designed to provide a means for sites to earn advertising fees by advertising and linking to amazon.com