When it comes to your financial situation, you cannot turn a blind eye to it. Trying to avoid overdue bills or a depleted checking account never solved anything. Your money desperately needs your attention. When you take control of your money (and you can!) you will finally stop worrying about money (sweet relief!)
1. Try Budgeting
Why do we worry about money? Because we are worried about overspending. A budget helps you keep your income over your expenses every month. A budget helps you grow your wealth. If you knew your money was set up to grow, would your worry about money? I didn't think so. Eliminate worry by taking care of your financial future today with a budget.
Tap into BudgetingCouple's Free Resources to Help Budget
Become mindful of your money. Lay out a plan to spend your cash. Take into account the income you receive and all of your bills and expenses that must be paid. When you decide to create a budget, you reclaim control over your money, and this will give you peace because you can see where every dollar will go.
"Help me stop being poor!"
Here are the facts. The *only* way to save money is to spend less than you earn. There's no way around it.
So what does this mean for you? It means you need to either decrease your expenses or increase your income.
We want to help you do both. Join our 6-day Savings-Account Accelerator Workshop. We'll send you expense-lowering tools and techniques (and even a few tips on how to boost your income). These frugal-living hacks will help you accomplish the cardinal rule of personal finance: keep your income over your expenses.
When you can spend less than you earn, your money will grow. You will build your savings, pay down debt, and save for retirement.
Join our free 6-day Savings-Account Accelerator Workshop, and start growing your wealth today.
Related:
2. Build Your Savings
Many of us spend money to cope with stress. It's true, guilty purchases numb stress. But spending money does not make the stress go away. Money in the bank is peace. Prepare for future emergencies by saving money today.
Here's 5 Ways to Save a Little Extra Money Now
3. Doing Something Productive
Once you have your budget in place, you have no reason to waste your energy worrying about money. You are in control. So give your mind something else to think about. Do something productive that will engage your mind and your body. Try these ideas:
4. Start a Side Hustle
If you worked on your budget and just can't make the numbers work, don't stress out — look for a way to make some extra cash. Side hustles are a great way to supplement your income. And, there's good news for you: The gig economy is expanding! Not sure what to do? We'll get you started with these ideas:
5. Invest Your Spare Change with Acorns
When you live by a budget, spend less than you earn, and can save money for a rainy day, then you will worry less. And, you'll also have money to invest. People mistakenly believe they don't make enough money to invest. If you believe this, then you'll be happy to learn you can start investing for pennies.
Let Acorns App Drive Your Worry-Free Investing
Acorns is an app that gathers your extra change from your daily purchases. The app rounds your purchase up to the next dollar, and it uses the money to purchase stocks for you. Automate your investment and stop worrying if you have enough money to start. You do. So, sign up for Acorns and score a $10 bonus.
Make More Money! Read these now …
Need Help Saving Money? Check these out…
Want to save these tips for later? Click here to pin this post!
Be sure to follow us on Pinterest for more money-saving life hacks!
No Money in the Bank?
If you struggle to save money, it's because you don't know how to do it. Start growing your wealth every month with our 6-Day Free Workshop.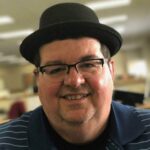 Bobby Warren is a former award-winning journalist who founded Wooster Media Group LLC, an SEO/content creation company. He lives in Northeast Ohio with his wife, Wendi, and their pets.