Make Money From Home with These 7 Side Hustles
This post may contain affiliate links. Please read our
disclosure
for more info.
What's better than more money in your pocket at the end of the month? How about making that money from the comfort of your couch!
We're talkin' about easy money today folks.
Whether you're looking to have a little extra money to fill your spending cravings, trying to put more money towards your debt, or looking to build up your savings a little quicker, these tips are a gold mine!
7 Side Hustles Ideas to Make Money from Home
1. Teach English to Children in China Online
*You'll need a Bachelor's degree (any field) for this lucrative/rewarding side hustle!
VIPKID is an online school that is currently hiring people like you to teach English to children in China.
This side-hustle is awesome because you can earn anywhere from $14-$22 an hour and it's all on your own time (set your own schedule)! And don't worry, you don't have to know any foreign languages or create your own curriculum. VIPKID provides you with their course material and tells you exactly what to teach!
If you are interested in teaching English online, check out VIPKID by clicking here!
Want to up your chances of getting hired? Apply to multiple "online tutoring" companies.
Here's our other favorite:
Check out Education First for more online teaching opportunities ($20+/hour)!
Related Side Hustle Ideas:
2. Make Money Shopping!
If you're not making money or earning free gift cards when you're shopping online, then you're doing it wrong! Make money every time you purchase something from an online store or website!
How? It's easy: Sign up for Rakuten! (for free). Rakuten is your make money online shopping champion: we've personally made over $100 in just a few months! AND it's super easy to use:
Go to Rakuten.com before you start online shopping
Search for your favorite online retailer (over 2,000 to pick from)
Click your retailer's link (you won't miss it, it's a big green button)
Start shopping and get PAID!
Rakuten will not only PAY YOU for your purchase, but they'll also provide you with every sale, coupon code, and free gift offer the retailer has going on at the time! (Rakuten compiles them for easy access)!

This is an online shopper's dream and will put a whole lot of extra money in your pocket!
*Pro tip- You must head to Rakuten BEFORE shopping online so add Rakuten to your Bookmarks or Favorites to make sure you never miss any money making opportunities!
Receive $10 when you sign up for Rakuten here after spending your first $25!
3. Start a Blog
Did you know people are making seven figures a year from blogging?! Many of them started their blogging journey as a side hustle: simply trying to bring in a little extra cash every month to help with the bills, pay down debt, or have a little extra fun money!
Is there a topic or hobby you could talk all day about? A passion or skill you love? Why not turn that passion into an online business in the form of a blog! No matter your skill/interest, you WILL have an audience that cares about what you have to say! (We're talking about the internet here…)
If you want to start making money as FAST as possible.. we highly recommend taking a blogging course (that's what we did). Blogging courses will walk you through *everything* you need to know step-by-step. AKA, no wasted time.
Here's the blogging courses that we took and highly recommend.
Launch Your Blog Biz– If you want to a detailed roadmap of how to start a "money making" blog this course is the best.
Pro Blogger Bundle (what we used to launch Budgeting Couple)- This is a bundle of every course you need to launch the ultimate blogging business.
4. Become a Virtual Assistant
Do you enjoy pinning on Pinterest? Doing small tasks on the computer? Searching the web?
Online business owners will hire you to do just that for their blog or online business. You could be asked to do tasks as small as researching topics online or scheduling pins through Tailwind (our favorite pin scheduler), or they may even have you create graphics for Pinterest or set up email funnels!
No matter what your skillset is, as long as you are pretty computer savvy, a virtual assistant job could be the perfect way to make money from home for you!
Here's two awesome sites to find Virtual Assistant side hustles that are perfect for you and your talents:
Also See: Steady App Review- How to Find Mom Jobs Hiring Now
5. Make Money Proofreading From Home
If you have an eye for detail, you could make money now by proofreading. Sites such as Upwork and Thumbtack can help you connect with people in need of online proofreaders.
Would you be interested in becoming a proofreader and making $40,000/year as a freelancer?
If you want a fool-proof strategy to becoming a money-making proofreader , try this FREE online workshop to launch your proofreading side hustle today.
Caitlin has taught thousands of women & men how to make a living with their proofreading skills. If you love words, details, and red pens, then you will want to check this out. It's jam-packed with relevant info that you need to know before diving into this world! The workshop is primarily for people who can say yes to one of the following…
Are you always catching typos and misplaced commas?
Are you constantly correcting texts and Facebook posts?
Do you read through an email five times before you hit send?
Do you cringe when a restaurant menu has a misspelled word?
If so, then you can't miss her workshop. Quality proofreaders are in high demand, and Caitlin will show you exactly what you need to do to become a rockstar proofreader.
You can register for the free workshop here!
6. Join Online Focus Groups!
Companies are always anxious to hear what the public thinks of their latest and greatest products. So anxious, in fact, that they are willing to pay you to test out their products and give your opinion!
I'm sure you've heard of in-person focus groups where a bunch of people sit in a room and a proctor asks them questions related to the product…
Respondent.io is just like that except you get to give your opinion from the comfort of your couch! Enjoy testing out fun new gadgets (or toys for your children) before they are even available on the market! Respondent.io works with companies like Disney, P&G, Microsoft, Kraft, Dell, and countless others!
And the best part, they pay $50-$150 for sharing your opinion!
Sign up for Respondent.io here
7. Get Paid To Search The Web
What if you could make money right now from home JUST by searching the internet (like you already do)? Or by completing easy surveys?
Combine both of those with tons of other money making opportunities like: watching online videos, playing games, and shopping online and you get SwagBucks!! SwagBucks is a site that PAYS YOU to goof around on the internet.
While this side hustle idea isn't going to turn into a full-time job, it is an effortless and fast way to make some extra cash in the form of "SwagBucks" (100SB = $1.00). Then redeem those SB for Free gift cards to your favorite stores (like Amazon and Starbucks) OR get them directly deposited right into your PayPal account!
Start Getting Paid To Search The Web (learn how you can earn a Bonus $5 just for signing up with this link!)
Psst. Get our 10+ Swagbucks Hacks (and what to avoid) in our full Swagbucks review: Is Swagbucks Worth It?
Another fun way to make money from home with Swagbucks is with their free daily live trivia app: Swag IQ. If you are a trivia fan (or you were/are addicted to trivia crack), you NEED to download Swag IQ.
Swag IQ is a LIVE trivia game show pinning you against tens of thousands of other users! You will receive 10 trivia questions… All you need to do is answer ALL 10 questions correctly (we've gotten pretty close, 7/10 correct!), to win the grand prize and earn hundreds if not thousands of dollars in the form of Swagbucks! And, of course, it's completely free!
Check out these past winners (they each won over $550!)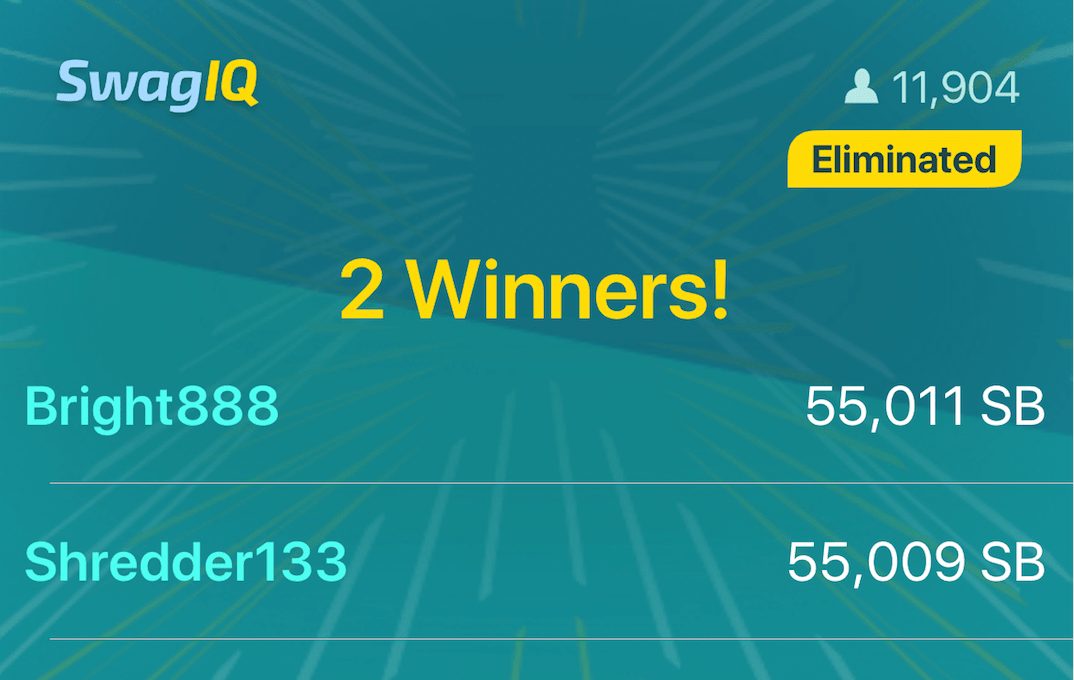 It's just you, your phone, a variety of fantastic hosts, and thousands of people competing for an extremely lucrative cash prize!
Sign up for Swagbucks here (and learn how to get a $5 cash welcome bonus) then download Swag IQ to start playing live trivia 6 day's a week!
BONUS – Get Paid For Your Opinion!
Want to make money answering surveys online? Or earn FREE gift cards and other awesome rewards? Check out these fun survey companies that want to pay you for your opinion!
MyPoints
Leading brands and merchants are curious about consumer interests. Through MyPoints, you can take surveys from these leading brands to earn free money. What's more, MyPoints members are able to earn cash back shopping at their favorite stores (think Amazon, Target, Walmart). With MyPoints, you earn money from taking surveys and save money with the MyPoints cash-back feature.
Make money from your couch with MyPoints
Opinion Outpost
Opinion Outpost has all sorts of different surveys across my different subjects and sectors. That means there is plenty of opportunity for you to earn a little cash. Opinion outpost works hard to find companies that are willing to pay you for you opinion.
Use Opinion Outpost to make a little extra money taking surveys
I hope you enjoyed this post and try out some of these EASY side-hustle ideas!
Do you have any side-hustles that make you money from home? I'd love to hear about them in the comments below and try them out for myself!
Did you enjoy this article? Pin it here!
Follow us PINTEREST for more side hustle ideas!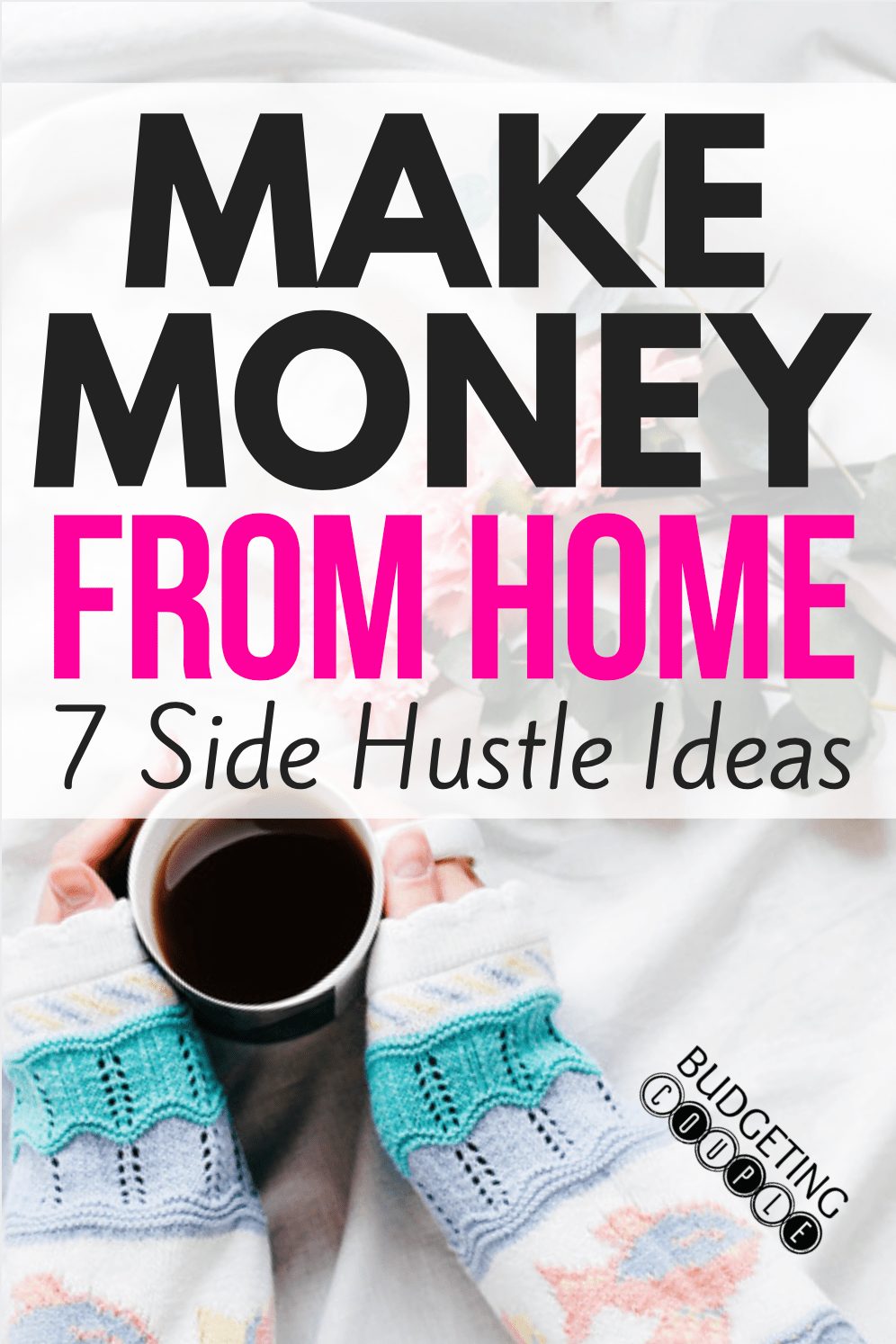 Related Article:
This website contains affiliate links, which means that if you click on a product link, we may receive a commission in return. Budgeting Couple LLC is a participant in the Amazon Services LLC Associates Program, an affiliate advertising program designed to provide a means for sites to earn advertising fees by advertising and linking to amazon.com