Sweatcoin Review: A Scam or a Legit App?
This post may contain affiliate links. Please read our
disclosure
for more info.
Need an incentive to get off the couch and exercise?
Try giving your steps real-world value with the Sweatcoin app.
11 million users have already increased their physical movement by 10-16% since downloading the app.
Let's see how it works in our in-depth Sweatcoin review (plus find out if it's a scam or not).
Sweatcoin Review: Get Money For Walking
What is Sweatcoin?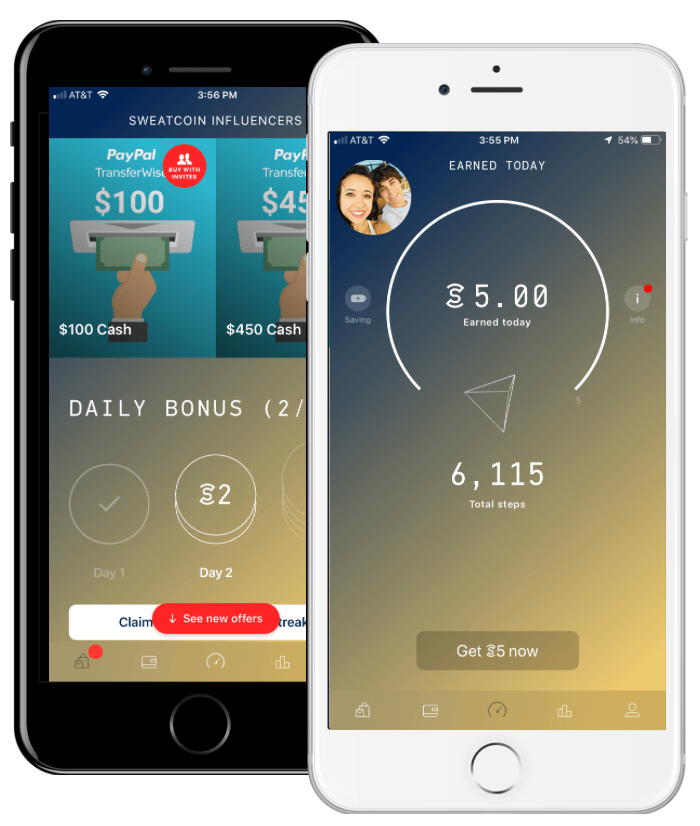 Sweatcoin is a free smartphone app that converts your outdoor-steps into 'sweatcoins' using a two-part, step-verification algorithm:
Part One: The Sweatcoin App counts your steps using your phones built in pedometer.
Part Two: To ensure you're not sitting on the couch shaking your phone to earn free money, the app collates your step-count with your geolocation to verify that you are outdoors and moving.
If your steps are authentic, then every 1,000 steps you take will earn you .95 sweatcoins. Save up your coins and spend them in the SweatCoin Marketplace in exchange for Amazon and PayPal vouchers and hundreds of other products.
Is Sweatcoin Legit?
Sweatcoin's mission is to promote a healthier society. They have 5 health professionals on their board of advisors, and have partnered with governments and insurance companies to help reduce healthcare costs.
So yes, Sweatcoin is legit in the sense that they give you free stuff for walking. (I've earned over S400.00 with this app that pays you to walk)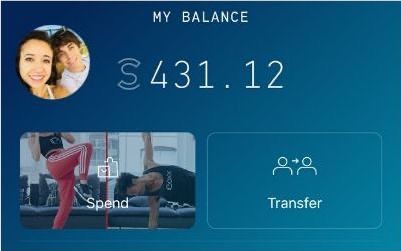 And yes, their Trustpilot reviews are glowing…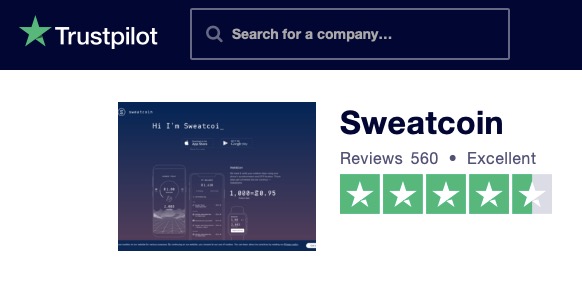 But most importantly, Sweatcoin is legit because their app actually encourages users to be more active. British Journal of Sports Medicine has concluded that Sweatcoin users are +20% more active each day, even after 6 months of first downloading the app.
How Do I Earn Money With Sweatcoin?
There are 3 major ways to earn money with the Sweatcoin app:
1. Walk, Run, Skip, Hopscotch: As long as you're moving, you're earning free sweatcoins (aka free money). Put your phone in your pocket, have the app running in the background, and convert your steps into sweatcoins for you to spend.
2. Daily Bonus: Watch a short 30 second advertisement and get paid 1 sweatcoin. Come back the next day, watch another ad, and get paid 2 sweatcoins. Come back the following day, and get paid 4 sweatcoins.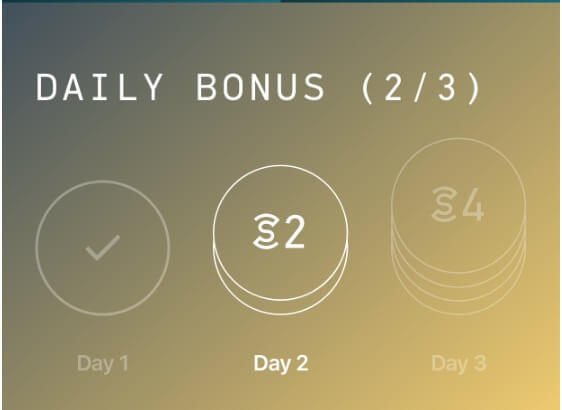 You can earn 7 free sweatcoins every 3 days—that's equivalent to more than 7,000 steps!
3. Refer A Friend: If Sweatcoin has encouraged you to get outside and be healthy, then recommend Sweatcoin to a friend. When they download the app and create their account, 5 sweatcoins will be added to your Sweatcoin wallet. What's more, when you invite 6 friends, you can redeem $6 in PayPal cash. Need an easy first person to invite? Have your spouse to download the app and make easy money right now.
Maximize Your Earnings With a Sweatcoin Membership
Sweatcoin's basic membership allows you to earn up to a maximum of 150 sweatcoins per month (5,000 steps per day). But if you walk more than this, be sure to increase your earning's cap.
Upgrade your membership—the fee is paid in Sweatcoins which means it doesn't cost you anything other than your steps—to ensure you get paid for every step you take.
Sweatcoin App Membership Levels:
Mover – Earn up to 150 sweatcoins per month
Shaker – Earn up to 300 sweatcoins per month (Cost: 4.75 sweatcoins per month.)
Quaker – Earn up to 450 sweatcoins per month (Cost: 20 sweatcoins per month)
Breaker– Earn up to 600 sweatcoins per month (Cost: 30 sweatcoins per month.)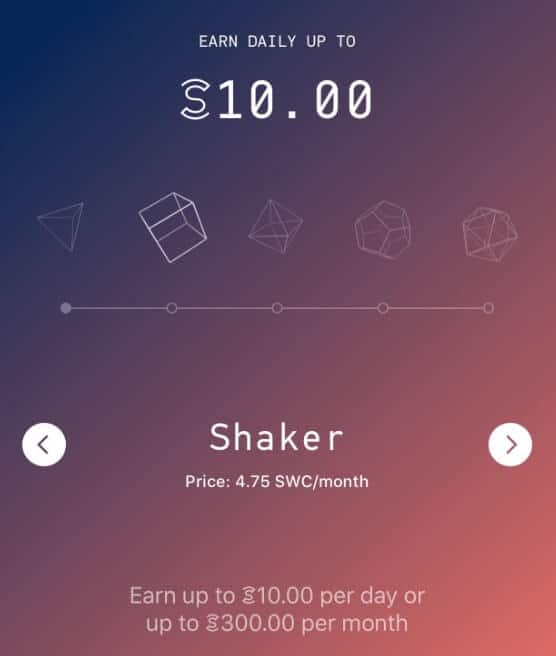 When should I upgrade?
Mover –> Shaker – Upgrade when your steps exceed 5,500 per day.
Shaker –> Quaker – Upgrade when your steps exceed 11,100 per day.
Quaker –> Breaker– Upgrade when your steps exceed 16,200 per day.
Tricks to Make Every Step Count
1. Don't 'Force Close' Sweatcoin
You know when you double tap the home button (or swipe up on new iPhones) and you're presented with all the apps currently running on your phone? You know how you can force close apps from this screen?
Do not force close Sweatcoin; keep it running in the background so that every step you take can be counted and converted into cash.
And don't worry about the geolocation draining your battery: the app has been engineered to be extremely battery efficient while running. When your phone is in motion, the geolocation setting is turned on; when you are not in motion, the geolocation setting turs off.
2. Sweatcoin Is On Apple Watch
If you own an Apple Watch, you know that it's capable of tracking both your steps and geolocation without needing an iPhone present. That means you can leave your phone behind when you go on a walk and still earn sweatcoins. Download the Sweatcoin app to your Apple Watch and never miss a step.
3. Double your Sweatcoin Income
Sweatcoin allows you to transfer your sweatcoins to different users. Normally you wouldn't use this feature, but if you have a walking partner, it's a great way to double up on your Sweatcoin income. Got a spouse? Tell them to download Sweatcoin and start taking walks together. When you find an item in the marketplace you'd like to redeem, have your spouse send you their points (now you have double the sweatcoins) and redeem the item.

How Do I Redeem My Sweatcoins?
Spend your sweatcoins at the in-app Sweatcoin Marketplace. They have hundereds of products available from shoes to dog toys to vacations to Borneo.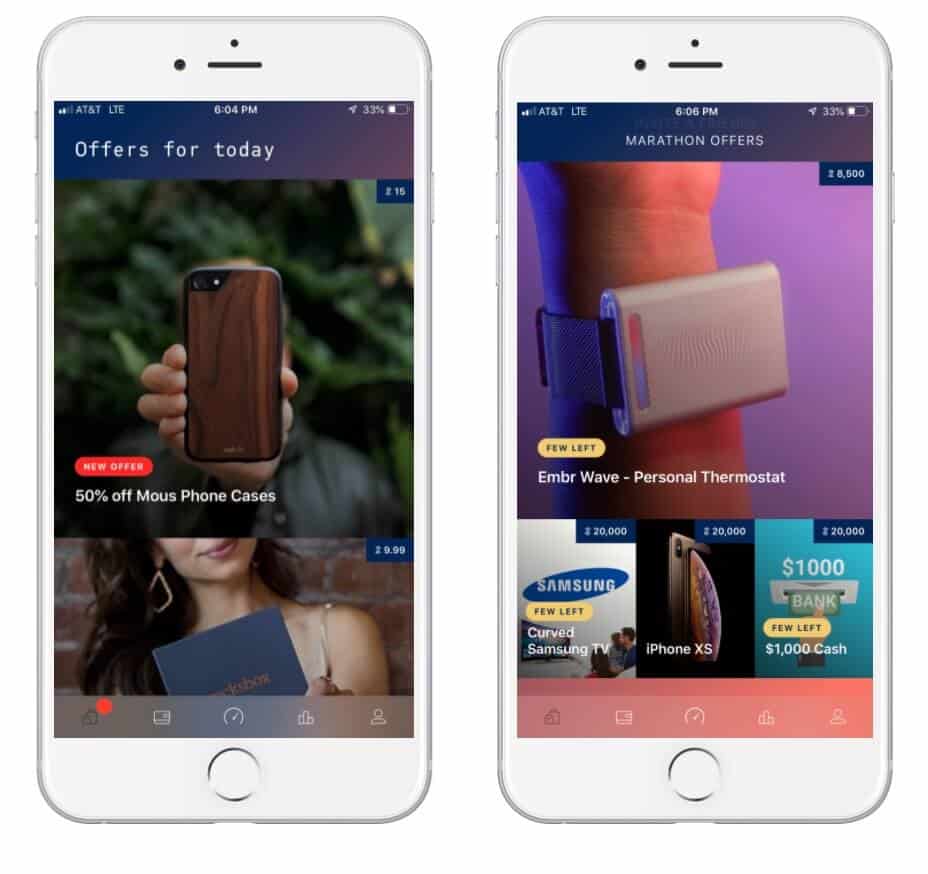 Please note, however, that the Sweatcoin Marketplace only shows four offers per day. These offers change daily so if you don't see something in the market that catches your eye, be sure to check back tomorrow.
How does Sweatcoin work? (How do they make money?)
Sweatcoin has partnered with 300+ retailers, and those retailers have agreed to feature their products in the Sweatcoin Marketplace—they have agreed to accept your sweatcoins as a viable payment option for their products.
For example, Sweatcoin has partnered with Apple, and Apple has agreed to allow you to purchase an iPhone XS for 20k sweatcoins.
What's The Future of Sweatcoin?
1. Get Paid For Indoor Steps
The Sweatcoin app is working to improve their step-count algorithm so that your indoor-steps are counted. Soon, every step you take will be worth a little bit of money.
2. Increased Sweatcoins-Per-Step Converstion
Right now, the current conversion rate is 1,000 steps per .95 sweatcoin. Sweatcoin is exploring different avenues (see numbers 3 and 4) to increase this conversion rate.
3. Onboard Government and Health Partners
Sweatcoin is not only beginning to establish partnerships with big healthcare and insurance companies, but they are also working to build relationships with national and local governments to help them achieve their goal of making their citizens more physically active.
4. The Next Cryptocurrency
The end-goal for Sweatcoin is to become a fully-fledged currency listed on exchanges (like bitcoin). When this becomes a reality, you will be able to exchange your sweatcoins for cold hard cash.
Is Sweatcoin Right For Me?
Before food was made readily available, it was critical for humans to save their energy. They had to conserve their strength in order to successfully hunt for their next meal. Therefore, exercise would have been detrimental to us as a species.
Do you know what this means?
This means that your aversion to exercise is built into your DNA. Evolution has hard-wired all of us to have an affinity for conserving energy (i.e. doing nothing) and eating. It's not our fault for not wanting to exercise.
But, unfortantuly, we need to exercise.
You need an incentive to get off the couch. If earning free money with sweatcoin sounds like it will help you get up and get healthy, then yes, SweatCoin is right for you.

Pros and Cons of SweatCoin
Pros:
[custom_list type="check"]
Get Paid to Be Healthy: You need to exercise, one way or another. Sweatcoin wants to help you do it.
It Works Automatically: Keep Sweatcoin running in the background on your phone so that it can track your steps automatically. As long as you have your phone in your pocket, you'll be getting paid
[/custom_list]
Cons:
[custom_list type="x"]
The Marketplace Is Lacking:You're not going to find too many items in the Sweatcoin Marketplace, but then again, they're all free so it's still pretty cool.
Decreased Battery Life:When your GPS is running, your battery is going to decrease faster than normal. But it's not in vein: if your GPS is running, that means you're getting paid!
[/custom_list]
SweatCoin App Review FAQ
1. Does Sweatcoin Use Data when counting my steps?
No. Sweatcoin uses your phone's pedometer and GPS system, neither of which require Data or Wi-Fi to function.
2. Do SweatCoins expire?
Sweatcoins never expire. You have all the time in the world to save up 20k sweatcoins and buy yourself the iPhone XS.
3. Will I earn steps walking on a treadmill?
No. Due to Sweatcoins two-part verification system (see above), you cannot remain in a fixed location while walking. This is to prevent cheaters who want to shake their phone while sitting on the couch to earn free SweatCoins.
4. Does SweatCoin count my indoor steps?
Technically no. But in my own personal experience, my steps around the house have been getting counted. Maybe your indoor-steps will be counted too.
5. What is the value of a SweatCoin?
On average, 50 sweatcoins equal $1.
Is Sweatcoin a Scam?
After several months of testing out the app, we can confidently say Sweatcoin is not a scam. You can earn free gifts for simply walking outside! In fact, it has made us way more excited to get outside and get active!
Download the free Sweatcoin app here and start getting paid S-coin to walk!
Alright, that is our final Sweatcoin Review!
Want to save this post for later? Pin it here.
Be sure to follow us on Pinterest for more easy ways to make and save money everyday!

Related Money-Making App Reviews:
This website contains affiliate links, which means that if you click on a product link, we may receive a commission in return. Budgeting Couple LLC is a participant in the Amazon Services LLC Associates Program, an affiliate advertising program designed to provide a means for sites to earn advertising fees by advertising and linking to amazon.com