DIY Drawer Organizer – Dollar Tree Hack
This post may contain affiliate links. Please read our
disclosure
for more info.
When your family's schedules get crazy with all kinds of activities, good luck when it comes to everything looking perfectly organized, right? Our house can go from looking like a dreamy farmhouse to "Did a tornado just go through here?"-chic in a matter of seconds.
Or, how about getting news your friends or family will be showing up soon, leading you to run around shoving things into drawers so your counters aren't so cluttered. Those deep bathroom drawers get me in trouble every time. When the news hits, everything sitting on the bathroom counter gets shoved into those drawers and then the bathroom counter gets cleaned.
After losing most of the hair ties that I own, I decided enough was enough and it was time to bring some organization back to those stuffed bathroom drawers. I was also secretly hoping I'd find some of my lost hair ties, too, so I wouldn't have to purchase another pack.
I definitely needed to organize my drawers (and life), so I headed out to my favorite dollar store to find a solution.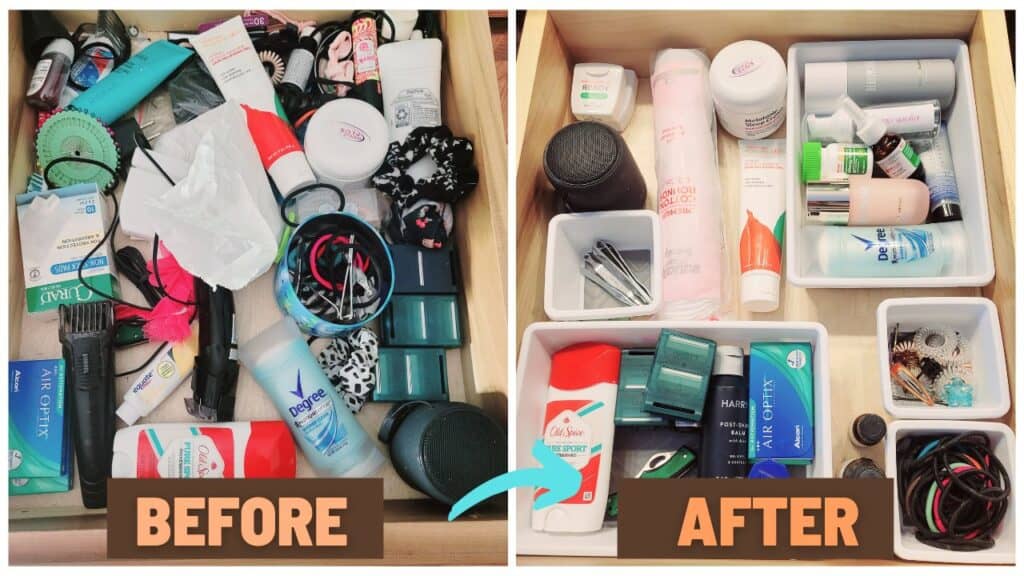 Simple Steps to Organize Any Drawer
After taking a trip to Dollar Tree, this is what I came up with to bring back some organization to my bathroom drawers, but as you will see, you can use this hack for other draws, especially your junk drawer.
Supplies Needed:
Dollar Tree Brand Essentials Drawer Organizers

3 packs- 3.75" X 3.75" X 2" (these came in a 2 pack)
4 – 9.75" X 6.75" X 2"
Note: Quantity will vary depending on the length and width of the drawers you are organizing. I highly recommend measuring your drawers prior to purchasing the drawer organizers.
Pro Tip: Before diving into this organizational tip, it would be extremely helpful to understand Marie Kondo's principles of decluttering your home and life in such a way that sparks joy. Read this piece first and then jump back here: 5 KonMari Method Hacks You Should Copy.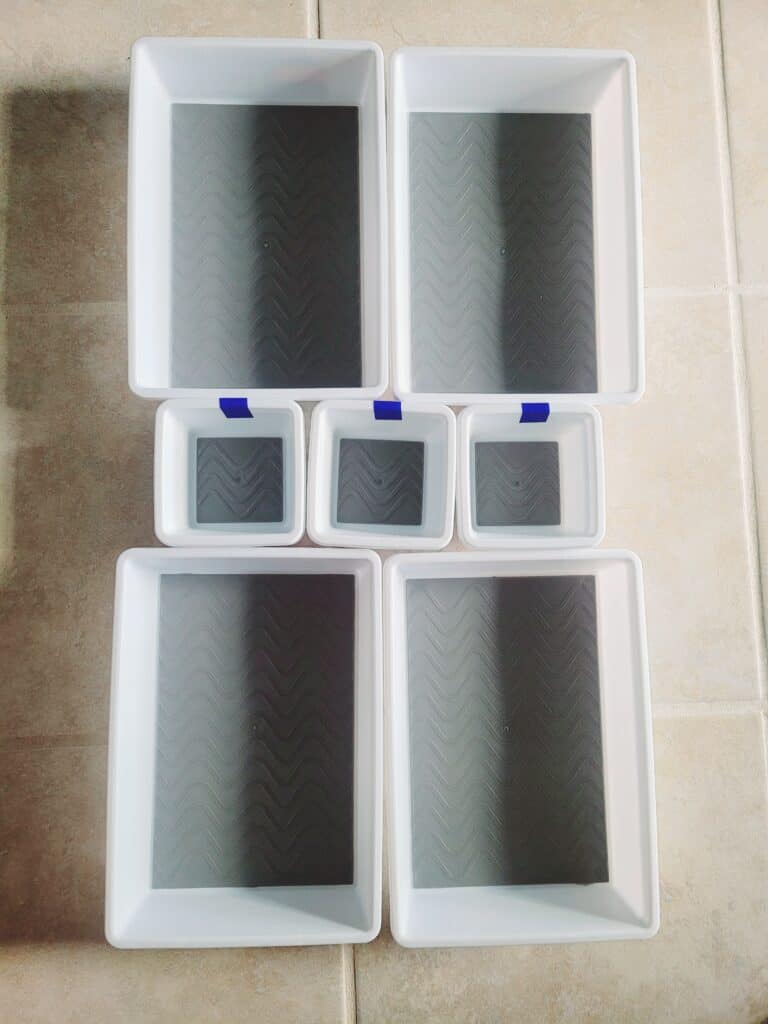 Step One: Get Ready To Purge
Empty out the contents of each drawer completely and sort through to create a keep pile and throw-away pile. If you don't use it on a regular daily basis and can't remember the last time you used it, throw it out. If it has a yellow tint to it, throw it out. If it has rust on it, throw it out. If you can't find the other part of it to make a pair, throw it out. If it's broken…guess what? Throw it out. The one exception to this: If you think it will be OK to donate it to a thrift store, do that.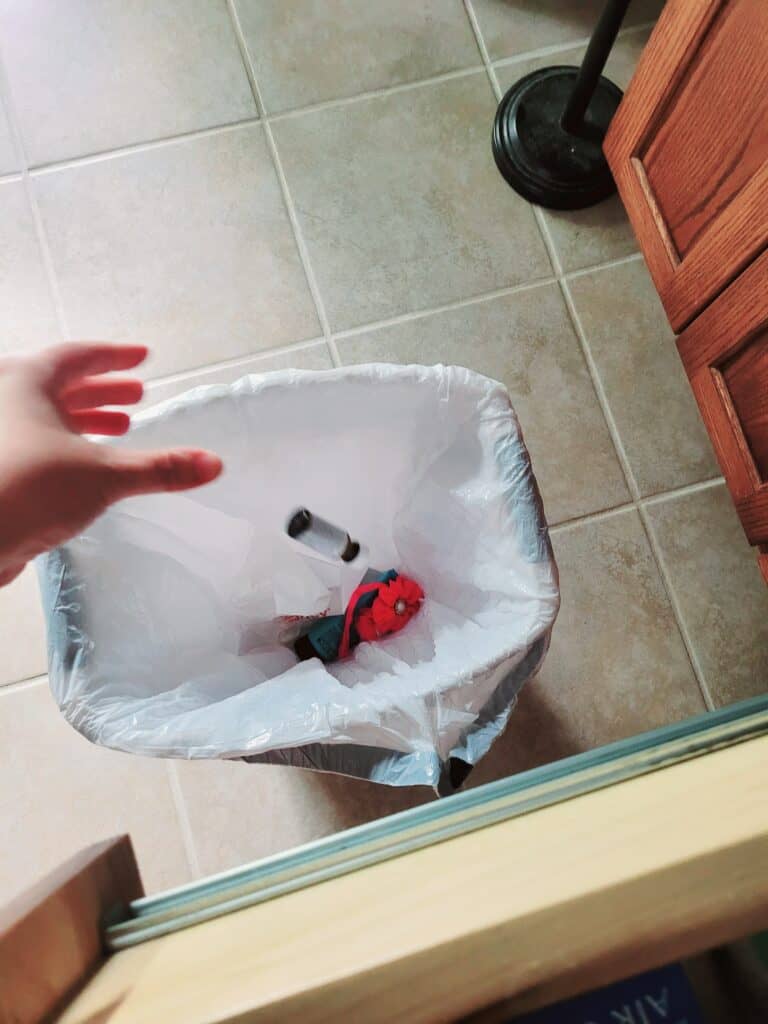 Free Workshop – Join our free Simplify Money Workshop
The *only* way to save money is to spend less than you earn. That means you need to decrease your expenses or increase your income.
We want to help you do both.
Join our FREE Simplify Money Workshop to learn the fundamentals of growing wealth. Because when you can spend less than you earn, your money has no choice but to grow. You will build your savings and pay down debt.
What's more? We've got a bunch of free money-hacks to share with you:
Hacks to lower your monthly bills
Hacks to spend less on debt
Hacks to start investing
Hacks to increase your income by $20/month (with no extra effort)
This workshop has everything you need to accomplish the cardinal rule of personal finance: keep your income over your expenses.
Join our free 5-day Simplify Money Workshop, and start growing your wealth today.
Step Two: Clean The Empty Space
Once everything is emptied out, this is the best time to give those drawers a thorough cleaning. Bathroom drawers are the hardest because of all the balled strands of hair that get in them.
Take the vacuum cleaner hose and pick up all the loose hairs and anything else that might have found its way into the drawer. Once that is complete, go back through the drawers with a damp paper towel to get anything that was too fine for the vacuum cleaner to suck up. Trust me, you will be amazed at how much you wipe up.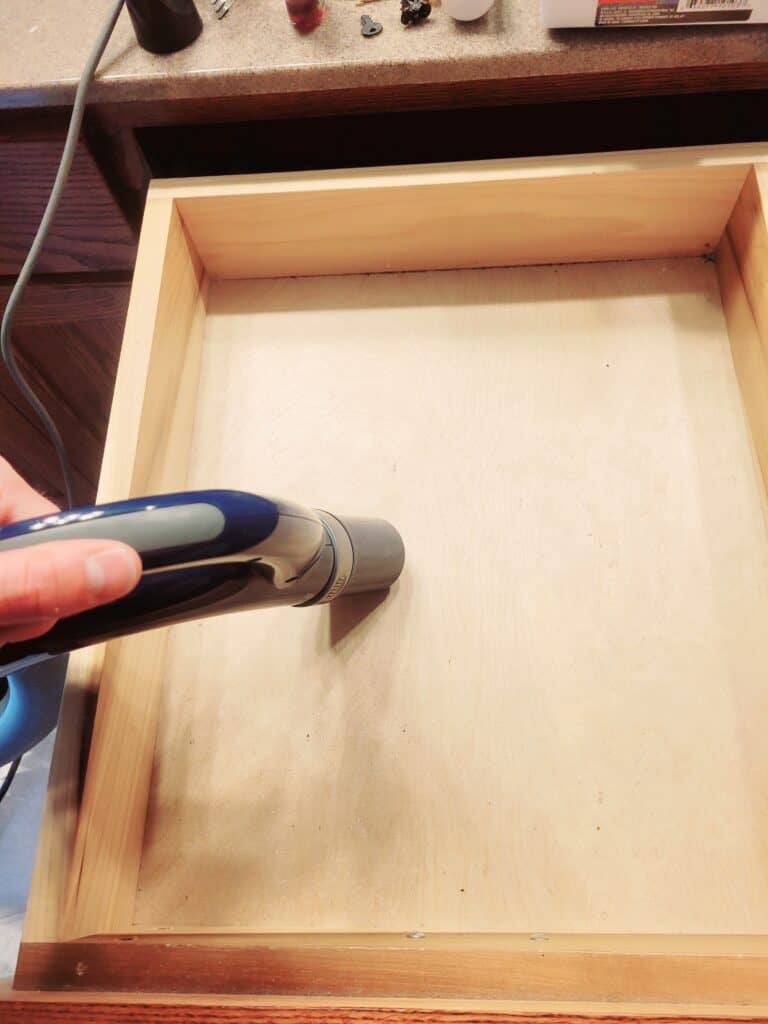 Step Three: Sort Like Things
Once the drawer has been vacuumed and wiped clean, you will be tempted to start placing the items back. But, before you think about returning those items, you need to sort everything you placed in the keep pile.
Sort your stuff into like items. For example, one pile would be all products that go in your hair and one pile might be your skincare routine. Make as many piles as you need, and be sure to think it through to optimize your organizational efforts.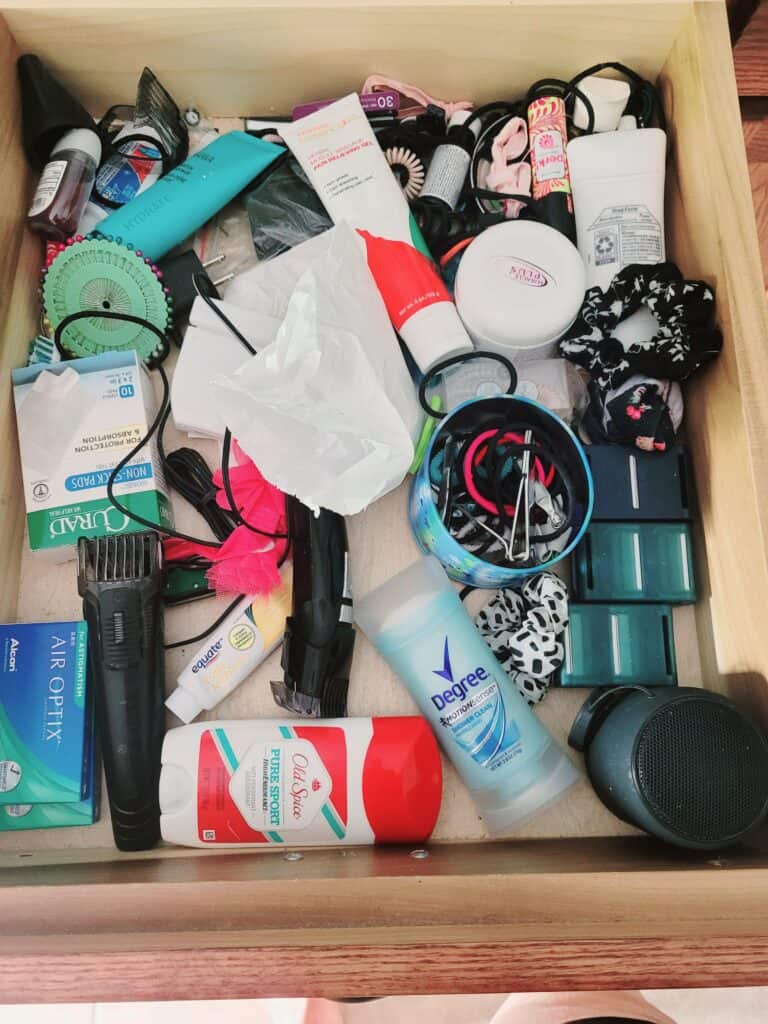 Step Four: Figure Out the Layout
Once you have your piles sorted, it's time to figure out the layout of your Dollar Tree Essential drawer organizers. This is why it's good to measure your drawers before you go shopping so that you can make sure you are purchasing things that will fit. Bathroom drawers come in a variety of shapes and sizes.
Arrange your containers in the drawers in a way that you feel best suits your needs. Think about what you reach for the most, what you hardly use, and of course the shape and size of each item. You want the final arrangement to work for you.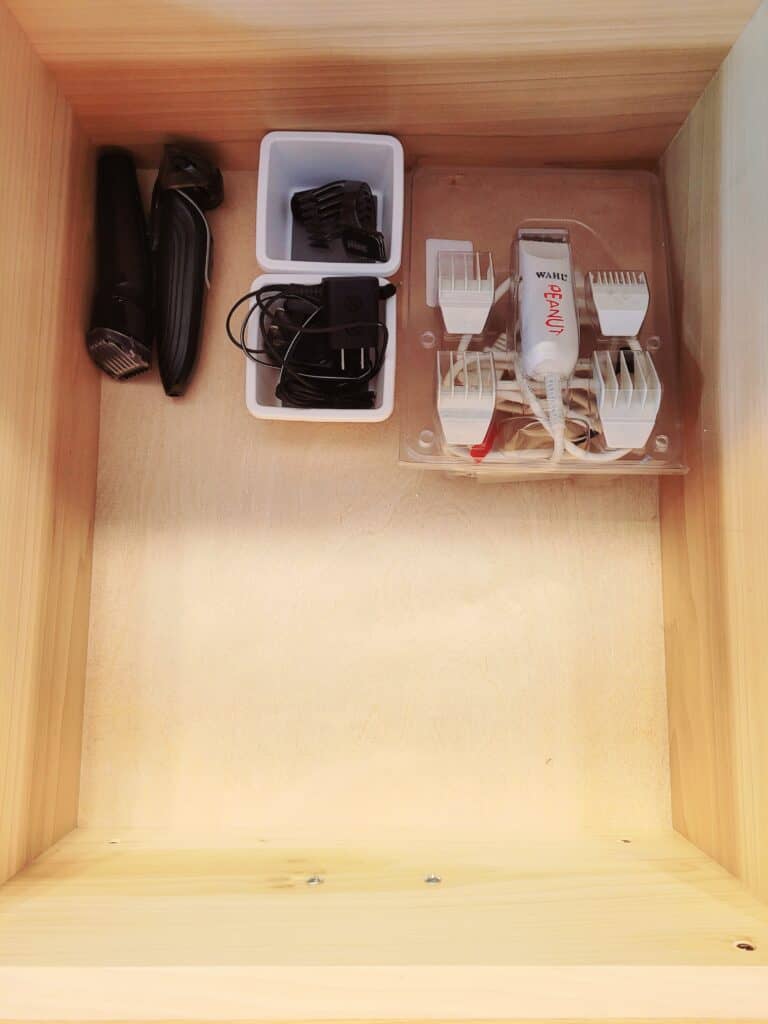 Step Five: Put Your Items Back!
Now that you've arranged your containers, it's time to return all the items you kept into the drawers.
For our top drawer, I decided to put the things that we want easy access to — those items we use frequently.
For the middle drawer, which is a little deeper, I decided it would be the perfect choice for my hair tools and hair care products. I spent a little time figuring out how to arrange my hair tools so they would lie flat easily.
Lastly, the bottom drawer I used for my husband's beard-shaving and head-shaving equipment (yep, he's pretty much bald) because he doesn't need to use them on a daily basis.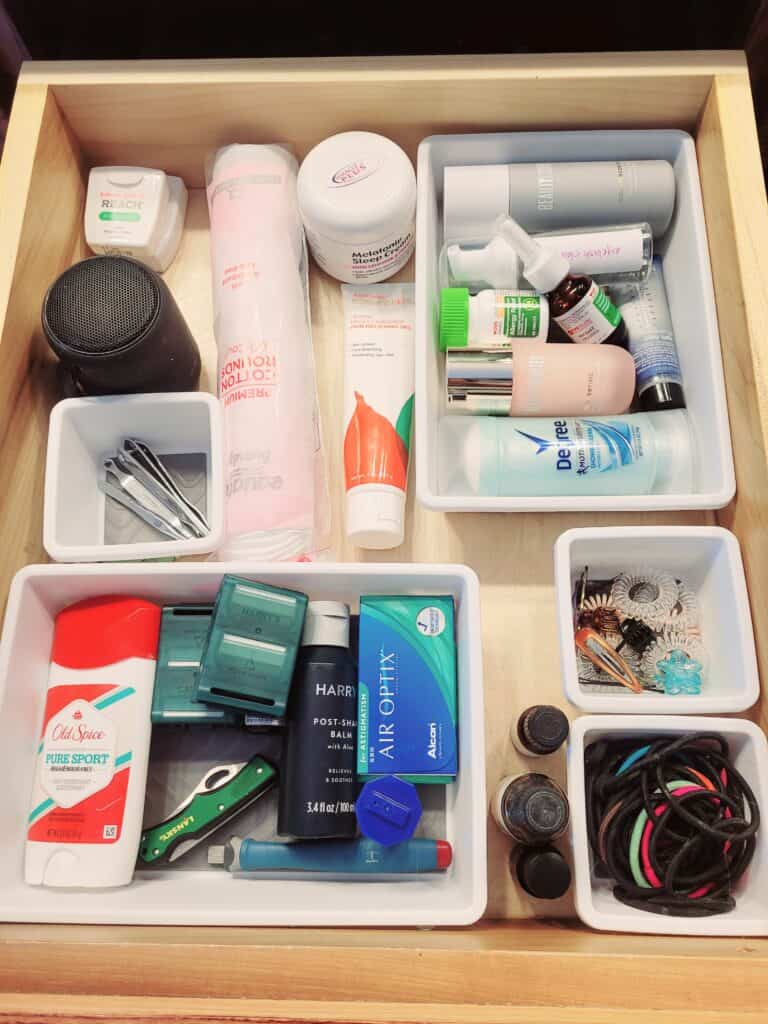 Final Organizational Thoughts
Essentially, you can use these steps to organize any drawer in your house from the bathroom to the kitchen junk drawer. After organizing our bathroom drawers, I'm also happy to report that I found more than enough hair ties that should last me for a while!
The Dollar Tree has drawer organizers that come in a variety of sizes. This means you have options depending on the look you want and the size of the drawer you are organizing.
I prefer the Essential brand drawer organizers because they have thick rubber in them that keeps your items from rolling and sliding around. Happy organizing!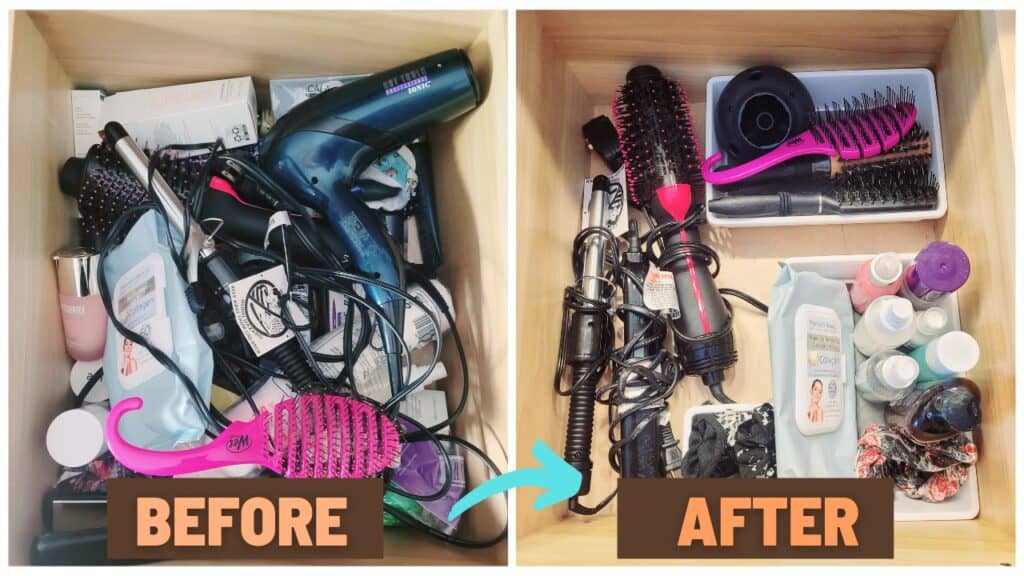 Want More Dollar Tree DIY Ideas?
Save more money! Read these next…
Save at your favorite stores:
Want to save these tips for later? Click here to pin this post!
Be sure to follow us on Pinterest for more money-saving life hacks!
This website contains affiliate links, which means that if you click on a product link, we may receive a commission in return. Budgeting Couple LLC is a participant in the Amazon Services LLC Associates Program, an affiliate advertising program designed to provide a means for sites to earn advertising fees by advertising and linking to amazon.com