Ultimate Guide to Making (lots of extra) Money Fast
This post may contain affiliate links. Please read our disclosure for more info.
If you are on a diet, what you choose to eat will have a greater impact on weight loss than exercise. So, what does that have to do with making money fast? The best thing you can do to get into financial shape is to spend your money the right way. Our grandparents knew it didn't matter how much they made; it mattered how much they spent.
When you spend your money wisely, you will be able to put money in the bank every month. Don't try to figure this stuff out on your own. Take our free Simplify Money Workshop to put money in the bank and finally stop stressing about money.
Or if you're looking for some extra fun money, or you have an income problem, you're in the right place. We've gathered the top money-making hacks that will pay you the most money for your time.
7 Hacks to Make More Money
Technology and the gig economy are disrupting how we work and how we make money. We want to share with you some legit ways to make some easy money and some extra cash.
1. Sign Up Bonuses
Interested in making $40 without any heavy lifting? Below, we selected four cash back opportunities with sign up bonuses so you can score some easy cash.
Ibotta– $20 Bonus
If there were a Budgeting Couple Cash Back App Hall of Fame, the Ibotta App would be the first inductee. We love this app. Download the app, select grocery stores where you shop, link your grocery store loyalty cards, choose items you will buy, then go shop and earn cash back. It is that simple.
Want to hear even more ways Ibotta can save you money? Check out our Ibotta explainer video, here!
Sign up for Ibotta through Budgeting Couple and claim your $20 sign up bonus.
Or, you can find out why we love Ibotta here.
Ebates/Rakuten– $10 Bonus
Never again miss a cash back opportunity when you shop online. Simply install the Rakuten Chrome/Safari extension, and whenever you visit an online retailer, you will be alerted about cash back opportunities.
Rakuten works with 2,500 companies, so there are cash-back chances for everyone.
Sign up for Rakuten here, snag your $10 Bonus and start earning cash back rewards today.
We spell out why Ebates/Rakuten is safe, legit and so worth it in our in-depth review.
Dosh – $1 Bonus
Nobody wants to admit they are lazy, but we consider the Dosh App the epitome of making money in a lazy way. How is this possible? Link a credit/debit card, and when you use it, you are earning up to 10% cash back automatically!
I was visiting family in Orlando recently and picked up a dozen bagels at a local cafe. On the way back to my brother's home, I get an alert on my phone. It's Dosh informing I just earned $1.32 back on a dozen bagels and cream cheese.

Dosh works at 1,000+ locations, like Walmart, Target, Walgreens, Exxon Mobil, Guess, Patagonia, Bed Bath & Beyond, and Jiffy Lube. Money is money, and Dosh is money.
Get Dosh and let the automatic cash back rewards begin. You'll get a free $1 welcome bonus just for signing up here.
Related: 21 Ways To Get Free Money Right Now (fast)
2. Make Money Driving Your Car
There is no better time to be alive to make money than right now, after all, your car will literally put you in the driver's seat to earn extra cash. I met a man who quit his full-time job as an engineer to pursue his side hustle full time. What did he do? He drove for Lyft.
The sky's the limit when it comes to making money with your car: You can deliver people, deliver takeout food, deliver groceries, or virtually anything else.
Instacart
Instacart offers you two ways to earn money with groceries: As a full-service shopper or as an in-store shopper. Instacart works with about 150 national and local grocery stores and chains, providing lots of opportunities to make money on the side.
Full-service shoppers will be alerted by the Instacart app that a "batch" needs to be picked up and delivered. You will have four minutes to accept the batch (or you can ignore it, but if you ignore too many you might not get as many offers). Alert the app when you arrive in the store, then start shopping for your customer. You'll earn a delivery fee and a tip will be suggested. Often, people will tip in cash, too. The average is around $5.
Instacart also has in-store shoppers in select locations. They are part-time Instacart employees who work limited hours for an hourly wage. They work in the store filling batches and placing them in a staging area for pick-up.
Full-service shoppers, however, have a greater opportunity to earn more cash. They are independent contractors who earn tips and can set their own hours.
If you are looking for extra money for the holidays, for a new car or a vacation, pick up some extra cash with Instacart.

DoorDash
If you are looking to make a dash for extra cash, then look into DoorDash, another tech-led delivery service. With DoorDash, you will be delivering orders from restaurants to customers. You get to choose your own hours as an independent contractor; you can see how much money you will make before accepting a delivery.
Sign up to work during busy times, which include lunch and dinner hours, to maximize your earnings. Sporting events like the Super Bowl, playoffs and championship games are good times, too.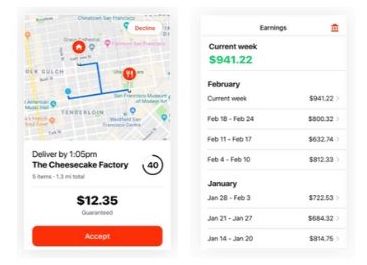 The average delivery fee is around $5, and you keep all of your tips. Did you know, you can even work as a Dasher when you are visiting other cities? While most people will use their cars for deliveries, in some select locations you can use a scooter or bicycle.
Sign up for DoorDash today and start earning some extra money.
For Illustrative purposes only, actual earnings may differ and depend on expenses. Hourly pay is calculated using average Dasher payouts while on a delivery (from the time you accept an order until the time you drop it off) and includes compensation from peak pay, tips, and other incentives.
Postmates
Earn some extra cash by delivering meals, groceries and alcohol with Postmates. The high-tech deliver company says it's transforming the way goods move around cities, and Postmates aims to have just about anything delivered on-demand.
More people are taking advantage of delivery services like Postmates because they can continue about their lives and let someone else deliver food and drink to them without ever leaving the house.
Delivery fees average about $4-$6 per order, but many drivers say tips are where they make the bulk of their money. How much money you make will depend upon your customer service and how you present yourself.
To earn more, be available during Blitz hours, when demand is high. Pick up orders close to you because your fee is based on the time you pick up the order to when you deliver it. Learn how to stack orders by picking up and delivering to multiple customers on the same trip.
When you sign up, you will get a delivery bag and prepaid card to pay for the items you pick up. The average salary is close to $24 an hour, according to recent information on Indeed.
If you can use an extra $20+ an hour, sign up for Postmates now.
3. Make Money With Surveys
Have you always wanted someone to pay you for what you know and not necessarily what you do? Well, your wish just came true. You can earn money by sharing what you know and think when you participate in market research surveys.
MyPoints
Leading brands and merchants are curious about consumer interests. Through MyPoints, you can take surveys from these leading brands to earn free money. What's more, MyPoints members are able to earn cash back shopping at their favorite stores (think Amazon, Target, Walmart). With MyPoints, you earn money from taking surveys and save money with the MyPoints cash-back feature.
Make money on your down time with MyPoints
Opinion Outpost
Opinion Outpost has all sorts of different surveys across my different subjects and sectors. That means there is plenty of opportunity for you to earn a little cash. Opinion outpost works hard to find companies that are willing to pay you for you opinion.
Try Opinion Outpost here to make a little extra cash
4. Switch Banks
If you want to get your money working for you, find a bank that pays a high rate of return on your savings account. And, if you want to keep more of your money, find a bank with a true no-fee checking account.
The FDIC says the average savings account pays depositors like you 0.09% on your money. How would you like to make 20 times the average with a savings account? Usually those rates are reserved for the rich who can make an initial deposit of $10,000 or $25,000, but online banks like CIT Bank and Radius are disrupting the industry. You can enjoy the benefits of a high-yield savings account at a much lower entry point and sleep well at night knowing your money is secure with high-tech encryption and FDIC-insured.
CIT Bank

CIT Bank's Savings Builder account has an APY that's +10X the national average. Considering that the national average is a measly 0.08%, you should definitely check live banner below for CIT's current Savings Builder APY
It's vital to have an emergency fund to help cover 3 to 6 months of expenses in case something should happen. Reach that goal faster with the soaring interest offered by the CIT Savings Builder account.
Open an account with CIT Bank to collect great interest on your savings (and grow your savings faster!)
Related: Best High Interest Rate Savings Accounts
5. Make Money from Home
Did you ever see the Wizard of Oz where Dorothy clicks her heels together three times and says, "There's no place like home; there's no place like home; there's no place like home." When it comes to making money, there truly is no place like home.
Home can be a great place to earn some extra cash or even launch a business. Ever heard of Apple or HP? They were started in garages.
Blogging: Create and Go Blogging
Blogging can be personally rewarding (helping others with great content) and profitable (earning an income to take care of your needs). But, there is a right way and a wrong way to go about starting a blog.
Alex and Lauren failed miserably with their first blog. They had no experience with websites or blogging. They wasted a lot of time and money, however, they learned from their mistakes and turned it into a very successful and profitable blog.
Now, they teach people like you how to start your own blog and earn about $1,000 a month. What could you do with an extra $12,000 a year that you earn on the side from home?
Learn how to start a successful blog from Alex and Lauren, who not only have started profitable, six-figure blogs, but are teaching others to do it.
Sign up for Create and Go Blogging, and, who knows, you just might join the ranks of bloggers who can travel the world and work from anywhere that has an internet connection.
Shopify Store: Sarah Titus Million Dollar Store
There's a lot of people crushing it by finding items on eBay at a low cost and selling on Amazon (known as retail arbitrage). How would you like to do something similar, but with digital products? If so, definitely check out the Sarah Titus Million Dollar Store course. She will teach you how to create and launch a successful Shopify store.
Gary Vee makes retail arbitrage sound rewarding. If you ever listened to him talk about the subject but didn't want to get into the whole shipping thing, then seriously consider selling digital products. With a digital product, you create something once (or buy the rights to it) and sell it over and over and over again.
The nice thing about an online business is it is always open: 24/7, 365 days a year. Plus, if you sell digital products, you will love that you will never run out of them … they will always be in stock. Get that Shopify store up and running, and take the Sarah Titus Million Dollar Store Course so you will do it the right way from the start.
Getaround
Getaround estimates a typical car sits idle for 22 hours a day (you basically drive it to work and back). This means, there are a number of hours each day when you can rent it out. You get to set your fee, and your vehicle can be rented by the hour or the day.
So, if you have a car you don't use as much or you prefer to take public transportation and your car sits, then let it start making some money for you. A UCLA professor estimated our cars sit 95% of the time. That's a lot of opportunities to make money.
Getaround will install a device in your car for $99 so renters have keyless entry into it, and it will cost $20 a month for this service. When you rent out your vehicle, Getaround will get 40% of the fee, but it provides roadside assistance and insurance. They will collect fees if the car is not returned on time, is returned dirty or damaged, and will charge a fee per mile if they go over the limit.
Your car can sit idle, or it can make you some money.
Visit the Getaround site, see if it is offered in your area and sign up for this peer-to-peer rental service.
Related Posts:
7. Get a Part-Time Gig
People traded secure, full-time jobs for the freedom, flexibility and fortunes of freelancing in the gig economy.
Freelancing in its various forms — whether writing, driving a vehicle for Lyft, delivering groceries for Instacart, delivering food for DoorDash, or consulting — is on the rise.
Our goal at Budgeting Couple is to help you improve your financial standing so you can enjoy your money from your full-time job. However, we understand some people want to earn a little extra cash on the side, which can lead to a new career.
Steady
How Americans work is changing. With computers, the internet, and mobile apps, we no longer have to work the same 9 to 5 grind as our parents did. We can work when we want, and Steady is making it easy for us to do so.
When you sign up for Steady and answer a few questions (like what kind of work you want to do, where do you want to work, and what you want to do with the money), it will pre-qualify you for work that matches your lifestyle and goals.
Here are just some of the money-making opportunities delivered to you by Steady:
Ridesharing
Child care
Pet care
Online tech support from home
Tutoring
Freelance writing
With Steady, you can build an income and a whole new life.
Sign up for Steady today and discover how to make some extra money
(Bonus) Free Simplify Money Workshop
Sometimes making more money isn't the solution to our financial trouble. Sometimes we need to look in the mirror and admit that we have a spending problem. But if you do have a spending problem, this is great news. You don't need to give up more of your time for money. Maybe you make enough money, right now to create a life full of financial peace and security.
Join our FREE Simplify Money Workshop to learn the fundamentals of growing wealth. Because when you can spend less than you earn, your money has no choice but to grow. You will build your savings and pay down debt.
What's more? We've got a bunch of free money-hacks to share with you:
Hacks to lower your monthly bills
Hacks to spend less on debt
Hacks to start investing
Hacks to increase your income by $20/month (with no extra effort)
This workshop has everything you need to accomplish the cardinal rule of personal finance: keep your income over your expenses.
Join our free 5-day Simplify Money Workshop, and start growing your wealth today.
Want more Side Hustle Ideas? Check these out:
Need Help Saving Money? Read these next…