Spicy Roasted Broccoli: Healthy Budget Meal
This post may contain affiliate links. Please read our
disclosure
for more info.
Are you on a budget? Then you may have extremely low expectations for your food.
This should not be the case!
Sure, you should cut back on eating out, but there are plenty of cheap and delicious meals you can prepare at home. Your budget is not a reason to settle for bland food. (No more Cup Noodles and TV dinners if you can help it!)
Try this addictive Spicy Roasted Broccoli recipe, especially if you're not the biggest vegetable fan. Steamed broccoli every now and then is okay, but after you discover how brilliant broccoli can be when it is tossed in garlic and oil and baked in the oven, you'll never want to go another night without vegetables.
I'm not kidding, you will want to eat this broccoli every single day (we almost do).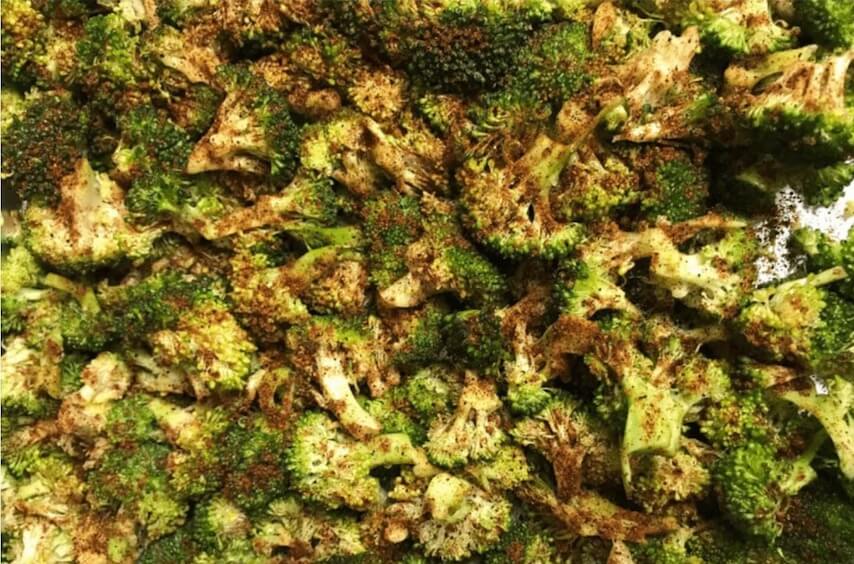 The measurements in this recipe are just a guideline. We don't measure out the spices, just generously pour them on (especially the oil), but we have "general" measurements to help make your meal preparation a little easier.
Related Money Saving Articles:
Spicy Roasted Broccoli (Highly Addictive)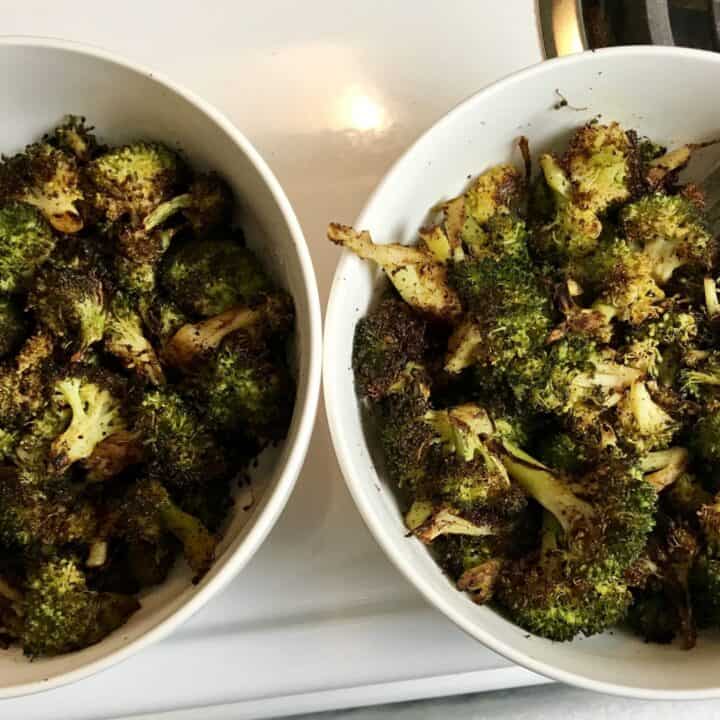 Quick & Easy Spicy Roasted Broccoli
Yield: 4
Prep Time: 5 minutes
Cook Time: 25 minutes
Total Time: 30 minutes
This broccoli is unbelievably tasty yet SO simple and budget-friendly to make! Best eaten right out of the oven, still delicious microwaved the next day.
Ingredients
330 grams of broccoli (after broken up)/ 3 medium heads of broccoli
2 tablespoons of olive oil
2 teaspoons of hot chili powder (see notes)
¼ teaspoon of garlic powder
½ teaspoon of salt (adjust to your taste)
Instructions
Preheat oven to 425F
Cover large baking sheet with tin foil (for easier clean up)
Break apart broccoli into small florets (smaller than normal for a crispier finish, see pictures) and place on baking sheet
Drizzle olive oil evenly, then use hands to toss (Or do this step in a bowl)
Spread broccoli out evenly
Sprinkle on chili powder, garlic powder, and salt to desired taste.
Bake for 10 minutes
Stir
Bake for 5-7 more minutes. We usually take it out after the edges of the broccoli look crispy and brown.
Notes
Get enough broccoli to cover the entire baking tray. It looks like a lot, but the broccoli shrinks while roasting.
We use hot chili powder, but if you prefer a mild or medium spice, you can easily substitute this for regular chili powder.
Recommended Products
As an Amazon Associate and member of other affiliate programs, I earn from qualifying purchases.
Nutrition Information:
Yield: 4
Serving Size: 1
Amount Per Serving:
Calories: 140
Total Fat: 8g
Saturated Fat: 1g
Trans Fat: 0g
Unsaturated Fat: 6g
Cholesterol: 0mg
Sodium: 392mg
Carbohydrates: 16g
Net Carbohydrates: 8g
Fiber: 8g
Sugar: 3g
Protein: 5g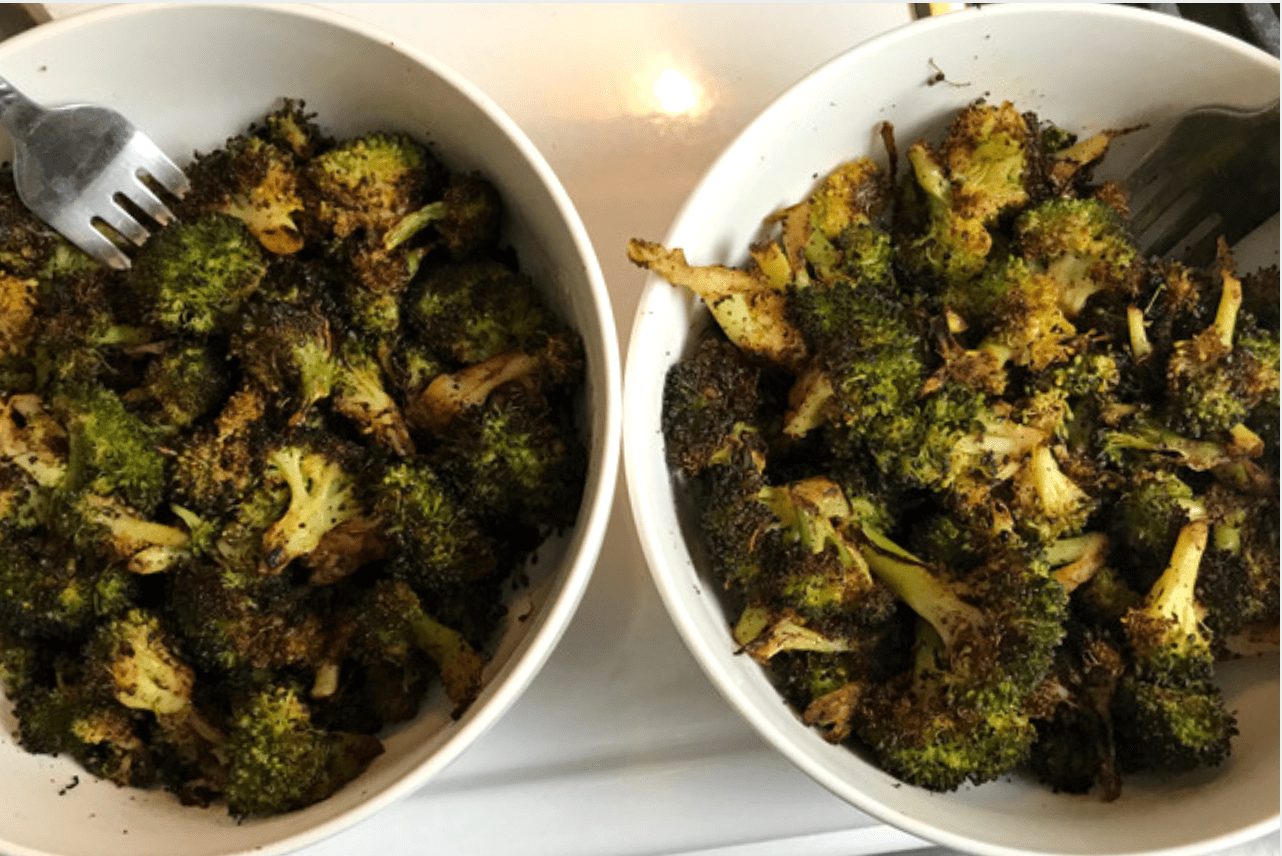 There you have it! An easy 20 minute, healthy, and cheap meal that tastes amazing! Let us know down below if you try it out!
ENJOY!!
P.S. Follow along on our Pinterest account for more healthy budget meals and money saving tips
Want to save this recipe for later? Bookmark this page or click here to pin it now.
Want more Healthy (and cheap) food and drink ideas?
Or, need some easy ways to save extra money?
This website contains affiliate links, which means that if you click on a product link, we may receive a commission in return. Budgeting Couple LLC is a participant in the Amazon Services LLC Associates Program, an affiliate advertising program designed to provide a means for sites to earn advertising fees by advertising and linking to amazon.com