Corned beef hash has been a popular dish since World War II, and today we are turning the dish on its head by getting rid of the high-carb spuds and switching out the protein.
We make this hash dish healthier with cauliflower instead of diced potatoes. And, we infuse a lot of Latin flavor with the addition of chorizo.
We made this meal with a budget in mind. It's only $1.96/serving. But we want to help you save even more when shopping for food with our…
Budgeting Couple Hot 3 Saving Tips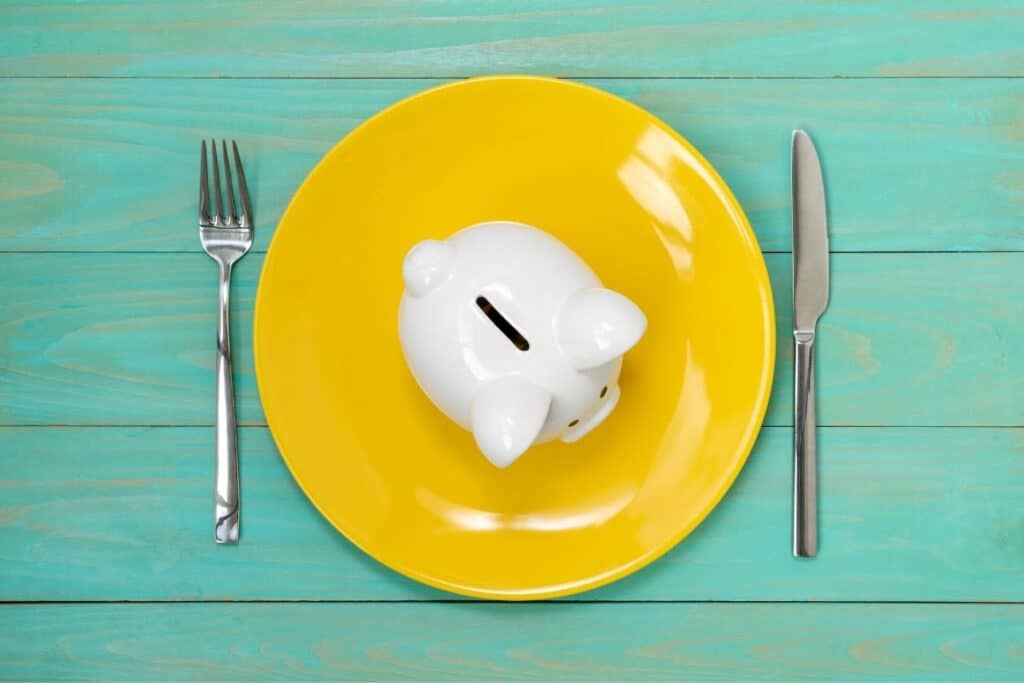 1. Ibotta – Cash Back On Groceries
Ibotta = save money at the supermarket.
In 2019, Ibotta users earned more than $186 million in cash back for merely buying groceries.
Download Ibotta so you can save money when cooking these low-cost keto diet recipes and claim your $20 welcome bonus.
Related Post: Is Ibotta Legit?
2. Thrive – Wholesale Prices
Thrive Market has cheap health food!
They make it affordable to live a healthy lifestyle eating the food you love. Thanks to their wholesale prices, the average member saves $30 off retail pricing per order.
Try Thrive Market free for 30 days.
3. Amazon – Subscribe & Save 15%
Prime Members! Are you using Amazon Subscribe & Save (ya know… that money-saving perk you're paying for)? If not you should because it makes your life a lot easier and saves you a ridiculous amount of money.
Subscribe to have select item delivered to your home on a routine basis, and Amazon will discount 15% off your order. That means you should get 15% off your protein powder, almonds, olive oil, spices, and a lot more. (It's also the best way to buy toothpaste, toilet paper, and practically any other toiletry you can think of.)
Subscribe to protein powder and save 15% with Amazon Subscribe & Save
Want more ways to save on Amazon.com?
Now, back to the recipe…
This dish pops with flavor from the green peppers, black pepper, and chives.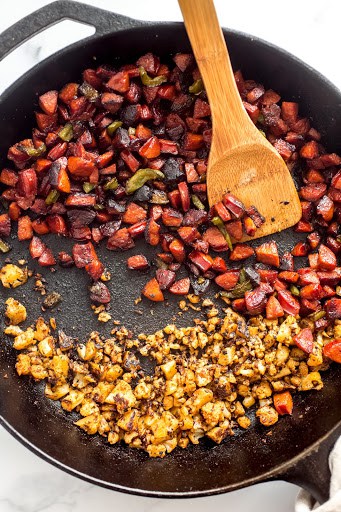 You will only need two pans for this healthy — and flavorful — dinner, making clean-up a snap.
Related Post: 10 Cheap Keto Foods to Stock Up On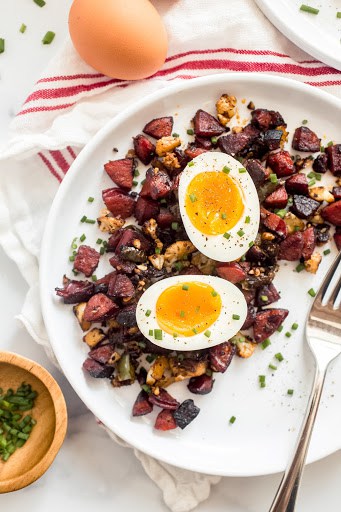 Once you see how easy you can cook this dish and savor the depths of flavors from the chorizo, fresh ingredients, eggs, and spices you will find yourself making this any night of the week.
After all, you can take care of all the prep and cooking in a mere 30 minutes.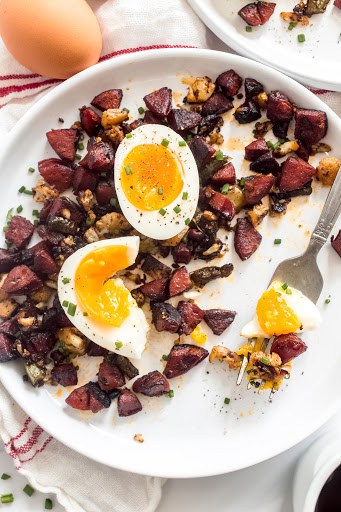 Yield:

4
Keto Chorizo and Cauliflower Hash with Soft Boiled Eggs
Ingredients
4 chorizo links, diced small
½ green pepper, small diced
1 ½ cups small chopped cauliflower florets
½ cup water
4 eggs
1 tbsp finely chopped fresh chives
Instructions
1. Heat 2 teaspoons of oil in a 12-inch cast iron or non-stick skillet over medium-high heat. Add the chorizo and green peppers and cook, stirring occasionally until lightly browned, about 5 to 6 minutes. Using a slotted spoon, transfer the chorizo and peppers to a bowl, reserving as much of the drippings in the pan as you can.


2. Toss the cauliflower into the pan and cook, stirring occasionally for about 4 minutes. Stir the water into the pan and then cover. Allow the cauliflower to cook in the water for about 5 minutes, just until the pieces are fork-tender.


3. While the cauliflower cooks, bring a small saucepan of water to a boil. Gently lower the eggs into the boiling water with a spoon and cover the pan. Cook for 6 minutes. Remove them with a spoon and set them in a bowl of ice water.


4. Uncover the pan and saute the cauliflower until it starts to brown, about 1 to 2 minutes, adding the remaining teaspoon of oil if the pan is dry. Add the garlic, paprika, and oregano to the cauliflower and cook until they start to become fragrant, about 30 seconds.


5. Add the chorizo and peppers back to the pan and stir everything to combine. Turn the heat off.


6. Peel the eggs and slice them in half. Divide the hash between 4 plates, sprinkle some chives over the hash, and place 2 egg halves on top of each plate of hash. Sprinkle with extra chives and some pepper before serving.

Nutrition Information:
Yield:
4
Serving Size:
1
Amount Per Serving:
Calories:

395
Total Fat:

31g
Saturated Fat:

11g
Trans Fat:

0g
Unsaturated Fat:

19g
Cholesterol:

239mg
Sodium:

821mg
Carbohydrates:

6g
Net Carbohydrates:

4g
Fiber:

2g
Sugar:

2g
Protein:

22g
Enjoy this delicious low-carb breakfast with the whole family! For under $2/serving, this keto breakfast idea is the perfect budget-friendly meal to make again and again.
Want more Keto Meal Ideas?
What other recipes would you like to see here? Let us know in the comments below.
Want to save this recipe for later? Click here to pin the recipe on Pinterest.
Follow us on Pinterest for more cheap meal ideas and (of course) endless money saving tips!
Need some money-saving inspiration?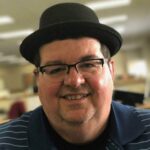 Bobby Warren is a former award-winning journalist who founded Wooster Media Group LLC, an SEO/content creation company. He lives in Northeast Ohio with his wife, Wendi, and their pets.