Top 5 Grocery Delivery Services for Your Budget
This post may contain affiliate links. Please read our
disclosure
for more info.
Are you stuck at home and need groceries? Did you know you can get them delivered?
Whether you are recovering from a medical condition, too busy, or just don't feel like going out, thankfully, there are many ways to get food delivered right to your doorstep.
You can shop websites like Amazon subscribe and save or use an app like Instacart.
How to Save Money on Your Groceries and Food Deliveries
1. Amazon – Save 15% Off Your Entire Grocery Order
Find yourself complaining about how you have no time because you're so busy and how you wish you had more money?
Amazon's Subscribe & Save program will save you time by shipping essential grocery items to you, and you will save up to 15% on every item in your shopping cart.
Subscribe and save 15% on groceries today.
2. Instacart – Groceries Delivered To Your Door
If you don't want to leave the house, whether it is because you don't feel good or just rather stay put, and you don't want to wait for an online delivery, you are in luck.
Sign up for Instacart and have food delivered to you from your local grocery store.
Sit back and let someone shop for you with Instacart.
3. Ibotta – Cash Back On Groceries + $20 Welcome Bonus
Smart shoppers use Ibotta to save on their favorite grocery items and brands. After you receive your grocery delivery, take a picture of your receipt to earn free cash back. Ibotta is the No. 1 grocery app that pays you cash back rewards (and you get 2% back when shopping via Instacart).
Sign up for Ibotta today and grab your $20 welcome bonus.
Want to hear even more ways Ibotta can save you money? Check out our Ibotta explainer video, here!
Also See: Ibotta Review + Hacks to Save Even More!
Save with Meal Planners and Meal Deliveries
So, you know your shopping costs increase when you deviate from your list or make impulse buys.
A meal planner will help you focus on the ingredients you need to make tasty, nutritious and cost-efficient dinners. Meal delivery services make meal preparation and cooking even easier.
4. $5 Meal Plan
Don't think that you can eat a meal for under two dollars? Think again. Stop stressing about the high cost of groceries and avoid the same boring meals each night with the $5 Meal Plan.
For only $5 per month, you will receive an email every Friday morning with five meal plans, all costing only $2/serving.
It will include a freezer-friendly meal, a slow cooker selection, one you can cook in 20 minutes, one lunch, and one breakfast. If you prefer, you can build your own meal plans using their drag-and-drop builder.
Start saving time and money by following the shopping list and utilizing their tips. If you want to reduce your food bill and avoid the stress of planning meals for your family, sign up for the $5 Meal Plan now. Then have Instacart deliver your groceries for you. Then take a picture of your grocery receipt with Ibotta to earn cash back on groceries
Start your 2 Week Free Trial of $5 Meal Plan by clicking here.
Need some easy (and healthy) meal ideas?
Online Grocery Delivery
5. Amazon
Need groceries delivered fast? How about within two hours? Amazon offers local grocery delivery within two hours in select locations. So if you're a prime member, and you've got a Whole Foods or an Amazon Fresh near you, check into free grocery delivery.
Not an Amazon Prime member? Sign up here so you can have your groceries delivered for free.
Related: 5 Amazon Hacks Every Prime Member Should Know
6. Target
If you want your groceries delivered from Target, you'll have to create an account through Shipt. You'll be pleased to find that Shipt actually has a lot of local delivery options including CVS, Petco, and Bed, Bath & Beyond.
Sign up for an account on Shipt.com and start having your Target groceries delivered to you. And, remember to use your Ibotta app to save even more money and earn cash back rewards.
7. Costco
Are you a Costco Shopper? Then you too are are primed to get your groceries delivered.
Remember that company, Shipt, we were telling you about? Yeah, Shipt delivers groceries out of Costco as well. Your Shipt.com account will open the door to a wide variety of local delivery options. Enjoy having Costco groceries delivered to your door step.
Related: 9 Costco Hacks to Save Serious Cash
8. Safeway
Safeway has their own grocery delivery and it comes with a great introductory deal. On your first grocery delivery, enter the code SAVE20 to get $20 off your first delivery and the delivery is free. If you've been curious about trying grocery delivery and you've got a Safeway nearby, give it a go with the SAVE20 promo code.
9. Amazon Subscribe & Save
Are you an Amazon Prime member? Then you can start using Amazon Subscribe & Save right now. Subscribe to many of your non-perishable grocery items (as well as your toiletries), and you will save 5%-15% off every delivery! It's an easy way to grocery shop and save money on autopilot.
See how you can save time and money with Amazon Subscribe & Save
Best Grocery Delivery Service
10. Instacart
The widely-used mobile app Instacart lets you shop online at your favorite grocery store, then sends a personal shopper to visit the store, fulfill your order and deliver it to you.
If you're sick and can't shop or have children and can't get out of the house, Instacart offers you a convenient alternative to in-store shopping.
To see why people are flocking to Instacart, sign up now and get your first order delivered free.
11. Local Grocery Delivery
More local grocery stores are realizing what pizza shops learned a long time ago: Offering delivery can increase business. Some local grocers will let you shop online and pick it up at a specific time, while others will actually deliver the order to you.
But, I'll let you in on a little secret: If a grocery store in your town offers delivery, then it is probably through Instacart.
Remember to Save When Getting Groceries Delivered
Ibotta – $20 Welcome Bonus
When you think of groceries, think Ibotta. Save money on purchases you make every day from brands you love.
Download the Ibotta app here and start earning cash back rewards and a $20 welcome bonus.
Rakuten – $10 Welcome Bonus
If you shop online, two shopping services are an absolute necessity.
The first is Rakuten (formerly Ebates). Sign up for a free Rakuten account and earn cash back rewards when you shop online. It even works in the background, unnoticed with the Rakuten Browser extension .
Enjoy up to 40% cash back when you sign up for Rakuten, install the browser extension, and collect a $10 welcome bonus the next time you earn cash back while shopping online.
Grab your $10 welcome bonus when you sign up for a free Rakuten account here.
Capital One Shopping – Free Gift Cards and Coupons
The second service you need is Capital One Shopping.
Add this extension to your browser, and Capital One Shopping will compare prices against hundreds of online retailers to help you find a great deal.
Capital One Shopping will also let you know if there are valid coupon codes that can be instantly applied to your order to save even more money.
As you use Capital One Shopping, you will earn loyalty credits. These credits can be redeemed for free gift cards to Amazon, Walmart.com, and thousands of other online retailers.
There is a lot of money to gain with Capital One Shopping. Add Capital One Shopping to you browser today (it's free…)
Up Next: Best Food Delivery Services for Your Budget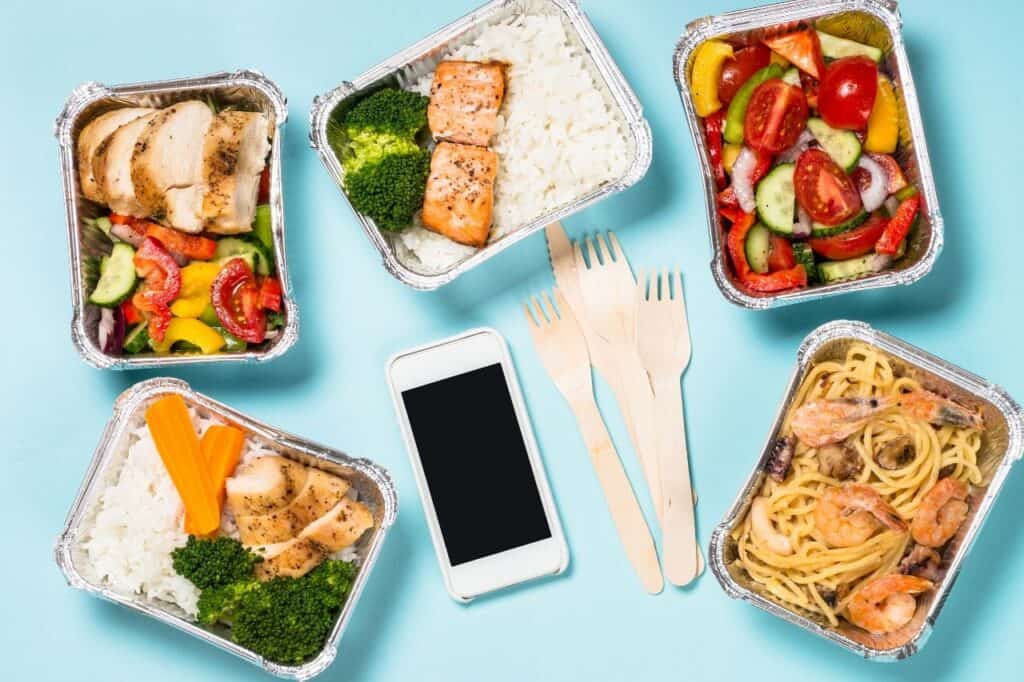 Save More Money! Read these next…
Savings Hacks For Your Favorite Stores:
Want to save these budget-friendly grocery delivery options for later? Click here to pin this post!
Be sure to follow us on Pinterest for tons of great lifestyle and money saving posts!
*Capital One Shopping compensates us when you get the Capital One Shopping extension using the links we provided*
This website contains affiliate links, which means that if you click on a product link, we may receive a commission in return. Budgeting Couple LLC is a participant in the Amazon Services LLC Associates Program, an affiliate advertising program designed to provide a means for sites to earn advertising fees by advertising and linking to amazon.com