19 Items to Buy at IKEA to Organize and Save Money
This post may contain affiliate links. Please read our
disclosure
for more info.
What's the first thing you think about when someone brings up IKEA in a conversation?
The furniture? Having to assemble the furniture yourself? That bag? The meatballs? Its origins in Sweden?
IKEA's mission is "To create a better everyday life for the many people by offering a wide range of well-designed, functional home furnishing products at prices so low that as many people as possible will be able to afford them."
That's good news for us.
If you're a fan of IKEA, then you know that the Swedish furniture store is full of affordable, practical, and beautiful items, from kitchen gadgets to home decor to lighting to shelving to furniture and more.
At the heart of IKEA's mission is to make our lives better and that means being organized.
When you shop at IKEA, you will be inspired to declutter your life.
Here are 19 items that will simplify, beautify, and declutter your lifestyle.
The PAX Wardrobe System Will Adapt to Your Needs
Unless you have a custom-built home, chances are you just don't have enough closet space.
Enter the PAX Wardrobe system.
This system has a seemingly infinite number of combinations to create your ideal wardrobe.
You get to choose the width and depth of your frames that will hold shelves, shoe racks, drawers, and rods to hang clothes.
You can also choose doors, knobs, and handles.
Think of it as a LEGO set for a wardrobe.
Declutter your space with this simple, yet elegant wardrobe with clean lines.
Use the IKEA planner to design a unique wardrobe system just for you.
Capital One Shopping – Free Gift Cards and Coupons
If you decide to shop IKEA online, you will want to download the Capital One Shopping browser extension to help you discover active promo codes that will snag you a discount.
Capital One Shopping is more than just a web tool to find coupon codes.
Capital One Shopping will compare prices against hundreds of online retailers to help you find a great deal.
As you use Capital One Shopping, you will earn loyalty credits.
These credits can be redeemed for free gift cards to Amazon, Walmart.com, and thousands of other online retailers.
But, you will want to use it to let you know if there are valid IKEA coupon codes that can be instantly applied to your order to save even more money.
There is a lot of money to gain with Capital One Shopping.
Add Capital One Shopping to your browser today (it's free…)
IKEA Kitchen Finds You Will Want to Stock Up On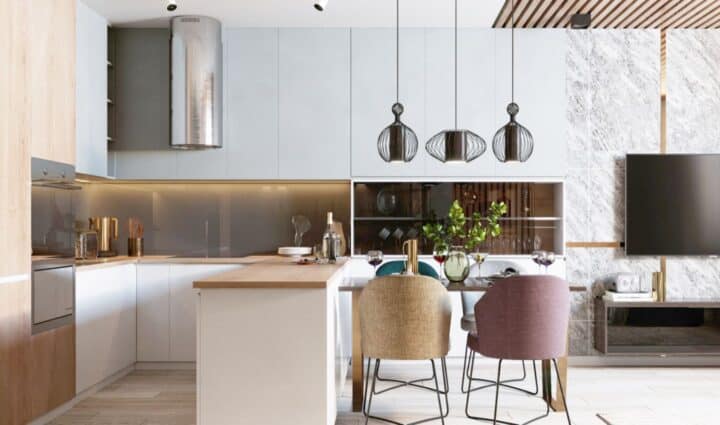 I must confess, before I ever walked into their Pittsburgh store, I thought of IKEA as a furniture company.
Was I surprised as I walked through all of the areas and floors.
I loved the kitchen gadgets (what can I say, I love to cook).
Some of the best pans I ever purchased came from IKEA. Here are some to make cooking better:
Use the Ibotta App to Earn Cash Back When You Fill Your Pantry
When you buy your pots and pans and kitchen supplies from IKEA, you will need food to cook. You can earn cash back when you shop with Ibotta, the No. 1 grocery app.
Download the Ibotta app, and create a cash-back grocery list to take with you to the grocery store.
When you get home, snap a pic of your receipt using the Ibotta app to watch free money get deposited into your Ibotta account.
Don't want to grab a photo of the receipt?
No worries. Just link your grocery store's loyalty card and money will automatically flow into your account.
Ibotta is an ideal way to save money at the grocery store.
Set up your free Ibotta account here so that you're ready to earn cash back at the grocery store.
Ibotta will even pay you a $20 Welcome Bonus just for using the app.
Want to hear even more ways Ibotta can save you money?
Check out our Ibotta explainer video, here!
So, if you like free money… Download the Ibotta App here and grab a free $20 gift card just for trying it out!
Visit the IKEA Restaurant & Bistro and Get the Swedish Meatballs!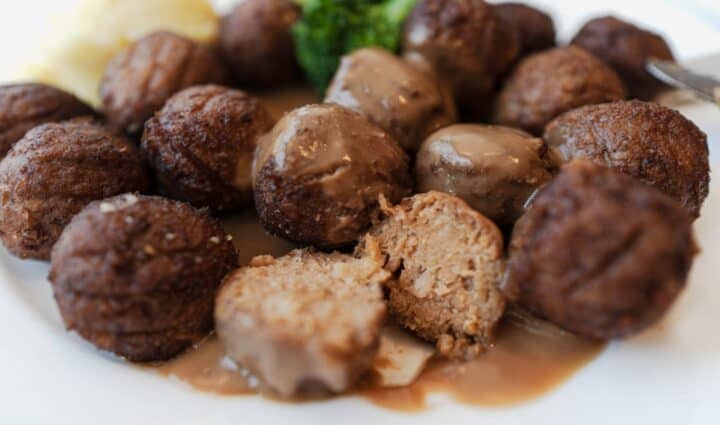 When you visit an IKEA, you will be blown away by the prices in its restaurants.
IKEA does a great job making sure there is something for everyone, whether you are a carnivore, vegetarian or vegan.
You can get a traditional or English breakfast, hot dogs (even veggie dogs), salmon burgers, chicken wings, and sweet treats, like Princess cakes and cinnamon rolls.
However, the star of the show is the Swedish meatballs.
Swedish meatballs: IKEA honors its homeland with its Swedish meatballs offering. You can get a generous plate with veggies or mashed potatoes for a great price. But, did you know you can get them made of meat, veggies, chicken, and salmon? Don't visit IKEA without trying their meatballs.
Meatless Mondays: Whether you are a vegan, vegetarian, or do meatless Mondays, IKEA offers their veggie and plant balls at discount on Mondays.
Grab a Frakta, the Iconic Ikea Blue Bag
When IKEA began selling more small home furnishings, customers needed a way to carry all of those items out of the store.
The Frakta bag was born out of necessity to keep customers from abandoning items at checkout because it was difficult to get them to their cars.
The Frakta bags are made of polypropylene and designed to hold 50kg, which is 110 pounds.
These bags have taken on a life of their own.
People use them to carry laundry, use them as off-season storage, as beach and travel bags, and for storage in vehicles without trunks.
Grab some when you checkout, you will not regret it.
Free Workshop – Join our free Simplify Money Workshop
The *only* way to save money is to spend less than you earn. That means you need to decrease your expenses or increase your income.
We want to help you do both.
Join our FREE Simplify Money Workshop to learn the fundamentals of growing wealth. Because when you can spend less than you earn, your money has no choice but to grow. You will build your savings and pay down debt.
What's more? We've got a bunch of free money-hacks to share with you:
Hacks to lower your monthly bills
Hacks to spend less on debt
Hacks to start investing
Hacks to increase your income by $20/month (with no extra effort)
This workshop has everything you need to accomplish the cardinal rule of personal finance: keep your income over your expenses.
Join our free 5-day Simplify Money Workshop, and start growing your wealth today.
Get Organized with These Baskets and Shelves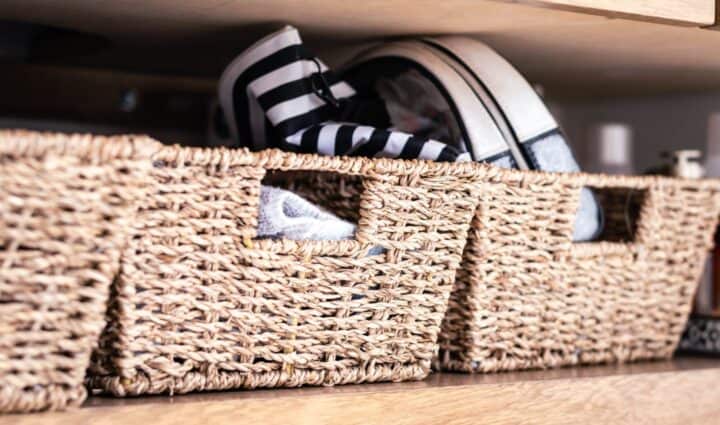 When you set out to declutter your home and life, baskets and shelves can help you do it in style.
Here are some of the more popular IKEA items.
EKET storage system: Like the PAX wardrobe system, you can build your own shelving unit, which can be wide open or a little discreet by adding doors to hide your items. You can create a cubicle-like structure to hold baskets.
Pudda basket: When you create your EKET unit to your liking, fill it with these cute Pudda baskets. While they are a great addition to the EKET shelving, they are stylish enough to stand alone to hold towels, toys, and accessories.
Kallax shelving unit: This cube shelving and storage system is sleek and versatile. You can choose different kinds of basket inserts to enhance the look. Some people even use the Kallax 5×5 units as room dividers. You have options!
Shed Some Light on the Subject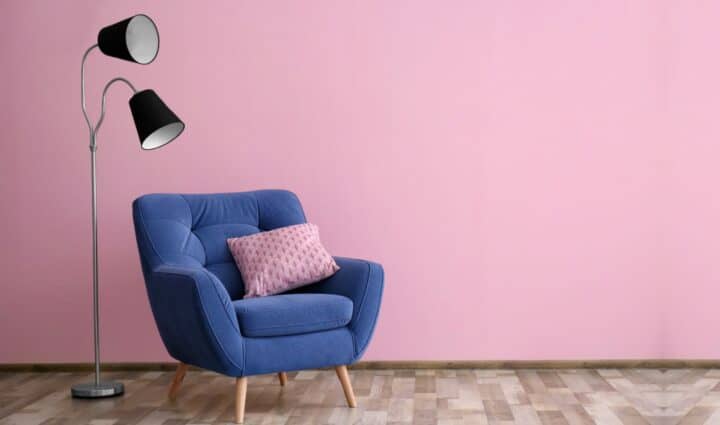 Tagarp: This lamp serves a dual purpose: It will light your room, and it also has a reading lamp attached, so you can sit in your comfy chair and direct the light so you can easily read a book you borrowed from the library.
Barlast floor lamp: If you don't need a reading lamp because you listen to audiobooks from Audible, you might want to opt for the Barlast floor lamp.
Vickleby floor lamp: If you are into things that push the edge of design, then you will definitely want to consider the Vickleby floor lamp. It looks like a space-age lamp. It comes with an LED bulb.
Enlighten Yourself with Audiobooks on Audible
The number one reason people cite for not reading is time.
Whether you're working, studying, or parenting (or maybe all of the above), it can be hard to make time to sit down with a book.
It used to take me a month or more to finish a book because I was only reading for a few minutes before bed.
But then I discovered audiobooks.
Instead of getting a few minutes of reading in before bed, now I listen to books while I drive, walk my dog, cook, clean, and work out.
Simply put, audiobooks are a game-changer.
Integrated with Amazon, Audible has the most robust selection of any audiobook provider.
If a book has an audio format, Audible has it, no question.
Try Audible for free for 30 days and take your reading to the next level.
Desks for Home Offices or Homework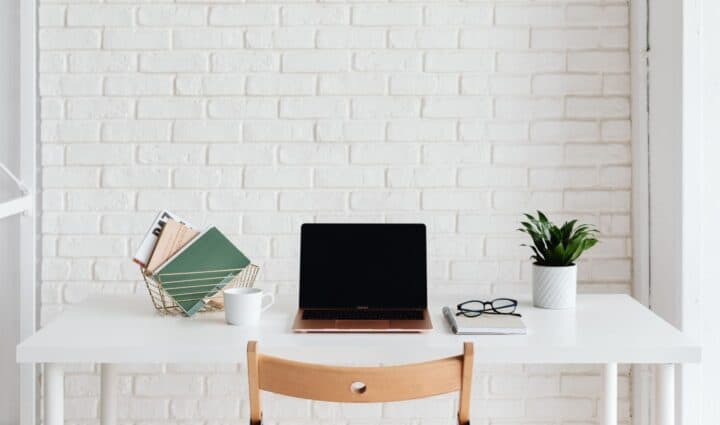 With more people working from home and going to school online, desks are becoming more of a necessity.
If you need one, consider these options:
Micke: This is a simple, streamlined desk that is compact enough to fit in a bedroom or the corner of a living room. You do not need a separate office. This is great for doing homework. Like other IKEA pieces, you can mix and match draw units to enhance the functionality of the desk.
Bekant: If you work from home and have a home office, then the Bekant sit/stand desk might be a good choice for you. It raises and lowers with the touch of a button, and its minimalist design makes for distraction-free working.
Insider Secrets to Your Other Favorite Stores:
Want more life hacks? Check these out…
Need help saving money? Read these next…
Want to save these tips for later? Click here to pin this post!
Be sure to follow us on Pinterest for more money-saving life hacks!
*Capital One Shopping compensates us when you get the Capital One Shopping extension using the links we provided*
This website contains affiliate links, which means that if you click on a product link, we may receive a commission in return. Budgeting Couple LLC is a participant in the Amazon Services LLC Associates Program, an affiliate advertising program designed to provide a means for sites to earn advertising fees by advertising and linking to amazon.com