9 Travel Savings Hacks (that work)
This post may contain affiliate links. Please read our
disclosure
for more info.
How many months has it been since you last took time off of work?
Just as I thought, you're overdue for a vacation.
Except vacations are never as relaxing as you'd like them to be. You spend thousands of dollars in a matter of days. The plane tickets, every meal, every excursion, every time you fill up the gas tank has you questioning why you didn't just stay at home to watch Netflix for 5 days. That would've been more relaxing.
But that's not fun. You deserve to enjoy spending your money. You deserve a relaxing vacation with your family, not distracted with thoughts of getting back to work to recoup what you've spent.
Good news: all the tools you need to build your travel savings and enjoy a debt-free, money-anxiety-free vacation are awaiting your consideration below.
Build Your Travel Savings: Save Money FOR Vacation
Before we talk about saving money while on vacation, we've got some fun hacks to save money for vacation. The tips below are your guide to earning free, easy money to spend on your next vacation. Because when you've got free money to spend on vacation, you're a huge step closer to enjoying a money-stress free vacation.
1. Dosh – Cash Back Rewards For Swiping Your Card
Dosh is a smartphone app that pairs to your credit and debit cards. Just swipe your card and the Dosh app automatically collects free money for your next vacation. Here's just a few of the 1,000+ locations you can earn cash back at:
Walmart – 3% Cash Back
Target – 1.5% Cash Back
Walgreens – 6% Cash Back
Exxon Mobile – 2% Cash Back
Guess – 5% Cash Back
Patagonia – 6% Cash Back
Bed Bath & Beyond – 7% Cash Back
Jiffy Lube – 10% Cash Back
Sign up here to collect $1 when you link your credit or debit card to the app
2. Ibotta – Get Paid to Do Your Grocery Shopping
Snap a picture of your grocery receipt using the Ibotta app and a few extra dollars will immediately be deposited into your Ibotta account. This app is a simple and easy tool to earn substantial cash back for doing your normal grocery shopping.
What's more, Ibotta has a Welcome Bonus: $20 will be added to your Ibotta account after redeeming your first in-store offer.
Want to hear even more ways Ibotta can save you money? Check out our Ibotta explainer video, here!
Related Post: How to claim your $20 Ibotta Welcome Bonus article
3. Rakuten – The Easiest Way To Save Money While Shopping Online
Rakuten is one of the more lucrative Cash Back services available, and it's simple to use. When you're checking out from an online retailer (like Amazon), Rakuten will look into your shopping cart and automatically apply coupons to your order AND give you cash back. This shopping partner will undoubtedly become one of your major contributors to your vacation fund.
But! Your Rakuten account won't work automatically unless you set it up to work the right way (learn more about how Rakuten works automatically here). Here's how:
Download the Ebates Button!
Earn easy money every time you shop online at practically all major online retailers.
*Sign up for Rakuten. After you receive cash back on your first online order, Ebates will gift you with a $10 welcome bonus.
4. Budget – Make the most of your vacation
A budget is the key to spending your money efficiently. It's a tool you need to have fun spending your vacation money (and keep yourself from overspending). If you truly want to get through this next vacation without stressing about money, create a budget for you vacation.
That being said, a household budget is also the key to enjoying your money every single day. List out your expenses: mortgage, utilities, gas, groceries, debt. Whatever remains is for shopping and restaurants. If you want treat your money the right way—if you want to enjoy spending your money and never take on another dime in debt again—create a budget.
Free Workshop – Join our free Simplify Money Workshop
The *only* way to save money is to spend less than you earn. That means you need to decrease your expenses or increase your income.
We want to help you do both.
Join our FREE Simplify Money Workshop to learn the fundamentals of growing wealth. Because when you can spend less than you earn, your money has no choice but to grow. You will build your savings and pay down debt.
What's more? We've got a bunch of free money-hacks to share with you:
Hacks to lower your monthly bills
Hacks to spend less on debt
Hacks to start investing
Hacks to increase your income by $20/month (with no extra effort)
This workshop has everything you need to accomplish the cardinal rule of personal finance: keep your income over your expenses.
Join our free 5-day Simplify Money Workshop, and start growing your wealth today.
Save Money ON Vacation
5. Get 40% Off Your Flight
Don't book your next vacation without first checking out Scott's Cheap Flights. Simply input your home airpot, select your top vacation destinations, and you're done. You will receive daily deals straight to your inbox with cheap flights out of YOUR airport.
Please note: we're not talking "good" deals. Scott promises to only send you amazing deals. Most deals are 40-90% off. The average member saves $550/flight when they book with Scott's Cheap Flights. 
Try Scott's Cheap Flights 14 days free. See for yourself how easy and convenient it is to save money on all of your upcoming vacations. 
6. Credit Cards – Save Thousands On Travel
Do you stick with the same airline company every time you travel? You might want to consider picking up their credit card. With our Delta credit card, we receive 2% cash back on our flights, free checked baggage ($100 savings round trip), and one free companion pass every year (i.e. one free plane ticket every year, $500 savings).
These perks aren't uncommon either. Almost all other airline credit cards offer these same perks. Head to Credit Land to find your airline's credit card and easily save over $500 on your next vacation.
7. Bypass the Toll Roads – iPhone Hack
When renting a car, sometimes it's prudent to spend an extra $30 and get a toll-pass. But if you're renting a car with the intention of doing mostly surface-street driving, you might want to spend that $30 elsewhere.
Then again, without a toll-pass, you run the risk of accidently veering onto a toll-road (most likely when you're driving to and from the airport) and getting a $40 fine. So how do you forego the toll-pass while successfully avoiding the toll-roads?
Tell your iPhone GPS you want to avoid the toll-roads. Go to Settings > Maps > Driving & Navigation > Turn on Avoid Tolls. Now you're free to navigate highways in peace with an extra $30 in your pocket.
8. A Vacation Home Just For You – And It's Cheap
Spend your vacation in a house for less than you the cost of a hotel. Airbnb is a more private, relaxing, home-y, spacious, luxurious living accommodation. You have separate rooms, a living room, a kitchen, multiple bathrooms—you are living in a home. If you haven't tried Airbnb, sign up for a free account here (with $40 pre-loaded into your account for your next trip). You'll probably never stay in a hotel again.
P.S. You will have to go grocery shopping since there's no room service so, again, make sure you use Ibotta to earn free cash back at the grocery store! And if you haven't signed up yet, make sure you download the Ibotta app using a qualified link (like this one) to ensure you get $20 when you sign up.
9. Sweat Coin – Earn Free Gifts at the Theme Park
If your vacation will require a lot of walking (you're taking your kids to a theme park), why not earn free gifts?
SweatCoin is a smartphone app that pays you Sweatcoin to walk outside. The app uses your phones pedometer to count your steps and your phones GPS to see your location. When it notices your walking outside, you earn Sweatcoin. Exchange your sweatcoins for gifts in the SweatCoin Market.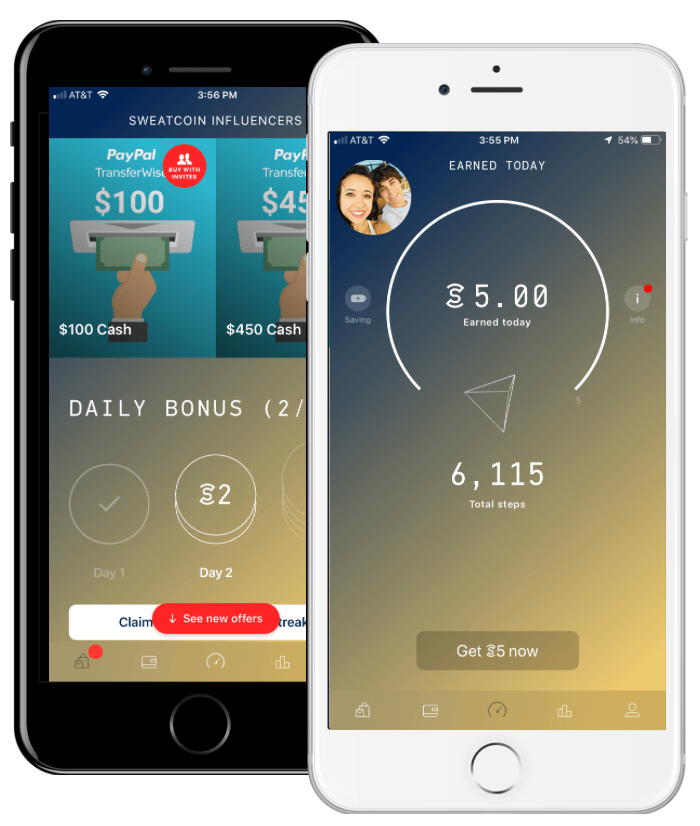 But don't wait for vacation—download the Sweat Coin app today. Let this free money earning app be the incentive you need to start walking around the neighborhood and stay healthy.
Enjoy Your Vacation!
Save More Money! Read these next…
Save Money At Your Favorite Stores:
Want to save these tips for later? Click here to pin this post!
Be sure to follow us on Pinterest for more money-saving life hacks!
This website contains affiliate links, which means that if you click on a product link, we may receive a commission in return. Budgeting Couple LLC is a participant in the Amazon Services LLC Associates Program, an affiliate advertising program designed to provide a means for sites to earn advertising fees by advertising and linking to amazon.com